By Kyveli Diener
Ezekiel Lau began the ride of his life March 14-25 with his first CT event at Snapper Rocks on Australia's Gold Coast. The long-awaited inclusion of the South Shore native among surfing's brightest stars had Hawaii's talent on Tour buzzing.
Lau said that he was "like a sponge trying to absorb everything" as he stepped to the highest realm of professional surfing, and he allowed Freesurf to peek behind the scenes as he navigated the crazy week that taught him so much.
Here are ten of the most defining moments for the Hawaiian Superman at Snapper Rocks.
Letting it sink in at Surfer's Orientation
Even though Zeke attended the Snapper contest last year in support of Quiksilver, his starring role in this year's event didn't sink in until the March 12 group meeting of surfing's elite, both men and women. Finding himself in a room full of world champions — several of them multiple title holders — it finally became reality.
"I think the moment it felt the most real was when I was at the surfer's orientation," he said. "I was sitting in the room and just everyone was there: Kelly, Mick, Joel, Gabriel and John… I kind of had to pinch myself, like I'm here, where I wanted to be. I was dreaming of it all last year and just meditating on being here and being in the position I'm in and the fact that I'm actually here and doing it is pretty crazy. I'm just really grateful to be doing what I'm doing and just trying to enjoy every bit of it."
Cruising with the Quiksilver Boys after the WSL Awards
Lau's sponsorship road was a challenging one, but in 2015, he landed with a team that fit him perfectly. The young men of Quiksilver's surf team have become inseparable, thanks to the homey atmosphere fostered by team manager Steven "Belly" Bell and the rigorous training camps they run together. These days it's hard to imagine Zeke's broad grin without rising stars and Quik teammates Leonardo Fioravanti and Kanoa Igarashi somewhere nearby causing it.
"I think last year everyone kind of grew into each other. We were having a lot of fun and everyone got really close," Zeke said. "It was like a brotherhood thing where we compete against each other, but at the same time if we drew each other, it was on. We do it all the time, we run training camps and run heats against each other and want to beat each other all the time, so it's nothing new to draw each other in a heat. But then if someone's in the final and someone else isn't, we all go down and cheer them on and have a good time. We enjoy seeing our friends do good and celebrate with them."
Meditating with the Sun
Quiksilver took over a tall building across the street from Snapper Rocks during the contest, and Lau did an easy surf check every morning from his lanai, a dozen stories above the ground. But from this lookout — or from his board sitting just off the point as the sky and ocean turned pink, orange, and purple — Lau also quieted his mind every evening as the sun dipped into the sea, reflecting on how far he's come, gazing to where he hopes to go, and grounding himself in the blessings of the present.
"I had this thing: usually I'd be feeling pretty freaked out at a comp, feeling like I shouldn't have been there or things like that," Zeke said of his insecurities in the past before he began practicing meditation. "But last year I was like, 'if I want to be here in the future, I've got to want to be here no matter what.' Just be grateful to be here in general, just appreciate where I am in every moment and live in the moment all the time. I think that's what I was doing last year and it kind of manifested itself to I'm actually here."
First CT Heat and a Familiar Face
Finally, on March 15, Zeke donned his first Championship Tour jersey, sporting the number 86 because "my Dad's football number was 85 when he was in college, so I always told him I was gonna be number 86 so I would be one better." His competitors, both Brazilian, weren't new ones: Lau had competed against teammate Wiggolly Dantas in countless practice heats, and watched Gabriel Medina skyrocket to an elite level of surfing during their youth competing in ISA World Tour events. What was new to Lau was the jet ski assist: scrambling onto the bed and ultimately to the seat of the ski while holding your board and shaking with adrenaline is not as easy as it looks. But seeing the smiling face and hulking figure of North Shore fixture Kai "Kaiborg" Garcia at the helm washed all those anxieties away.
"Everything's great, the ski is perfect," Zeke said after the heat, still vibrating with excitement. "It's pretty crazy to catch waves and then jump right on the ski, I think that was my first time doing it. And it was Borg! Having someone that close to home already makes you feel more comfortable so that was good, and trusting that he knew what he was doing, he put me in the spot every time. I was tripping out how fast we were going and just launching over waves was pretty crazy. The first couple waves [Kai] was like, 'Alright, get it going, get it going!' Just encouraging me. It's sick having someone backing you that close and mid-heat it's good to hear that kind of stuff for sure."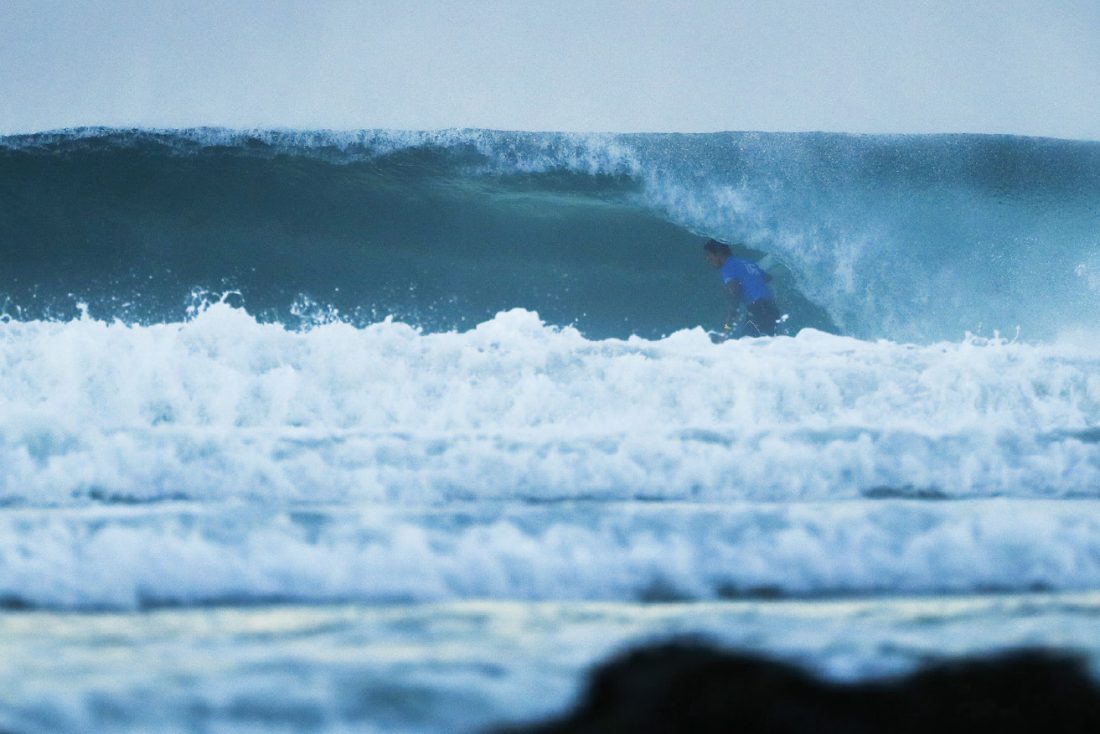 First CT Victory, Two Heats In
A third-place finish against the Brazilians meant a second round match up late the following day against one of the country's finest offerings: Filipe Toledo. A skilled aerialist who very nearly won this very competition last year, this was a heavy draw for Zeke's first CT elimination round. Also daunting was the fact that this was only Lau's second championship level heat ever, while it marked Toledo's 152nd. Despite all the numbers and the odds, Lau surfed an expert heat, ousting the 2015 world title contender and gaining ground into Round 3. After doing his first ever post-heat victory interview at the championship level with another face from home, Kaipo Guerrero, the commentator beamed with pride and said, "Great job, nephew."
"This feels great," a winded Lau said of his victory of Toledo. "Coming up against guys like him, you definitely want to perform as best you can, but at the end of the day, I'm competing against myself and the ocean out there, so I just do my own thing."
Sudden Snapper Squall
The beach was packed as the Quiksilver Pro continued to march through Round 3 heats, but with Joel Parkinson and Miguel Pupo bobbing in the water during their heat, the air changed. A looming dark cloud that had been streaming toward the contest site was suddenly blocking out the sun. The air went ominously still, and a nervous murmur began to sweep through the crowd of Queensland locals who knew what was coming: the sudden, torrential squalls that mark cyclone season every year. People started fleeing the sand in droves as the sky opened up, releasing an ocean's worth of heavy rain coupled with a whipping wind. Snapper fixture Parko, unfazed, sat in the lineup with hunched shoulders, hunting for his wave. The contest was called off, then back on, and Heats 5 and 6 of Round 3 battled through the rain as Zeke and his coach Jake Patterson watched from his apartment across the street.
Taking to his Instagram story, the Hawaiian shared live footage of the biblical downpour, then turned the camera on himself, gazing out at Snapper with his worried eyes wide, his jaw hanging a little open in utter shock at the turn in conditions. "Sooo….is this gonna stop before me heat?" He asked, half wondering and half begging. By the time John Florence hit the water — just one heat before Zeke's elimination showdown against Jordy Smith — the rain had stopped, the storm gifted the surfers with massive barrels, and a celestial pukalani was allowing golden sunlight to beam on Rainbow Bay. Leaving the competitor's area and walking to the sand for his heat, Lau was casual. He was loose, relaxed and ready for battle.
First Perfect Score in the Big Show
It was the last heat of the day, and the sun was ready to set. Jordy Smith, better acquainted with Snapper and more comfortable jumping off the rocks at the point instead of paddling out like Lau had to, beat Zeke to the inside and dropped a big score. Unshaken, Lau sat deep behind the rocks — all day he'd been visualizing a perfect wave, a deep barrel, the kind of perfect ride a humble guy like Zeke would be proud to loudly claim. And then it arrived: a fast-moving churning right-hand cylinder with enough room for Lau to stand tall, disappear from sight, and reappear with the spit as he yelled and pointed to the sky, the top of the top, where his score belonged. The judges agreed, and awarded him his first perfect score of his championship career, attaining on his third outing a milestone that takes some athletes years to reach.
"It was a crazy wave, a once-in-a-lifetime kind of wave," Zeke recalled later, his eyes still dreamy as he thought of it. "I was actually paddling out and it was reminding me of a heat I had at JBay [in 2012] against Heath Joske…it was actually a QS6000 that year and the waves were just firing. I was just stoked to be there and happy to have a heat that night, and I ended up getting a 10 in that heat as well. I was tripping out when I got the wave [at Snapper], it felt exactly the same as the one I got in J Bay, just the barrel and everything."
Compliments from Jordy Smith
Despite Lau's earning the highest wave score of the heat, Jordy battled back and edged Zeke out of the contest by just 0.30 of a point. Lau returned to the sand as relaxed, happy, and loose as he'd left it, sharing smiles with the fans and crew and radiating the gratitude he feels for these opportunities. He retired to the locker room as Jordy gave his post-heat victor's interview, and Zeke missed the moment the tall South African sang his praises to the world.
"Zeke is such an incredible competitor," Smith told Kaipo Guerrero. "He's pretty much one of the strongest guys on tour, and to be honest in that heat that's exactly why we do this. To get moments like that where you're just in an arena going neck and neck, wave for wave, that's it for me. That's the pinnacle. Unfortunately for Zeke, he lost, but I guarantee any other heat today he would've won, especially with the surfing he's doing at the moment. The guy's on fire, I can't wait to see where he goes."
Laughing it off with Mikey Wright
The night after his elimination heat, Zeke ended up at a party in support of fellow Quikie brother Mikey Wright, who had also narrowly lost his heat that day after a nail-biter battle against the indomitable John John Florence. As bartenders doled out Coronas with lime and waves continued to crash a hundred yards away, the teammates excitedly recounted the massive storm swell they'd surfed in just hours earlier, their faces lit up like groms with ear-to-ear grins as the Hawaiian and the Australian recounted the short-interval, super-sized offering that came streaming around the point one after another in the remains of the squall. The up-and-comers were practicing another technique of Team Quik: "taking the edge off," as the boys say — laughing over a couple of beers and regaling in the base love for surfing that got them to this elite playing field.
"I'm learning more about what this whole thing is about," Zeke said. "We're traveling and going to all these places, and it's supposed to be fun. Everyone's supposed to be out here enjoying the place and the culture and the waves that we get to come surf — it's some of the best in the world, so I've always got to make sure I'm feeling good, having fun, laughing with the boys, just kicking back and not taking it too seriously. We're gonna work when it's time to work, but I want to make sure I'm having fun at the same time."
Giving Back with Mauli Ola Foundation
On the final day of the Quiksilver and Roxy Pro Gold Coast 2017, Zeke woke up with the sun as usual. He did a surf check, heard the comp was on, and went down to support his fellow competitors and enjoy the show. While he was cheering on childhood friend Coco Ho during her last heat of the contest, he was asked to volunteer at neighboring Rainbow Bay alongside Nathan Hedge for the Mauli Ola Foundation, a Hawaiian nonprofit supported by professional surfers worldwide as they push children with cystic fibrosis into waves and help them pop up, inhaling the therapeutic saline air that the ocean's waves release.
"Once they told me, I didn't even flinch, I just went down there and went for it. I think it's great," Lau said of the volunteer opportunity, having worked with Mauli Ola previously alongside Kala Alexander on Oahu. "I just worked with one kid alone today. He was probably like 6 or 7, his name was Aiden. He was psyched from the moment I shook his hand, he was just stoked. He had been surfing a couple times before…he was a little animal. It was good fun."