HUNTINGTON BEACH, Calif./USA (Sunday, August 5, 2018) – Hometown heroes Courtney Conlogue (USA) and Kanoa Igarashi (JPN) won the 2018 Vans US Open of Surfing presented by Swatch in the World Surf League (WSL) Women's Championship Tour (CT) and Men's Qualifying Series (QS) divisions, respectively.
Conlogue's dream of winning the esteemed US Open title as a CT contender was realized after taking down current Jeep Rankings Leader Stephanie Gilmore (AUS) in amazing fashion. Conlogue's win also comes after a sidelining foot injury sustained earlier this season.
"It's not been the easiest road to recovery, but I fought through it all and now I'm standing here on top of the podium. It's unbelievable," Conlogue said. "I just have so many amazing people supporting me right now and I'm loving everything. I'm loving surfing and that's so refreshing. But, to share such an amazing Final with Steph (Gilmore) was incredible and I've just been in awe of her surfing this week. I love performing for my home crowd. There's nothing like having my family and friends here supporting me. It's so much fun and such a challenge just with the expectation of wanting to perform, it's been an amazing journey this week."
The Santa Ana native waited patiently while Gilmore got busy and accrued a 9.00 (out of a possible 20) heat total. Conlogue unleashed her backhand for a near-excellent 7.33 (out of a possible 10) and put pressure on the six-time WSL Champion. Conlogue followed up brilliantly with a massive forehand strike on a hefty closeout section to earn a 6.50 and nearly solidify her first-ever US Open CT victory.
Gilmore earned her second runner-up finish at the Vans US Open, with her first event title still eluding one of the sport's greatest but earned valuable points toward her seventh World Title campaign. After Conlogue eliminated World No. 2 Lakey Peterson (USA) in the Quarterfinals, the opportunity for Gilmore to capitalize on extending her lead was wide open. Gilmore now leads the World Rankings with 4,000 points over Peterson heading into the Surf Ranch Pro.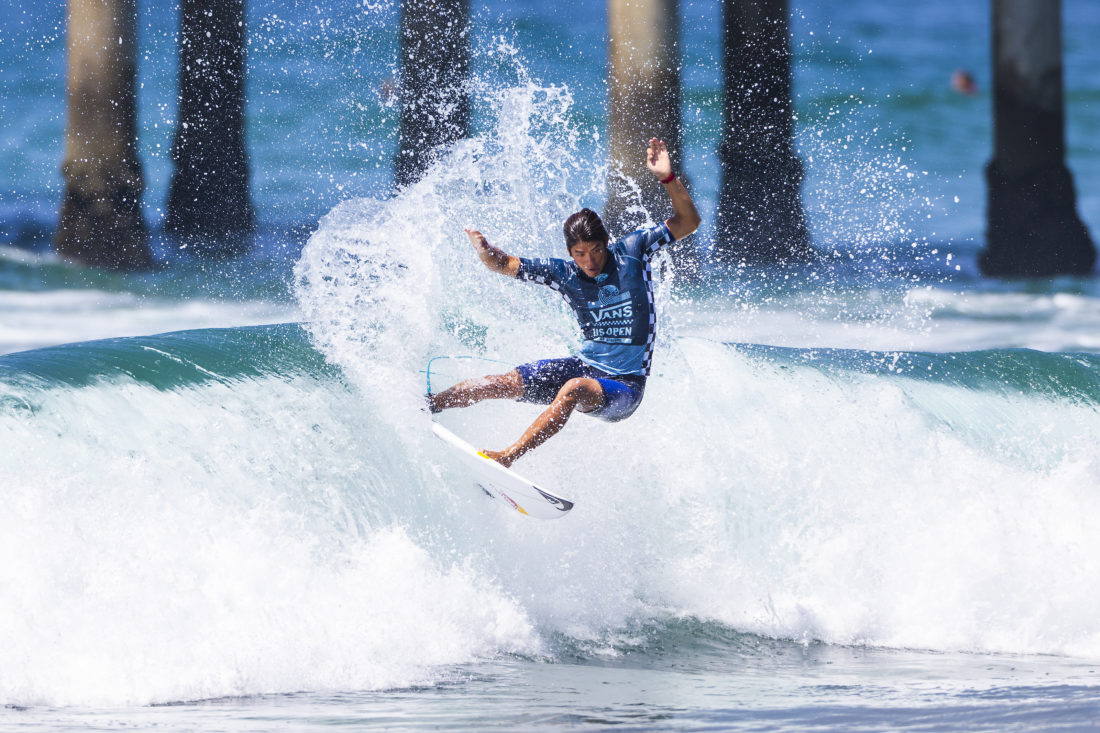 "Huntington is a tough one for me, I love it here but I'm always finding myself just struggling to get a good result so to come here and get a second place is great," Gilmore said. "Courtney (Conlogue) was on fire after coming back from that injury and I'm stoked for her to get that win. And she knocked out Lakey (Peterson) which is pretty nice, but I proved to myself that if I really apply everything I have that I can still get a good result."
Nearly earning her first CT US Open Finals appearance, after claiming back-to-back Pro Junior titles in 2015 and 2016, Caroline Marks (USA) notched another Semifinal result in her 2018 rookie campaign and moves into No. 6 on the Jeep Leaderboard.
Carissa Moore (HAW) made her long-awaited, first Semifinals appearance of the season and fell just short of the Final due to a last-minute score from Gilmore that eliminated the Hawaii surfer as the clock ran out.
Following a captivating performance from Conlogue, fellow hometown hero Igarashi fed off the crowd's energy and delivered an incredible final showdown against Griffin Colapinto (USA). This marks the first back-to-back US Open victory since one of Huntington Beach's most revered surfers Brett Simpson (USA) did so in 2008 and 2009. The day belonged to Igarashi after a phenomenal run to the Final, retaining his poise and composure throughout a tough finals day draw, as he was chaired-up the beach letting go of all emotion until touching the stage.
"Last year I won this event for my family and friends who have supported me so much, but this year it belongs to the city of Huntington Beach for all their support and just firing me up so much," Igarashi said. "I barely remember that last ride, I feel like something just came over me and whatever I was going to do on that wave I was going to land it. It felt like as soon as I stood up on that wave I already got the score. That was the best feeling I've ever had. The whole contest I was just thinking about the Final. I paced myself throughout that whole contest and let everything out in that last heat. It was a really hard Final, but I just believed Huntington was going to give me the waves and it did."
A slow start to the Final heat ignited when Colapinto opened up with his powerful forehand carves before soaring toward the south side shorebreak and stomping a massive air-reverse — earning an 8.00. But, Igarashi was right behind him and posted his own 7.60 to answer right back. Colapinto's next ride would solidify his spot at the top, earning a 7.00, and kept that top spot heading into the last 15-seconds.
But, Huntington Beach delivered one was last time for Igarashi and Igarashi left everything in the water, standing up seconds before the horn sounded, as he finished with a tail-high, massive air-reverse that he was able to ride out of to take the win over Colapinto. Now, Colapinto takes the positive momentum from this event and moves forward — currently solidified in both the QS Top 10 and CT Top 22 before the Surf Ranch Pro September 6 – 9.
"I've never won a QS event so that's a hard one to swallow, but it still leaves me with a bunch of fire so I'm really excited to just keep working hard," Colapinto said. "My favorite moment of this event was in that Final. I think that's one of the best back-to-back exchanges I've ever had in a heat so that's all I really care about. I'll just decompress for a few days. I feel like my strategy and my surfing was there throughout the whole event. At the end it just came down to the waves. We both didn't fall and I just have to keep putting myself out there and I'll have to stay ready for when that time comes."
Also earning big results for the Men's QS, Jadson Andre (BRA) got a pass through the Quarterfinals due to Italo Ferreira's (BRA) injury before falling to eventual winner Igarashi. As well as Jorgann Couzinet (FRA), who delivered the day's top score of a 9.00 against Colapinto in their Semifinal bout, who walks away with 6,500 points and No. 6 on the QS rankings.
With his Quarterfinal result, falling to Igarashi, Seth Moniz (HAW) finds himself at 17,550 points and the new QS No. 1 — all but solidifying himself for a position on the 2019 CT.
Vans US Open Women's CT Final Results:
1 – Courtney Conlogue (USA) 13.83   10,000 points
2 – Stephanie Gilmore (AUS) 11.86       8,000 points
Vans US Open Women's CT Semifinal Results:
SF 1: Stephanie Gilmore (AUS) 11.77 def. Carissa Moore (HAW) 11.36
SF 2: Courtney Conlogue (USA) 15.27 def. Caroline Marks (USA) 11.26
Vans US Open Women's CT Quarterfinal Results:
QF 1: Stephanie Gilmore (AUS) 13.83 def. Johanne Defay (FRA) 13.33
QF 2: Carissa Moore (HAW) 12.70 def. Nikki Van Dijk (AUS) 10.93
QF 3: Caroline Marks (USA) 14.60 def. Sally Fitzgibbons (AUS) 14.60
QF 4: Courtney Conlogue (USA) 12.97 def. Lakey Peterson (USA) 12.64
2018 Women's WSL CT Jeep Leaderboard (After Vans US Open of Surfing)
1 – Stephanie Gilmore (AUS)  53,375 pts
2 – Lakey Peterson (USA) 48,175 pts
3 – Tatiana Weston-Webb (BRA) 38,330 pts
4 – Johanne Defay (FRA) 31,795
5 – Carissa Moore (HAW) 31,235
Vans US Open Men's QS Final Results:
1 – Kanoa Igarashi (JPN) 15.77  10,000 points
2 -: Griffin Colapinto (USA) 15.00  8,000 points
Vans US Open Men's QS Semifinal Results:
SF 1: Griffin Colapinto (USA) 15.56 def. Jorgann Couzinet (FRA) 14.67
SF 2: Kanoa Igarashi (JPN) 13.83 def. Jadson Andre (BRA) 13.67
Vans US Open Men's QS Quarterfinal Results:
QF 1: Griffin Colapinto (USA) 15.27 def. Kolohe Andino (USA) 12.23
QF 2: Jorgann Couzinet (FRA) 11.80 def. Dion Atkinson (AUS) 11.43
QF 3: Jadson Andre (BRA) vs. Italo Ferreira (BRA) (Withdraw)
QF 4: Kanoa Igarashi (JPN) 14.87 def. Seth Moniz (HAW) 11.10
2018 Men's Qualifying Series Rankings (After Vans US Open of Surfing)
1 – Seth Moniz (HAW) 17,550 pts
2 – Peterson Crisanto (BRA) 17,420 pts
3 – Kanoa Igarashi (JPN) 17,150
4 – Griffin Colapinto (USA) 14,950
5 – Jadson Andre (BRA) 14,110 pts
Recognized as the largest professional sports competition and action sports festival in the world, the Vans US Open of Surfing is currently sanctioned and operated by the World Surf League under license from IMG, the event owner. Official partners of this year's event include Vans, Swatch, Jeep, Airbnb, Michelob ULTRA, Hydro Flask, LifeProof, Jose Cuervo, Barefoot Wine, Woolmark, BF Goodrich, Harley-Davidson, Peet's Coffee, Red Bull, U.S. Army, Slowtide, CLIF Bar, U.S. Marine Corps, Let it Block Sunscreen, Tea of a Kind, Flowater, and Frontier Communications.
For more information, including continued updates and scheduling, please visitVansUSOpenofSurfing.com.
About Vans
Vans®, a VF Corporation (NYSE: VFC) brand, is the original action sports footwear, apparel and accessories brand. Vans authentic collections are sold globally in 84 countries through a network of subsidiaries, distributors and international offices. Vans also owns and operates more than 600 retail locations around the world. The Vans brand promotes the action sports lifestyle, youth culture and creative self-expression through the support of athletes, musicians and artists and through progressive events and platforms such as the Vans Park Series, Vans Triple Crown of Surfing®, the Vans U.S. Open of Surfing, Vans Pool Party, Vans Custom Culture, Vans Warped Tour®, and Vans' cultural hub and international music venue, House of Vans.
About IMG
IMG is a global leader in sports, fashion, events and media, operating in more than 30 countries. The company manages some of the world's greatest sports figures and fashion icons; stages hundreds of live events and branded entertainment experiences annually; and is a leading independent producer and distributor of sports and entertainment media. IMG also specializes in sports training and league development, as well as marketing, media and licensing for brands, sports organizations and collegiate institutions. IMG is part of the Endeavor (formerly WME | IMG) network.
About WSL
The World Surf League (WSL) is dedicated to celebrating the world's best surfing on the world's best waves through a variety of best-in-class audience platforms. The WSL has been championing the world's best surfing since 1976, running in excess of 180 global events across the Men's and Women's Championship Tours, Big Wave Tour, Qualifying Series, and Junior and Longboard Championships. The League possesses a deep appreciation for the sport's rich heritage while promoting progression, innovation and performance at the highest levels, and in doing so crowns the undisputed world champions in Men's, Women's across all divisions within the tour. Headquartered in Santa Monica, California, the WSL is a truly global sports and media company with regional offices in Australia, Asia, Africa, North America, South America, and Europe.
For more information, please visit VansUSOpenofSurfing.com.