Haleiwa Ali'i Beach, North Shore, Oahu, HAWAII – (Friday, November 20, 2015)- Australia's Connor O'Leary lit up Haleiwa at the Hawaiian Pro with an intense Round 3 win over reigning world champion Gabriel Medina (BRA) to solidify his equal 11th ranking on the World Surf League (WSL) Qualifying Series (QS). A strong finish here tomorrow could qualify him for the 2016 WSL Samsung Galaxy Championship Tour. The final day of the Hawaiian Pro is expected to get underway tomorrow at 8am.
Competing through 4-man heats, both O'Leary and Medina advanced through to tomorrow, but O'Leary's near perfect 9.57 and top heat score of the entire contest to date – 18.24 –proves he is a serious contender for this first stage of the Vans Triple Crown of Surfing.
The half Australian half Japanese surfer has spent the year competing around the world to stack up 19 heat wins this season, and at 21-years old, the Sydney local is showing good momentum.
"There's lots of talk about what the cut off is at the end of the year and I don't think anyone really knows until it happens," said O'Leary. "I'm just going to try and go heat by heat and hopefully make a few heats here."
On the flipside of the results, Australia's Ace Buchan, Brazil's Wiggolly Dantas, and former Vans Triple Crown champion John John Florence (HAW) were eliminated in the Round 32.
One of the most consequential heats of the day got down to the wire in Round 4 with Filipe Toledo (BRA), Dusty Payne (HAW), Brent Dorrington (AUS) and Deivid Silva (BRA). Less than one point separated all four surfers before their final scores dropped, but it was 20-year-old phenom Toledo who pulled ahead for the heat win with a total score of 16.57. Defending Hawaiian Pro champ Payne advanced in second.
"I just started to get busy right at the beginning of the heat to get three scores to feel comfortable in the first 5 or 10 minutes and then wait for the bombs, so that's why I was super busy out there," said Toledo.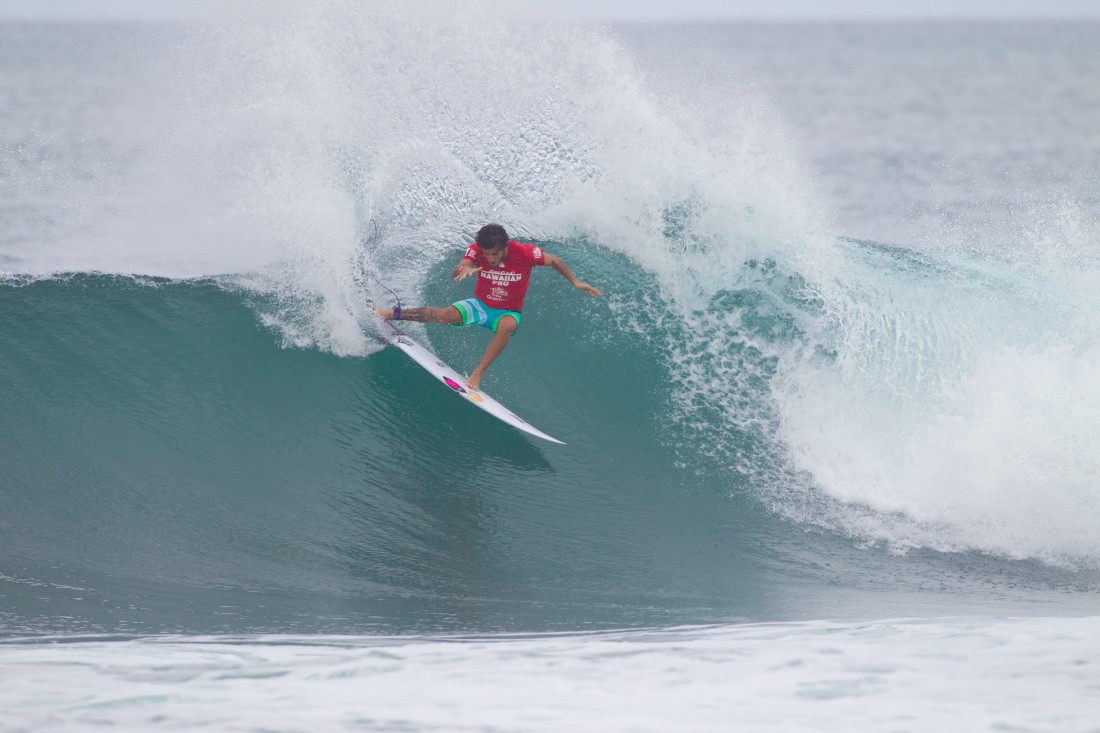 Currently sitting in second place on the world tour, the Brazilian has shown extreme talent throughout the year with three CT wins – Moche Rip Curl Pro Portugal, Oi Rio Pro and Quiksilver Pro Gold Coast – but is coming into Hawaii with humility.
"Hawaii is always the tough season for me, doing the Triple Crown and doing well here in Haleiwa," said Toledo. "I really love to surf Haleiwa, but I never had a really good result so that's why I always come early to compete here. I'm not doing Sunset because I'm going to stay focused on Pipe, I'm going to surf Pipe pretty much everyday waiting for the swell and see how it goes."
With massive scores all day long, the action was at an all time high and major progress was made by key athletes Tomas Hermes (BRA), Tiago Pires and Hizunome Bettero (BRA), who all surfed from the Round of 128 and are now in place for the Quarter Finals.
Hermes and Bettero will replace their lowest results of the season to improve dramatically on the QS ratings.
Wade Carmichael (AUS) is looking to catapult himself on the world tour with an impressive campaign from the Round of 128. With a casual approach, Carmichael posted his best two waves early in the heat, a 7.83 and 8.00, to advance along with Ricardo Christie (NZL) and ahead of Matt Wilkinson (AUS) and Joel Centeio (HAW).
Competition is expected to resume for the final rounds tomorrow at 8am. The Round of 32 will be completed before heading into the Quarters, Semis, and Final.
Results

Hawaiian Pro Round of 32
1st and 2nd advance to next round
H1: Stuart Kennedy (AUS) 15.27pts, Tomas Hermes (BRA) 14.47pts, Jeremy Flores (FRA) 13.90pts, Adrian Buchan (AUS) 12.67pts
H2: Kai Otton (AUS) 14.40pts, Tiago Pires (PRT) 12.10, Kanoa Igarashi (USA) 8.37pts, Alex Ribeiro (BRA) 8.17pts
H3: Michel Bourez (PYF) 13.00pts, Josh Kerr (AUS) 12.20, Wiggolly Dantas (BRA) 11.60, Billy Stairmand (NZL) 10.67
H4: Filipe Toledo (BRA) 16.57pts, Dusty Payne (HAW) 11.17pts, Brent Dorrington (AUS) 10.83pts, Deivid Silva (BRA) 8.73pts
H5: Ryan Callinan (AUS) 14.50pts, Ezekiel Lau 14.50pts, Nathan Yeomans (USA) 14.17pts, Sebastian Zietz (HAW) 13.33pts
H6: Tanner Gudauskas (USA) 11.03pts, Hizunome Bettero (BRA) 10.54pts, John John Florence (HAW) 9.96pts, Keanu Asing (HAW) 7.83pts
Hawaiian Pro Round of 64 
1st and 2nd advance to next round
(Picking up from yesterday's competition…)
H5: Josh Kerr (AUS) 11.37pts, Deivid Silva (BRA) 10.74pts, Jack Freestone (AUS) 10.07pts, Mateia Hiquily (PYF) 7.90pts
H6: Wiggolly Dantas (BRA) 13.17pts, Dusty Payne (HAW) 12.80pts, Medi Veminardi (REU) 11.50pts, Sunny Garcia (HAW) 6.60pts
H7: Brent Dorrington (AUS) 14.33pts, Michel Bourez (PYF) 10.94pts, Kolohe Andino (USA) 8.50pts, Aritz Aranburu (ESP) 7.83pts
H8: Filipe Toledo (BRA) 12.30pts, Billy Stairmand (NZL) 11.50pts, Seth Moniz (HAW) 8.60pts, Ian Walsh (HAW) 5.10pts
H9: Ryan Callinan (AUS) 14.20pts, Tanner Gudauskas (USA) 13.63pts, Adriano de Souza (BRA) 10.80pts, Michael February (ZAF) 9.90pts
H10: Sebastian Zietz (HAW) 17.37pts, Keanu Asing (HAW) 14.23pts, Michael Dunphy (USA) 12.64pts, Carlos Munoz (CRI) 12.50pts
H11: Hizunome Bettero (BRA) 12.37pts, Ezekiel Lau (HAW) 11.44pts, Caio Ibelli (BRA) 11.37pts, Bede Durbidge (AUS) 11.10pts
H12: John John Florence (HAW) 11.67pts, Nathan Yeomans (USA) 11.56pts, Glenn Hall (IRL) 10.03pts, Kalani David (HAW) 9.66pts
H13:  Cooper Chapman (AUS) 17.50pts, Nat Young (USA) 14.77, Joan Duru (FRA) 13.40, Davey Cathels (AUS) 9.63pts
H14: Wade Carmichael (AUS) 15.83pts, Ricardo Christie (NZL) 12.20pts, Matt Wilkinson (AUS) 12.00pts, Joel Centeio (HAW) 11.34pts
H15: Jadson Andre (BRA) 16.07pts, Conner Coffin (USA) 12.87pts, Luel Felipe (BRA) 11.96pts, CJ Hobgood (USA) 7.27pts
H16: Connor O'Leary (AUS) 18.24, Gabriel Medina (BRA) 16.66pts, Thomas Woods (AUS) 12.73pts, Soli Bailey (AUS) 12.47pts