By Shawn Pila
Hometown: Pepe'ekeo, HI
DOB: January 30, 2006
Height/Weight: 4'0" / 60 lbs.
Stance: Goofy
Favorite Board: 4'4" Mana Lele Surfboards
Sponsors: Basic Image Inc., Hilo Surfboard Co., North Shore Surf Shop, and Surf Design Hawai'i
Instagram: @diesel808storm
By the confidence in his stride you would think that this kid has been surfing for more than ten years, but 9-year-old Diesel Butts is just firing up. After only learning how to surf with his dad two days before his very first contest, Diesel won his division, took home a brand new surfboard and has been in love with the sport ever since.
The humble Big Island native is known to be the youngest pint- sized grom surfing second reef Honoli'i Point with the uncles, and although he probably can't get onto most rides at the county fair, you can definitely spot him throwing massive spray from a mile away in his bright green surfing outfit.
So far Diesel has had awesome results, winning both the Honoli'i Paka Surfing Classic and Hakalau Bay Paka Surf Contest three years in a row. He placed 3rd in the Squids division at the Volcom Pufferfish in Kailua-Kona and won the Kickass Grom Award at the Pufferfish in Makaha. He also surfed his way to the HSA state championships multiple times and is feigning for more. With a name like Diesel Butts you're bound to be a hammah.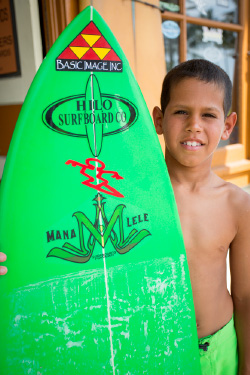 What grade are you in and where do you go to school? I go to Kalanianaole Elementary School and I'm in the 3rd grade.
Do you have any nicknames? Peanut.
What do you love most about surfing and being in the ocean? Catching big bombs.
Favorite surf spot? Pyramids.
Favorite surfers? Shane Dorian, John John Florence, Kala Alexander, Keali'i Mamala and Makua Rothman.
Describe yourself with five words. Solid. Brave. Charger. Talented. Diesel.
Biggest wave you've ever charged? 6-feet Banyans the day of the Shane Dorian contest.
Worst wipeout? At Banyans the day before the Shane Dorian contest. I got sucked over the reef and had to run up the rocks like an A'ama crab.
What inspires you the most? Watching the pros surf every morning on the surf channel.
Favorite type of music? 'Island Child' by Makua Rothman.
If you were in a band what instrument would you play and why? The guitar because I like the sound.
Do you participate in any hobbies outside of surfing? Jiu-jitsu, diving, skateboarding and helping Uncle Skibs and Papa Skippa clean our local surf spots on the weekends.
Have you ever traveled outside of Hawai'i for surfing? No.
If you could travel anywhere in the world for a surf trip, where would it be? Australia and Tahiti.
Hot or cold? Cold.
Sweet or sour? Sweet.
Fruits or Veggies? What is veggies? (haha, everyone laughs).
LEGO's or Mega Bloks? LEGO's.
Ninja Turtles or Power Rangers? Power Rangers!
Batman or Ironman? Ironman.
What is the worst smell in the world? The sewer.
Favorite post session grindz? Poke, smoked salmon and poi.
Favorite pizza? Cheese.
If you could, what two animals would you combine? An iguana and a dog.
Where do you see yourself in the next 5 years? Surfing with the Junior Pro's.
Any future goals? Be a pro surfer and win the Vans Triple Crown.
Anyone you'd like to thank? Mahalo Uncle Skibs, Uncle Scott Murray, Uncle Liam McNamara, Uncle Saa, Uncle Robert Patterson, Uncle Shawn Pila and Uncle Chelsey Hanselman. Oh and follow me on Instagram @diesel808storm !
pau