North Shore, Oahu, HAWAII – (February 26, 2017) – Miles Kauhaahaa was crowned Drop Knee Champion today at the 2017 Mike Stewart Pipeline Invitational, which ran in 5-8 foot clean conditions.
"Everyone wants a Pipeline title and a Pipeline Championship, so I'm stoked," he said.
At the awards ceremony, Mike Stewart commented that it was "one of the best" Drop Knee Finals he had ever seen.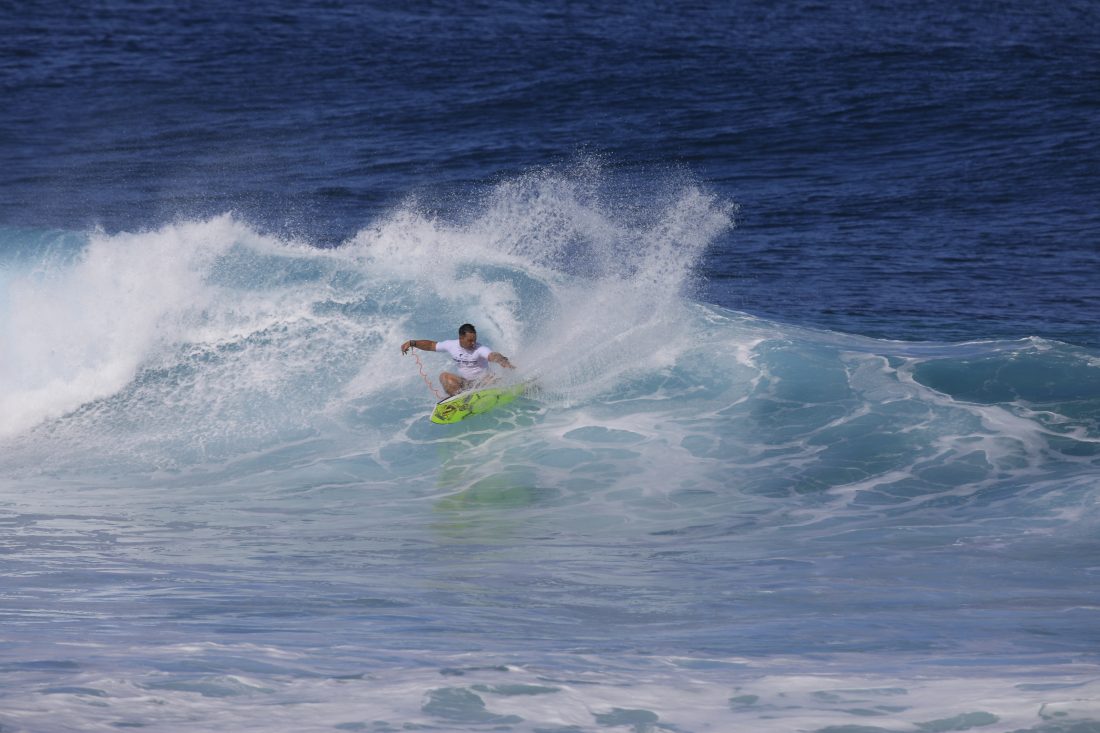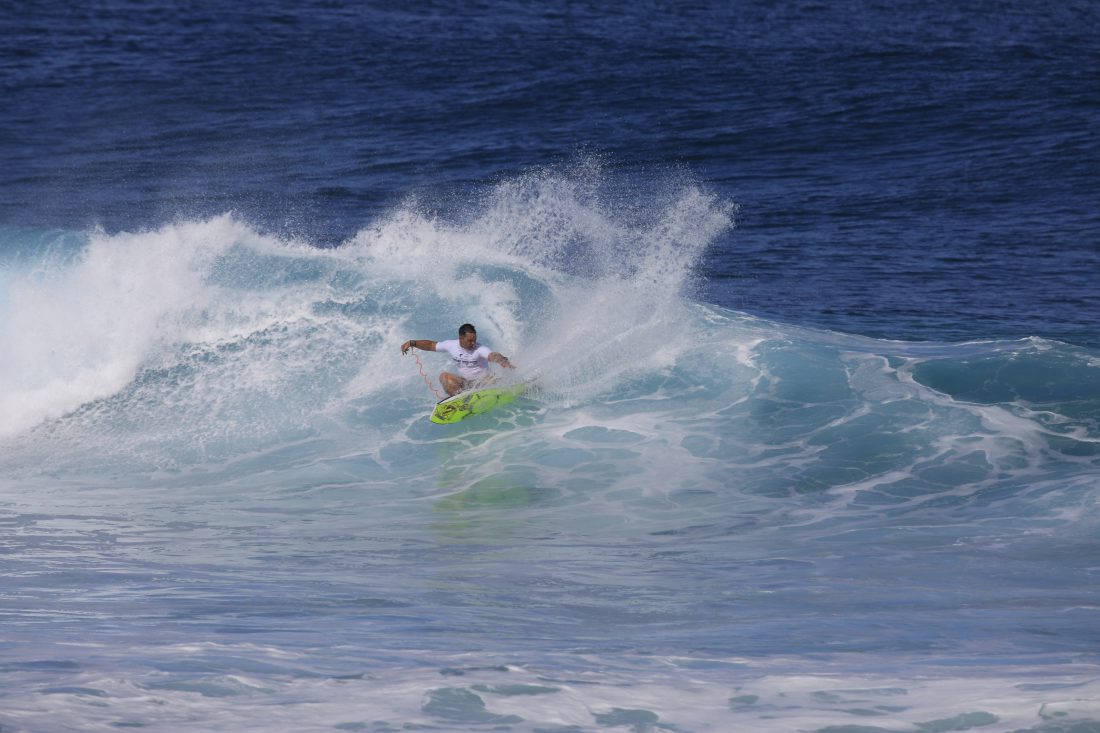 Photo: Black
The action packed Final included all Hawaiians: Miles, Dave Hubbard, Sammy Morretino and Bud Miyamoto. While competitors battled over the Pipeline lefts, Miles pulled into a lengthy right-facing Backdoor barrel and managed to find an exit, giving him one of the highest scoring rides of the event.
"Everyone was going for the lefts, and I wanted to pick out better rights at Backdoor," Kauhaahaa said. "I'm so stoked to win in a Pipe Final. It's the breeding grounds, the proving grounds. You have to come here and prove yourself."
Halfway through the 25-minute Final, Dave Hubbard vaulted from fourth to first by pulling into a peeling Pipeline barrel, and finishing off the wave with a powerful turn and an aerial. But Kauhaahaa answered back, cementing his first ever Title at Pipeline.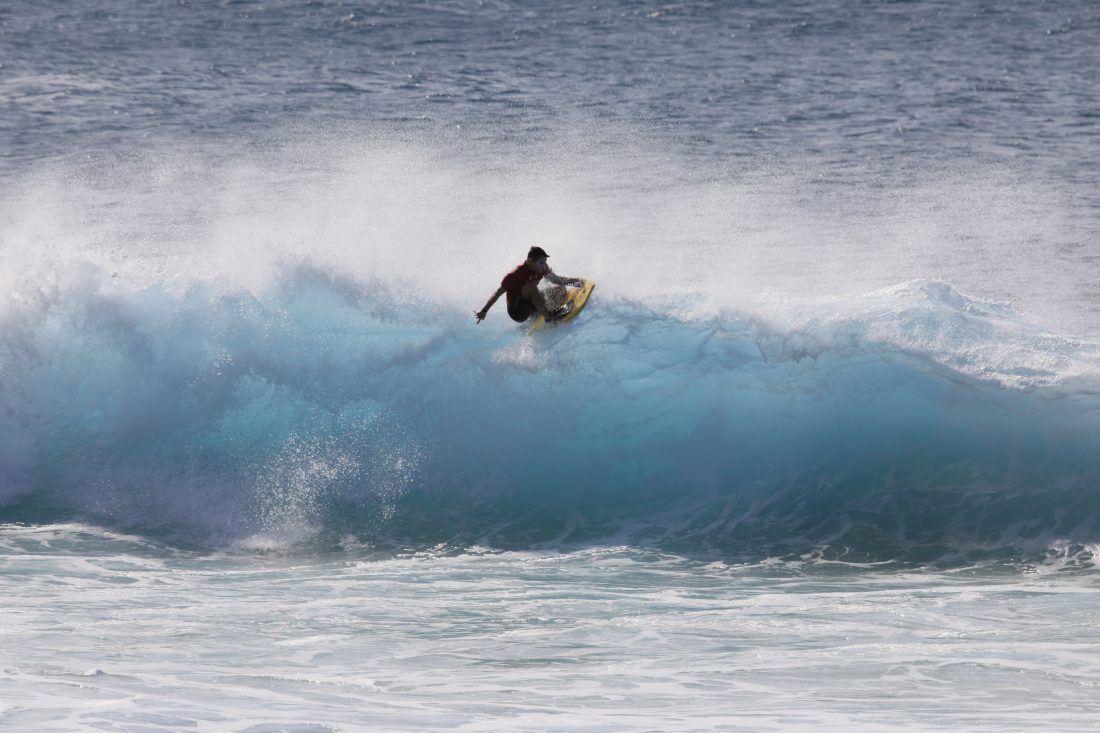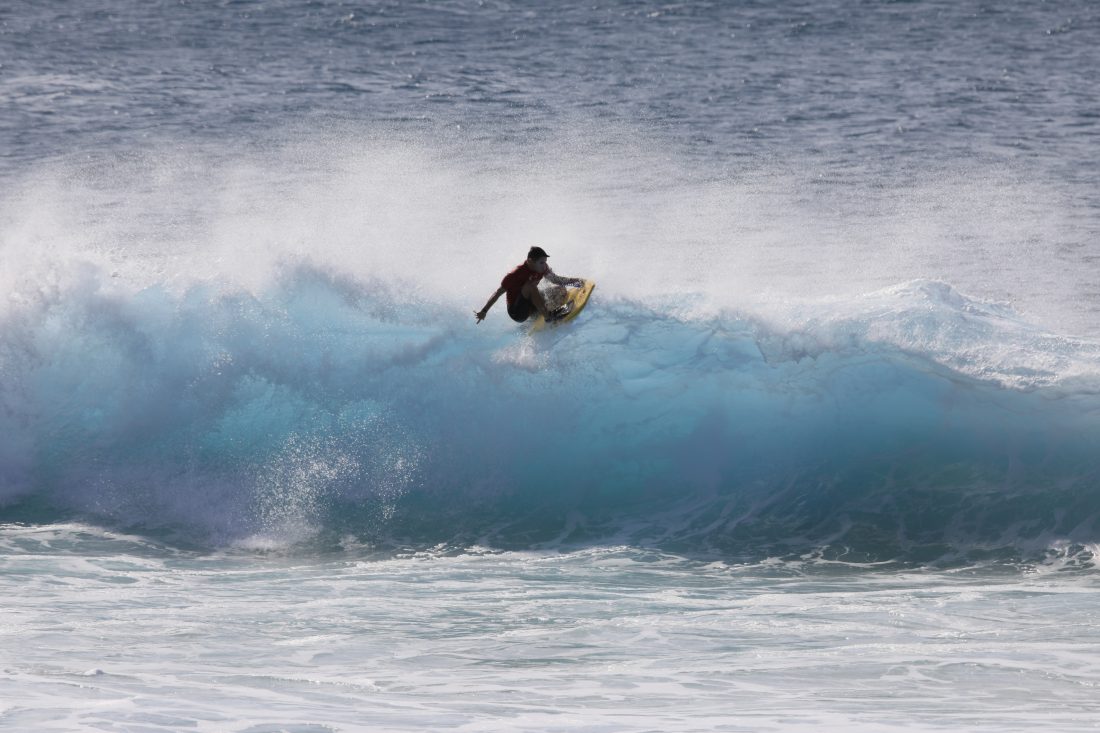 Runner-up finisher in the Drop Knee Division Dave Hubbard. Photo: Black
"To get this event at Pipeline back on the DropKnee Tour, it's an amazing opportunity, because there's a lot of international riders and locals who come out of the woodwork to battle it out at Pipeline," said Hubbard, who finished runner up. "Because the last few years have only had a single stand alone championship event in Portugal for the division, adding Pipeline to that Tour makes it even more credible. It's the most prestigious Drop Knee event, and to have it on the World Tour, everyone is excited to start the year."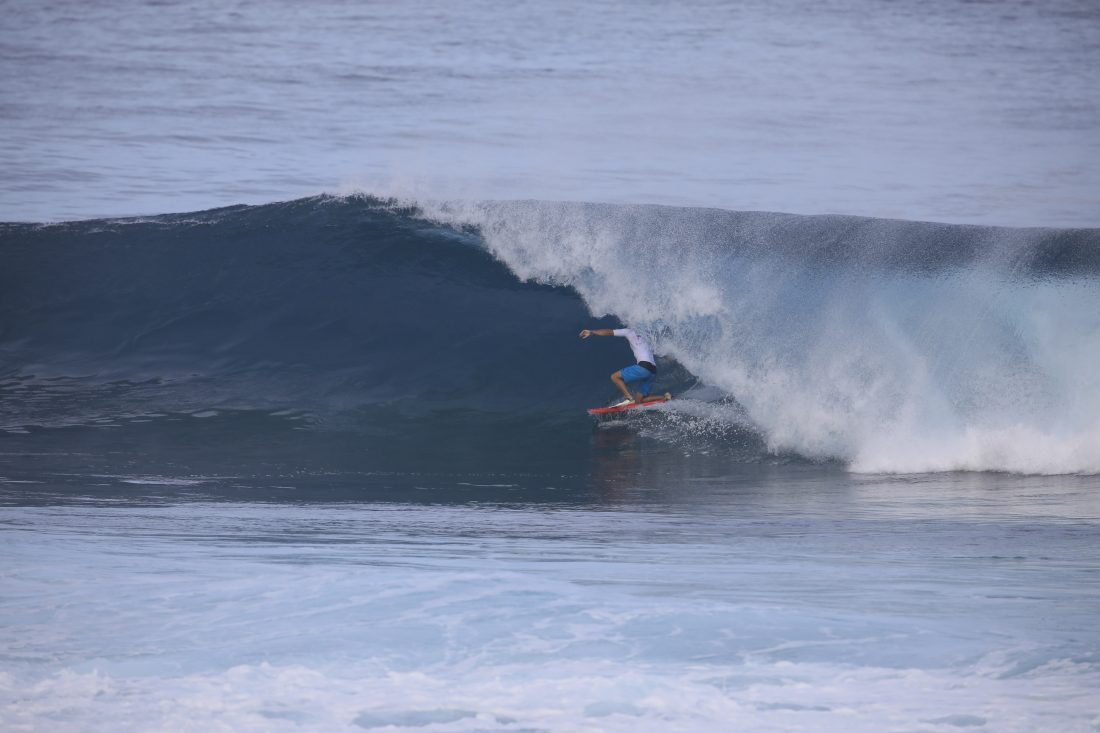 5-8 foot conditions greeted competitors on Day 2 of competition. Photo: Black
Other divisions crowned champions during Day 2, including the Women's and the Junior's.
In waves of consequence, Jessica Becker, Valentina Diaz Langdon, last year's Pipeline winner Ayaka Suzuki and Hiromi Takase took turns showcasing their repertoire at Pipeline, with Ayaka Suzuki taking the win for the second year in the row.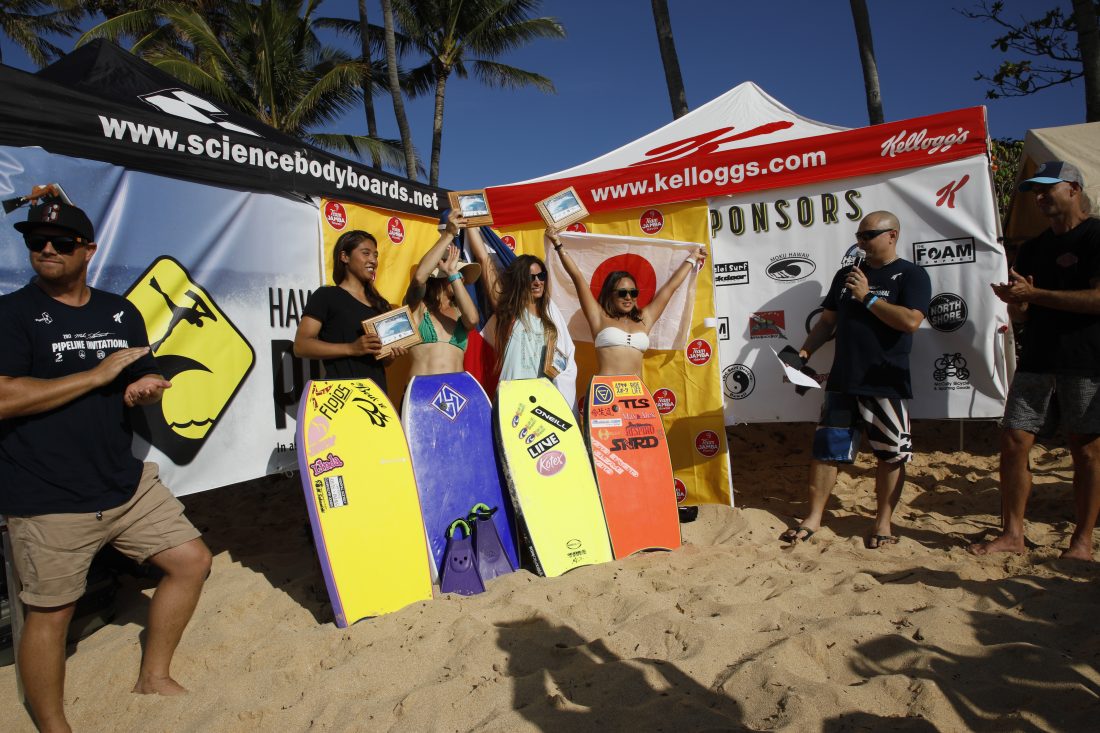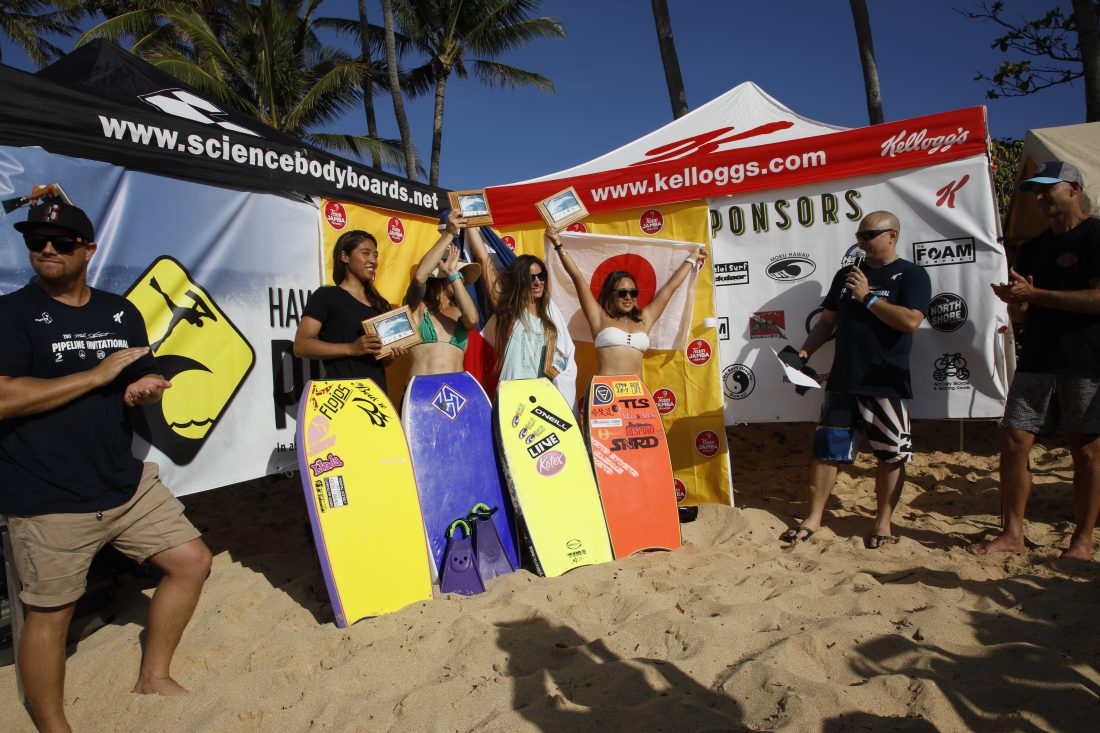 Photo: Black
"I'm so stoked, and I don't know what to say but thanks to everyone and Mike Stewart for putting this on," she said.
In the Junior Final, it was Ezra Hill's impressive barrel rides and wave selection that helped to maintain his lead above the talented field, handing him his first Title at Pipeline.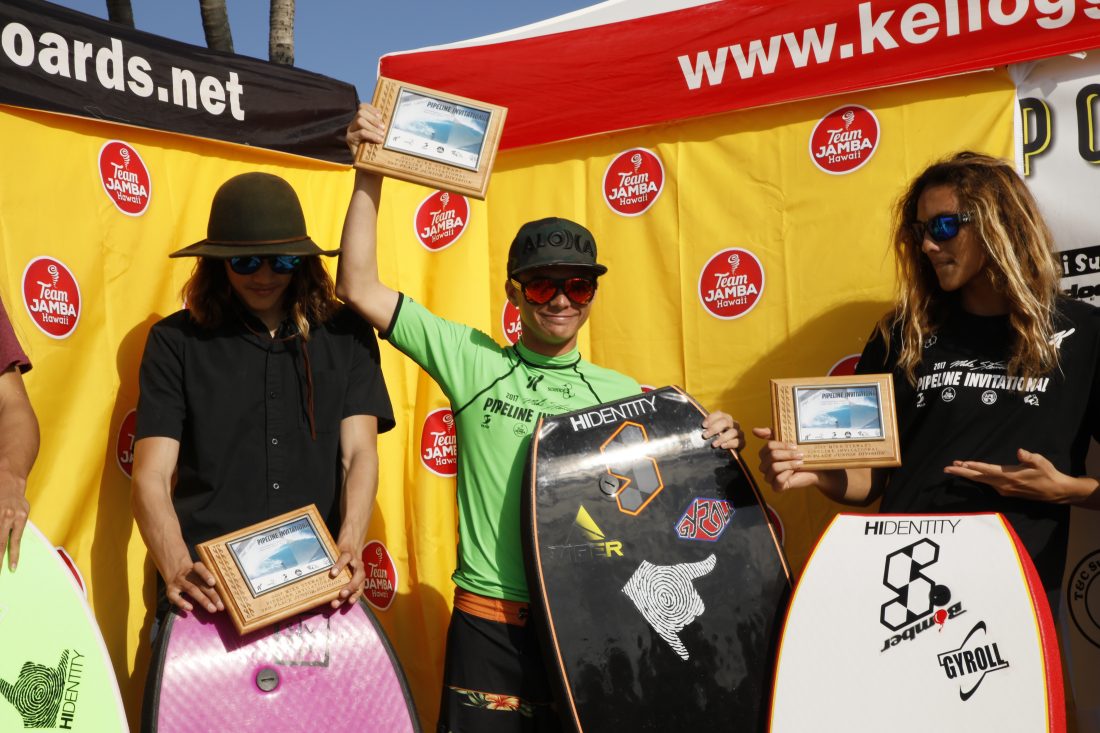 Ezra Hill. Photo: Black 
When asked what his goals are after claiming the Pipeline Title, Hill said, "My goals include the World Tour, and to keep competing with these guys."
Contest Officials are looking at running the Final day of competition this coming weekend, March 4-5, with a promising swell on the forecast. When it does run, the prestigious Men's Division will include Waterman Andre Botha, last year's event winner Pierre-Louis Costes, 6-time World Bodyboarding Champion Guilherme Tamega, Mike Stewart, Jeff and Dave Hubbard and more.

2017 Mike Stewart Pipeline Invitational Day 2 Results
Drop Knee
1 Miles Kauhaahaa
2 Dave Hubbard
3 Sammy Morretino
4 Bud Miyamoto
Women
1 Ayaka Suzuki
2 Valentina Diaz Langdon
3 Jessica Becker
4 Hiromi Takase
Juniors
1. Ezra Hill
2.  Kawika Rohr-Kamai
3.  Gavin Pellkofer
4.  Peyton Oda
5.  Keoni Horswill