HONOLULU, HI—May 15, 2020 – T&C Surf is excited to announce the reopening of our Kahala Mall location.  When we closed our doors for the remodel in the beginning of 2020 no one could have imagined what lay ahead.  The last couple of months have presented countless challenges to our island community.  However, collectively we have risen to the occasion relying heavily on ideals near and dear to all of us – respect, humility, and caring for one another.
The new look of the store seamlessly integrates natural and industrial elements together with pops of color to create an inspiring and eclectic vibe.  The interior celebrates what makes T&C unique.  We look forward to welcoming long-time friends and new customers alike into the space.  As we begin our thoughtful and careful return to business, we look forward to times when we can relax and share stories of the day's session.  In the meantime, our commitment to superior customer service and an elevated selection of goods remains unchanged.  Experienced, knowledgeable, and friendly staff look forward to exceeding expectations as we celebrate the renewal of our Kahala store and the start of our transition back.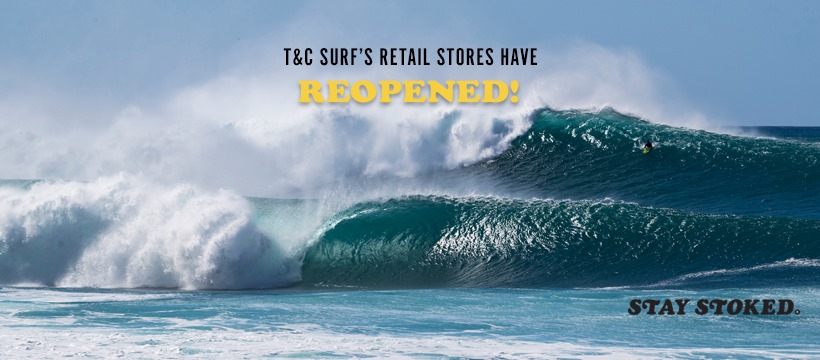 As we journey toward celebrating 50 years in business in 2021, we are more inspired than ever to share the STOKE and ALOHA of surfing.  This premiere surf, skate and fashion store located in Kahala Mall features apparel and accessories from core surf, skate and lifestyle brands. The shop will feature fashion labels from RVCA, Vissla, and Salty Crew.  We will carry a fresh accessories assortment from brands like Hydro Flask, Yeti, and Herschel. T&C Surf will offer a full complement of our branded products from hardgoods, accessories, womens and mens.  "We are so stoked to open our NEW Kahala store.  This location has always been a great strategic spot for the surrounding community.  We greatly appreciate their loyalty and hope they will enjoy the new space.  Though we have been blessed to grow beyond our shores – Australia, Brazil, Europe, Indonesia, Japan, and New Zealand my greatest joy is sharing my love of surfing here in my island home." says owner and founder Craig Sugihara. 
Currently, T&C Surf operates six stores on the island of Oahu:  Ala Moana Center, Haleiwa Store Lots, Pearlridge Center, Kahala Mall, Ka Makana Alii, and Windward Mall.  Our product range offers consumers the best selection of apparel and hardgoods from leading surf, skate and lifestyle brands. T&C values its patrons and is proud to have served its loyal clientele for over 49 years. Our goal is to make lifetime connections based on shared passion.
T&C Surf was recently voted Surf Industry Manufacturers Association (SIMA) 2019 Regional Retailer of the Year.  T&C has been voted Hawaii's Best Surf Shop for years by the Honolulu Star-Advertiser Readers Poll. Other awards include the Governor's Cup Hawaii Specialty Store of the Year, Oahu County Retailer of the Year and Retail Business of the Year awarded by Retail Merchants of Hawaii, Pearlridge Center's Retailer of the year, readers' poll for Midweek's Hawaii's Best Surf Shop, readers pick for Honolulu Weekly's Best Surf Shop and Honolulu Magazine's readers pick for Best of Honolulu Surf Shop 9 years running. 
About T&C Surf 
T&C Surf, was founded in 1971 by local surfboard shaper, Craig Sugihara.  T&C Surf has evolved from a small Hawaii surfboard manufacturer into a multifaceted international leader in the surf industry.  The operation today includes the following divisions: Surfboard Manufacturing, Retail and International Licensing.