We are excited to announce the new 4 mile course from Waimea Bay to Surf n Sea in Haleiwa
Now even easier to qualify for the Kona Sup Derby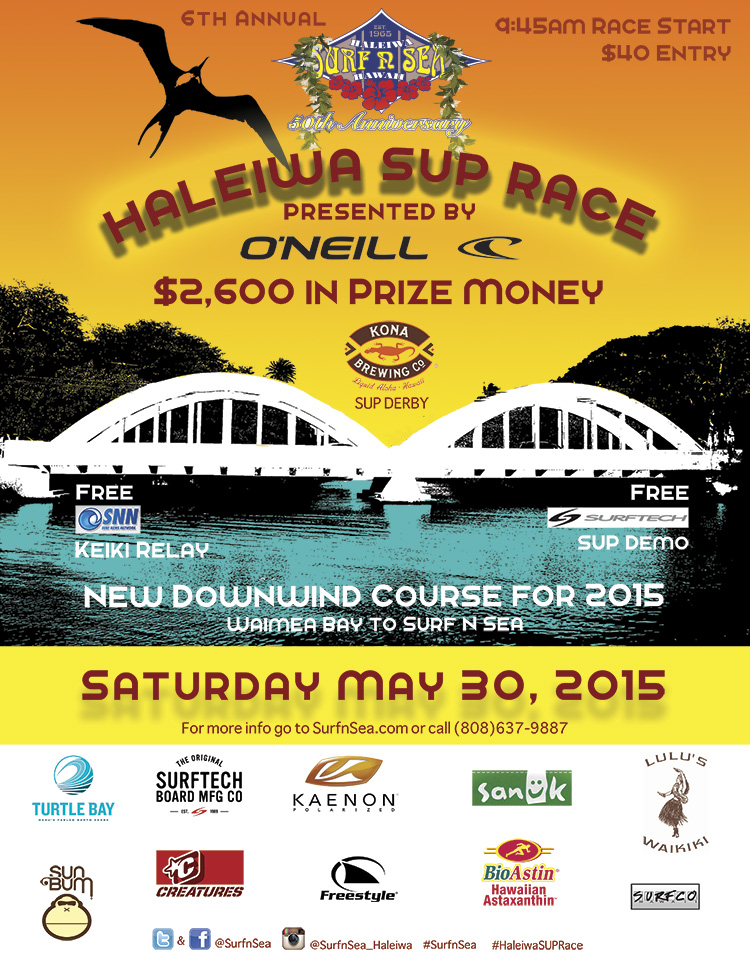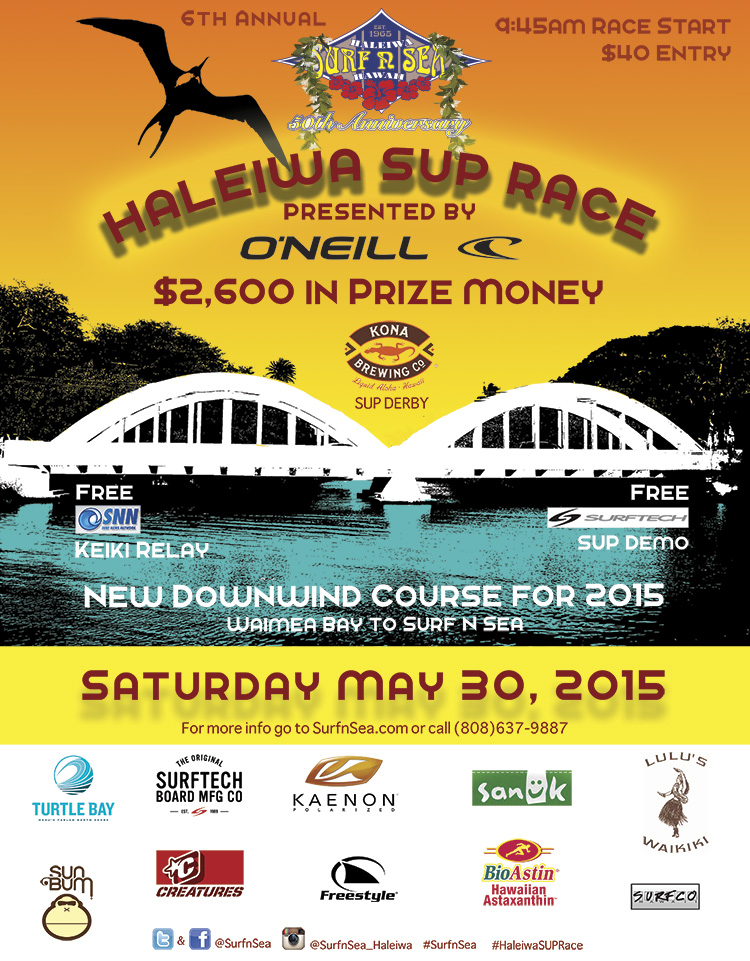 | Time | | Event |
| --- | --- | --- |
| 8:15 | | Registration Opens at Waimea Bay |
| | | |
| | | |
| 9:30 | | Registration closes |
| | | Pre-race safety briefing |
| | | |
| 9:45 | | Main race starts – ALL DIVISIONS |
| | | |
| | | |
| | | |
| | | |
| 11:00-11:30 | | Approximate end of main race finish at Surf N Sea in Haleiwa |
| | | Stop by the hydration stations to get rehydrated |
| | | Free Surf News Network Keiki Relay |
| | | |
| 12:00 | | Approximate start of Kona Brewing Co. SUP Derby |
| | | Sprint Race |
| | | |
| 12:30 | | Kona Brewing Co. SUP Derby continues |
| | | Agility course |
| | | |
| 1:00 | | Approximate end to Kona Brewing Co. SUP Derby |
| | | |
| 1:15-1:30 | | Awards Ceremony |
| | | |
| 2:00 | | Prize Raffle |
| | | |
| 3:00 | | Pau Hana |
Kona Brewing Co. SUP Derby Info
The main race course has changed, but the Kona SUP Derby is still here and still the most exciting SUP contest on the water. Come out and enter for your chance to qualify, or watch the fastest men & women paddlers in the sport battle it out just 100 ft offshore. The Kona SUP Derby is the most spectator friendly an exciting SUP contest around.
The way it works:
Enter the main race in the SUP Stock (12'6) Division, and place in the top 10 for fastest men & top 10 fastest women.
The second challenge is the Pua'ena Pt Sprint.
Starting on the beach at Surf n Sea, the top 20 paddlers will sprint around the Pua'ena Pt rock and back.
The top 5 men & top 5 women advance.
The final final leg of the Kona Brewing Co. SUP DERBY is the agility course in the bay behind Surf n Sea.
2 buoys will be set up for each racer. The first paddler to complete 3 laps will be crowned champion, win the big money, and earn bragging rights as the North Shore's Fastest Paddler.
Prizes will be awarded for 1st, 2nd, & 3rd place for both men & women.
Last year we spectators witnessed multiple thrills, and spills, and exciting come from behind victories.
Do not miss the opportunity to compete in or watch this event, its gonna be awesome!!
*Qualifying racers must use same board for entire Kona Brewing Co. SUP DERBY event*
Free SurfTech Demo Info
Surftech will be set up on the beach all day with all the latest and greatest SUP board designs and models, made available to the public to sample, test & demo all for FREE. Don't miss this opportunity to try out all the best creations by one of the industries top board & paddle manufacturers, with pro models by Gerry Lopez, Robert August, Jamie Mitchell and many more.
Free Surf News Network Keiki Relay Info
What about the little guys?
Don't worry, we have the perfect opportunity to get the little ones involved, with the FREE Surf News Network Keiki Relay.
The first 20 youngins to sign up get their chance to be a part of the SUP race action.
We set up buoys just 20 yards offshore, split the kids into 2 teams, and cheer them on as they race around the buoys and back to the beach to tag their teammates.
Staff will be on hand to make sure all the keiki are safe, having fun, sized for the right equipment, and paddling correctly.
Don't worry about pushing the kids to the limits here, it is all designed to be fun and cooperative, and at Surf n Sea we believe everyone involved is a winner.
Prizes and medals to be awarded for all keiki involved!!!