Waimea Valley presents Pila Ho'okani (Modern Hawaiian Instruments) as the theme for our
Second Annual Concert Series. The series consists of three concerts held Saturdays, June
21st, July 19th and August 3rd
on our Main Lawn from 1pm – 5pm. Concert ticket purchases
can be made on our website www.waimeavalley.net, or in person at Ku'ono Waiwai, here in
the valley. All ticket purchases include admission to the valley for the day of the concert.
The summer concert Series will kick off with the first concert June 21st, the theme Ho'okani
Ke Kika (play the guitar) with Jerry Santos, Brother Noland, and Led Kaapana.
July 19th our second concert of the series, Ho'okani Ka 'Ukulele (play the ukulele) will
feature Eddie Kamae, Imua Garza, Kalei Gamiao, and Brittni Paiva.
Closing our series will be Ho'okani Ke Kika Kila (play the steel guitar) with Timi Abrigo,
Jeff Au Hoy, and Eddie Palama.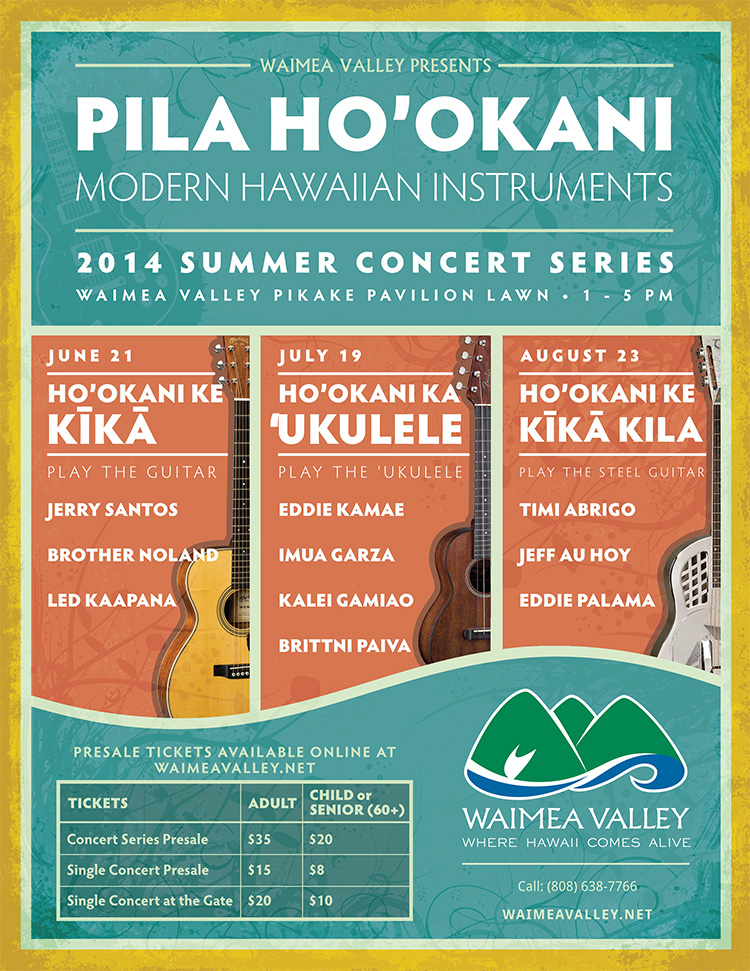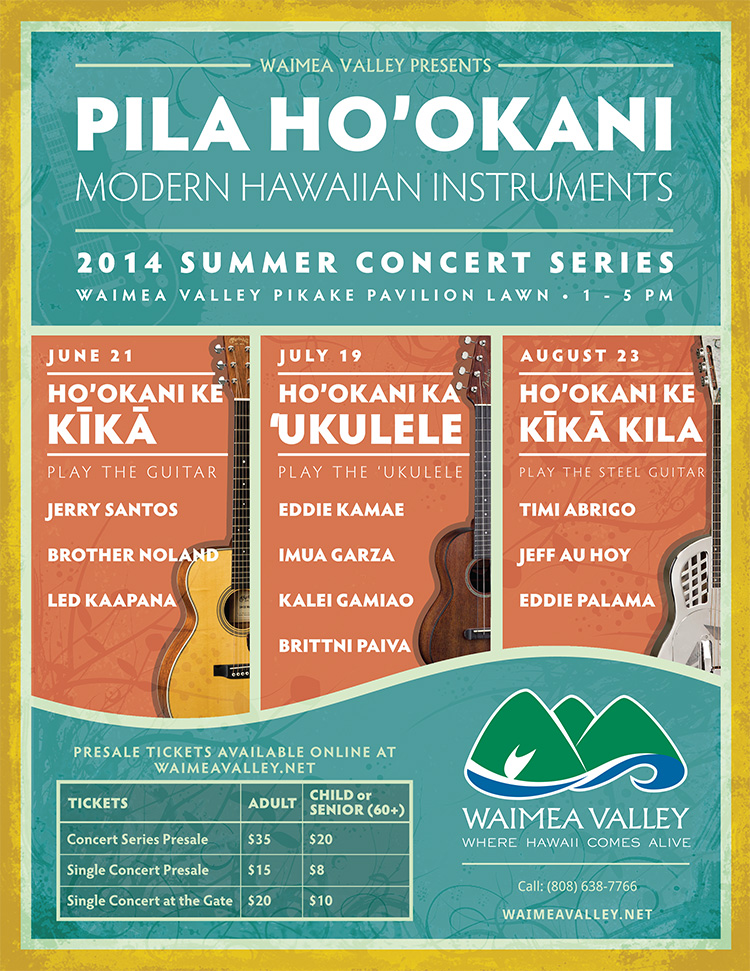 Ticket prices:
Concert Series Presale (all three concerts) – $35 for Adults and $20 for Seniors (60+) and
Children. Single Concert Presale – $15 for Adults and $8 for Seniors (60+) and Children.
Single Concert Tickets at the gate $20 for Adults and $10 for Seniors (60+) and Children.
There is a limited number of tickets available so purchase tickets in advance.
We will have vendor spaces available, those interested please contact Moana:
mbjur@waimeavalley.net or call 808-638-5886 no later than May 15th.
Please direct all media and press inquiries to Moana Bjur at the listed contact information.
Hi 'ipaka LLC, dba Waimea Valley is a 501© (3) non-profit organization. Its mission is to
preserve and perpetuate the human, cultural and natural resources of Waimea for generations
through education and stewardship. For more information call (808) 638-7766 or visit our
website at www.waimeavalley.net.