T&C Surf is stoked to announce the 17th Annual T&C Surf / Surfer Magazine Grom Contest presented by Chili's Grill & Bar. Join the T&C family at Queen's surf break in Waikiki for a weekend full of surf, sand and sun.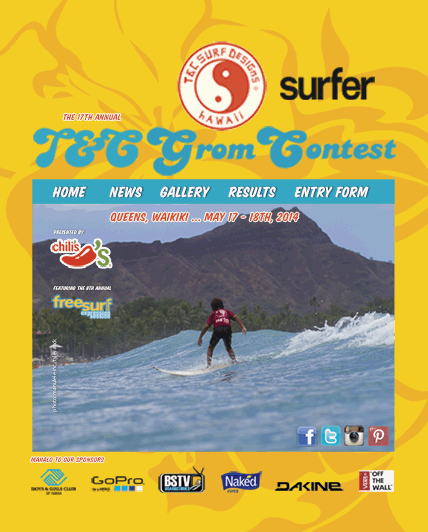 The event gives inspiring surfers age 12 and younger the opportunity to compete at one of the South Shore's premier surf breaks. Groms take on the waves at Queen's surf break in the shadow of the legendary Duke Kahanamoku statue at Kuhio Beach in Waikiki. T&C Surf and Boys & Girls Club of Hawaii, our non-profit partner, produces the event each year to introduce young surfers to the world of competitive surfing in a less-intense setting. Only surfers age 12 and younger who have never participated in NSSA or HASA or similar ranked events may compete. We are anticipating more than 300 entries for this year's contest.
"The Grom Contest is an annual highlight. We have worked to refine the focus on the event on fun. It is all about getting new kids in the water and sharing the stoke of surfing! The smiling faces of the kids never get old." says Craig Sugihara, president and founder of T&C Surf. The contest has grown so popular that T&C Surf added a kokua division a few years ago for keiki ages 3 -6 years old. This division has been maxing out and organizers expect the same this year. Adults are allowed in the line-up during these heats to help little ones catch waves. It gives the youngest of surfers the opportunity to take part in a contest with some extra support from a grown-up. The addition of a kokua division follows an increase in divisions for girls over the past several years. T&C Surf now offers three age groups for girls in both shortboard and longboard divisions.
The expanded offerings bring parents, uncles, aunties and kids from across the island chain to Waikiki Beach for a full weekend at the ocean. The fun kicks off Saturday with preliminary heats in three divisions for boys and girls: shortboard, longboard and bodyboard (schedule is subject to change). Passing the time between heats, kids enjoy beach games with opportunities to score prizes from their favorite surf brands. Before the sun sets, the top young surfers will advance to the finals on Sunday.
Kids also get stoked about being in the spotlight of Surfer Magazine, the shared title sponsor of the event. Many of Hawaii's notable surfers, who now grace the pages of surf magazines worldwide, got their start at this grom contest.
"Surfer Magazine couldn't be more proud to support T&C's Grom Contest again for 2014. We've partnered up with T&C for years on this because we know its impact on each and every grom that participates" says Jeremy Schluntz, Associate Publisher of Surfer Magazine. "Craig, Linda and the entire crew have created an annual tradition that celebrates kids of all levels and ability and gives them memories that will last a lifetime."
Adults can also get in on the fun by signing up for the FreeSurf Magazine Expression Session. Grown-ups join keiki in a special adult/child tandem surf event that gives them the opportunity to share the waves family style. "Nothing brings me more excitement and optimism for the world than to see the smiling faces of young kids and their families gathered at the beach for a fun day of surfing. The T&C Grom Contest is just that and we're very proud to be part of it" says Mike Latronic, publisher of FreeSurf Magazine. The Expression Session is open to all adults and children (under age 5). On-site entry is free (limited to 10 entries) and prizes and trophies are awarded to the top three teams.
The event wraps up with the final heats on Sunday, where the top six in each division receive trophies and prize packs filled with surf products from event sponsors and the opportunity to win one of two custom T&C Surf boards.
The Board Stories film crew will be on-site to capture all the action in the water for a segment on Board Stories TV this summer.
The Grom Contest is designed so all entry level surfers ages 3-12 years old are eligible to surf only one division providing more kids a chance to compete. The two-day event will be staged over the weekend of May 17th and 18th, with competitors meeting at Queen's, Waikiki on Oahu at 7am Saturday morning.
T&C T&C Surfer Grom Contest is presented by Chili's Grill & Bar and supported by GoPro, Dakine, Vans, Naked Juice and BoardStories. The Boy's & Girls Club of Hawaii has been the local non profit partner for the event for many years now.
Entry forms are available at all T&C Surf locations, online at TCSurf.com/grom14 and on Facebook (keyword Grom Contest). A portion of the proceeds from contest T-shirt sales will be donated to the Boys & Girls Club of Hawaii. The public can call 808-483-8711 for more information.
About T&C Surf
Founded in 1971 by surfboard shaper Craig Sugihara, T&C Surf operates three divisions: surfboards, retail and licensing. The surfboard division operates from a state-of-the art shaping facility in Wahiawa. It provides our highly skilled board shapers with the best tools for designing and producing some of the world's most sought-after boards. The retail division includes six locations on Oahu; Ala Moana Center, Kahala Mall, Pearlridge Shopping Center, Ward Center, and Windward Mall. The licensing division has agreements around the world, including Japan, Brazil, Australia and New Zealand. Visit us online at TCSurf.com.