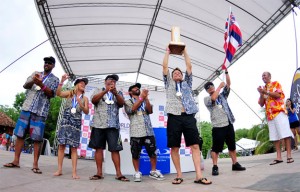 Nicaragua ISA World Masters Surfing Championship
Sunday, July 22, 2012
Colorado Beach at Hacienda Iguana, Nicaragua
With a team groomed in challenging, barreling conditions along the famed North Shore of Oahu, Hawaii's team was tailor-made for the conditions at Colorado Beach at Hacienda Iguana. Surfing in well-overhead waves on the final day of competition, the Hawaiians won six individual medals at the Nicaragua ISA World Surfing Championship, and clinched the Team Gold Medal and the perpetual Eduardo Arena Trophy.
"The depth of the talent that we brought with us – Sunny [Garcia], Kaipo [Jaquias] and Rochelle [Ballard] – was a pretty big edge to begin with, and then to have Nelson, who's one of the coolest dudes in the world, and Glenn, who is a master shaper, it was a really good dynamic," said Mike Latronic, who was both a competitor and team manager for the Hawaiians. "We have a lot of combined experience, heat wins and great surfing. This year wasn't even so much about the results, it was about the spirit of our team, the camaraderie, the laughs, and the joy of the whole trip. To cap it off with a Team Gold Medal was icing on the cake."
Hawaii won six of the 20 individual medals awarded on Sunday, with a Gold and Silver won by former ASP World Tour Champion Sunny Garcia, a Gold for Rochelle Ballard, a Silver and Bronze for Kaipo Jaquias and a Bronze for Mike Latronic.
Team USA, which won Gold last year in El Salvador, had to settle for the Team Silver Medal in 2012.
After eight amazing days of competition, with many memories and friendships made, the Nicaragua ISA World Masters is at its end, but the impact will certainly live long beyond once the scaffolding comes down.
"Eight days ago we arrived to Nicaragua as strangers, and today we are all leaving as Nicaraguan ambassadors," said Fernando Aguerre, the President of the ISA. "We thought there would be good waves here and, instead, there were amazing waves. We thought there was going to be good organization, but it was great. We thought that it was going to be a competitive tournament and it was unbelievably tight until the very late minute of the very last heat, so thanks to all the competitors! This event is tattooed in our hearts. We didn't know what would happen in Nicaragua and now we leave surprised and forever indebted."
The Finals of the Women's Masters division wasn't the heat Rochelle Ballard (HAW) expected. After winning every heat she'd entered – and having done so in dominating fashion – the Finals came down to a last-minute wave to decide the world champion.
"It feels good to be champion. I came runner-up on the ASP World Tour against Sofia (Mulanovich in 2004) and I really like to continue to see where [the ISA World Masters] is going to go, especially bringing back some true champions," Ballard said. "I'm really stoked for the Hawaiian team. This whole event has been about that, sharing our Aloha and our passion and the camaraderie that we have. I love that spirit of sharing; it's really inspiring to me and it motivates me to do well. The ISA just put on an amazing event."
During yesterday's webcast Rochelle challenged Lisa Andersen and Layne Beachley (former ASP world champions) to compete in the 2013 event, reviving their Professional surfing rivalry.
Sandra English (AUS) was leading the heat up until Ballard's final, Gold Medal-winning wave. English finished with the Silver, her highest finish in ISA World Masters competition. She had previously won a Bronze in Punta Rocas, Peru in 2008 and a Copper at Santa Catalina, Panama in 2010. Sonia 'Pucha' Garcia (PAN) won the Bronze Medal and Andrea Diaz (CRI) won the Copper Medal.
Javier Huarcaya (PER) Wins Grand Kahunas Gold, After Twice Finishing Runner-up
After coming so very close on two previous occasions, Javier Huarcaya (PER) wasn't going to let his opportunity to finally win an ISA World Masters Gold Medal pass him by. With the minutes ticking down, a set looming and competitors within striking distance to surpass his score, Huarcaya made a dramatic effort to secure the win. With no hope of making the drop, he threw himself over the ledge to keep another competitor off the wave. The final horn blew, and the allusive Gold was his.
"It tastes so good; after two Silvers and now, finally, the Gold. I thought that this would be my last ISA World Championship, but now the people of Peru say, 'No!' This is a dream," said Huarcaya, who won Silver at the ISA World Masters in 2010 and 2007. "Here you have to look at the sea until the last second. Colorado Beach changes every two minutes and to have the right boards was crucial. I changed my board for a smaller one in the morning and for the final, I used a longer board. Without that change I wouldn't have caught that barrel, not even with an engine. The longer board and the light of God helped me."
The Gold was Peru's first at the ISA World Masters since 2007. Allen Sarlo (USA) won Silver for the second consecutive year, while Rod Baldwin (AUS) won Bronze and Craig Schieber (CRI) won Copper.
Hawaiians Sunny Garcia and Kaipo Jaquias Win Gold-Silver in the Men's Grand Masters
As much as Juan Ashton (PUR) and Mark Cameron (AUS) tried, they simply couldn't keep pace with the Hawaiian duo of Sunny Garcia and Kaipo Jaquias. The Hawaiians pulled away late in the final, putting both surfers in the combination situation, requiring two high wave score to surpass them. The Hawaiians went barrel-for-barrel in the fight for the Grand Masters Gold Medal and World Championship. Garcia found the wave of the heat, racing through an overhead barrel for a 9.83 and his first World Championship since he won the ASP World Tour Championship in 2000.
"I'm very happy. I've always wanted to come to an ISA event. I never got to go when I was younger. All the years on [the ASP World Tour], they were always conflicting date events," Garcia said. "It's my first time and hopefully won't be my last."
With his Bronze Medal, Ashton extended his record ISA medal count to six individual medals (4 Gold, 1 Copper, 1 Bronze).
Americans Jim Hogan and Ricky Schaffer Finish First-Second in the Men's Kahunas
The Americans seem to have the Kahunas division on lock-down. After Tom Curren and Jim Hogan finished first-second last year in El Salvador, Hogan took a step up the podium, winning his first ISA Gold Medal. His teammate, Ricky Schaffer finished second, winning the Silver.
"It feels really good to come back and actually win the Gold. I've just surfed on two USA teams and at two ISA events, last year and this one, so I'm really honored that the US picked me to be a member of their team," Hogan said. "My name has been next to Tom Currens' since 1978 and we've had some good rivalries over the years. I wish he were here, but Ricky Schaffer did a tremendous job. This guy surfed his heart out, he pushed me and if he hadn't pushed me as hard has he did maybe I wouldn't have the Gold."
The Americans had a rough day leading up to the Finals, losing four teammates just a heat before the Medal round. Hogan and Schaffer's performances offered a bit of redemption and critical points toward the team standings and the Team Silver Medal.
Magnum Martinez's Late-Heat Heroics Earns Him the First-Ever ISA Gold for Venezuela
The storyline was set: the Hawaiians were to go one-two in two divisions. Apparently, Magnum Martinez didn't get the script. Weaving through long blue-green barrels and cranking powerful hacks off the lip, the Venezuelan accrued a score of 16.66, shocking the thousands of spectators on the beach and even his own countrymen, winning the first-ever ISA Gold Medal for Venezuela.
The wave that swung the heat for Martinez came with about a minute to go in the final. He pulled into an overhead barrel, came out clean and landed a huge air-drop floater for an 8.83. His countrymen went crazy on the shoreline, waving their red, yellow and blue flag, and jumping wildly.
"I'm a late bloomer; I always do everything late. I started to surf when I was 15 and won an ISA World Championship at 38. It's the greatest gift in my career," said Martinez, with tears down his face. "I was getting a lot of support through the Internet and I was trying to embrace it to help me get to first place. Thank you to all the people who support me. I have to thank Kaipo, Sunny and Armando, it was an honor to be in that final. We were competing but there was much respect between all of us.
Garcia finished with the Silver Medal, while Jaquias won the Copper, and Brazil's Armando Daltro finished with the Bronze.
Closing Ceremony of the Nicaragua ISA World Masters Packed With Excitement and Surprises
Once the Medals were distributed, the national anthems sung and the emotional intensity of the ISA World Masters was at its end, ISA President Aguerre wasn't yet ready for the enthusiasm surrounding the ISA and this event to come to a close. First he presented to Minster of Tourism Mario Salinas an ISA hat and a plaque for Nicaragua's president, Daniel Ortega. Then he announced the locations of five future ISA events for 2012 and 2013, including the ISA World Masters to be held in Montanitas, Ecuador. And finally, he and Minister Salinas had one last announcement: the ISA will return to Nicaragua in July 2013 for the ISA World Juniors Surfing Championship. The news were received with a huge ovation from the large crowd attending the Closing Ceremony.
Men's Grand Masters Qualifying Round 5 Results
Heat 1: Sunny Garcia (HAW), 15.66; Kaipo Jaquias (HAW), 11.00; Hans Hagen (USA), 9.43; Dean Randazzo (USA), 6.34
Men's Kahunas Qualifying Round 4 Results
Heat 1: Mike Latronic (HAW), 12.64; Ricky Schaffer (USA), 12.26; Cardoso Junior (BRA), 9.60; James Hogan (USA), 9.40
Men's Masters Qualifying Round 5 Results
Heat 1: Kaipo Jaquias (HAW), 13.34; Sunny Garcia (HAW), 10.07; Magnum Martinez (VEN), Rick Takahashi (USA), 9.93
Women's Masters Repechage Round 4 Results
Heat 1: Sandra English (AUS), 9.00; Sonia Garcia (PAN), 6.17; Andrea Diaz (CRI), 3.20; Alisa Cairns (USA), 3.20
Men's Grand Masters Repechage Round 8 Results
Heat 1: Juan Ashton (PUR), 10.07; Mark Cameron (AUS), 8.80; Dean Randazzo (USA), Hans Hagen (USA), 7.27
Men's Kahunas  Repechage Round 6 Results
Heat 1: James Hogan (USA), 10.37; Cardoso Junior (BRA), 5.73; John Schmidenberg  (AUS), 5.46; Magoo de la Rosa (PER), 2.93
Men's Grand Kahunas Repechage Round 6 Results
Heat 1: Craig Schieber (CRI), 7.30; Javier Huarcaya (PER), 6.07; Odalto Castro (BRA), 4.00; Javier Gorbea (PUR), 3.53
Men's Masters Repechage Round 8 Results
Heat 1: Magnum Martinez (VEN), 13.33; Armando Daltro (BRA)
Women's Masters Final Results
Gold – Rochelle Ballard (HAW), 8.90
Silver – Sandra English (AUS), 8.17
Bronze – Sonia 'Pucha' Garcia (PAN), 5.00
Copper – Lucila Gil (ARG), 3.83
Men's Grand Kahunas Final Results
Gold – Javier Huarcaya (PER), 14.67
Silver – Allen Sarlo (USA), 11.30
Bronze – Rod Baldwin  (AUS), 10.10
Copper – Craig Schieber (CRI), 8.43
Men's Grand Masters Final Results
Gold – Sunny Garcia (HAW), 17.66
Silver – Kaipo Jaquias (HAW), 17.33
Bronze – Juan Ashton (PUR), 11.06
Copper – Mark Cameron (AUS), 7.10
Men's Kahunas Final Results
Gold – James Hogan (USA), 15.56
Silver – Ricky Schaffer (USA), 13.50
Bronze – Mike Latronic (HAW), 11.10
Copper – Cardoso Junior (BRA), 8.24
Men's Masters Final Results
Gold – Magnum Martinez  (VEN), 16.66
Silver – Sunny Garcia (HAW), 14.10
Bronze – Kaipo Jaquias (HAW), 10.87
Copper – Armando Daltro (BRA), 9.50
Final Team Standings
Gold – Hawaii – 10,540
Silver – USA – 9,771
Bronze – Australia – 7,540
Copper– Brazil – 7.306
5. Venezuela – 7,303
6. Peru – 7,060
7. Puerto Rico – 6,753
8. Japan – 6,476
9. Argentina – 6,366
10. Costa Rica – 5,996
11. France – 5,850
12. Ecuador – 4,988
13. Panama – 4,916
14. Guatemala – 4,630
15. Mexico – 4,359
16. El Salvador – 3,950
17. Dominican Republic – 2,801
18. Chile – 2,250
19. Italy – 1,980
20. Tahiti – 1,750
21. Nicaragua – 1,070
22. Jamaica – 1,050
23. Uruguay – 720
23. Switzerland – 720
25. Germany – 660
26. Ireland – 413
ISA Aloha Cup Finals Results
Gold – Hawaii, 47.4
Silver – Australia, 44.68
Bronze – Costa Rica, 34.39
Copper – Puerto Rico, 30.11
The Nicaragua ISA World Masters Surfing Championship is made possible with the backing of the following sponsors: Nicaragua Tourism Institute, Gray Line, AmericanAirlines, Canal 13, Amnet, Hacienda Iguana, Taca, VOS TV, Municipalidad de Tola, Flor de Caña, INISER; the following cosponsors: Movistar, Dollar, Alamo, Comité Olimpico Nicaragüense, Hilton, Nuevo Diario, Guacalito, Condor, Servipro, Aqua Spa, CDNN canal 23, Nicasurfing; and the following supporters: Surfari Charters, Corona, Paso Pacifico, Renisa, Parmalat, Credomatic, Cruz Roja, Pantaleon, Canatur. The media partners are Pasión Xtrema, SurfersVillage and Surfos. The Official Forecaster for the event is Surfline.
About the International Surfing Association
The International Surfing Association (ISA) is recognized by the International Olympic Committee as the World Governing Authority for Surfing. It was originally founded as the International Surfing Federation in 1964 and has been running the Open Division World Championship since 1964, the World Junior Surfing Championship since 1980, the World Masters Surfing Championship since 2007, the World Bodyboard Championship since 2011, and the Hainan Wanning Riyue Bay International Surfing Festival in China and the World Standup Paddle (SUP) and Paddleboard Championship beginning in 2012. The ISA also sanctions the World Kneeboard Titles and the World Tandem Surfing Championship.
ISA membership includes the surfing National Governing Bodies of 71 countries on five continents. Its headquarters are located in La Jolla, California. It is presided over by Fernando Aguerre (Argentina), first elected President in 1994 in Rio de Janeiro and re-elected seven times since. The ISA´s four Vice-Presidents are Alan Atkins (AUS), Karín Sierralta (PER), Debbie Beacham (USA) and Layne Beachley (AUS).
More on www.isasurf.org