by Cash Lambert
It's late January, and Zoë McDougall is paddling out in the Sunset Pro Junior Final. The conditions are well overhead, there's a light breeze, and Zoë's usual-smiling face is stern and focused. Up for grabs are QS points, a prize check and bragging rights among peers for winning at the challenging big wave arena.
After the buzzer sounds to begin the Final, Zoë locks in: She takes off on the first couple of waves in the heat and secures the lead with a 5.75 and 4.90, all the while looking comfortable despite the powerful and heavy conditions. Her seemingly effortless carves and spot on wave selection can be attributed to her raw talent, and also to the fact that she grew up surfing Sunset Beach.
"I just want to carry this momentum," the 17-year-old says after the heat, beaming and holding the first place prize check. "I started the year at Junior Worlds and got a Quarterfinal finish, and then to come home to this was great. I head off to Australia for the 6,000s next so I'm going to do everything this year."
After the contest, Zoë did just that: she packed her equipment, clothes and expectations and jetted off to test her talents against an international field of competitors.
We can't wait to see both her results and her expectations come to fruition as she brings a wrecking-ball of momentum to contests throughout the competitive year.
What's your first surfing memory, Zoe?
My earliest surfing memory is probably surfing the white water reforms at Ali'i beach and Shores after school with all the other North Shore kids when we were about 6 years old.
At what point did you commit to competitive surfing?
I've always been a competitive person. The first time I ever competed was when I was 5 or 6 in the Kokua division of the Menehune contest in Haleiwa. That contest is really awesome because everyone wins first place. It got me really stoked.
Where does your name come from? Is there any story behind the name Zoë?
I think my mom really just liked the name Zoë, because it's Greek and means Life.
And what's the significance of the two dots over the e?
The two dots over the "e" give it the "y" sound.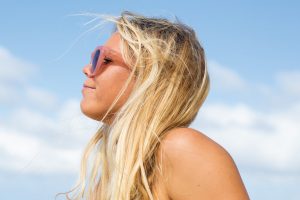 What do you like the most about competing? The challenge, the outcome?
Honestly the best thing about competing is winning.
Who are your biggest surfing influences and why?
I think the biggest influences in my surfing are Stephanie Gilmore, because her style is so flawless. Also John John. I grew up next to Coco Ho and we surf together a lot…she is really inspiring.
What about your favorite wave when you're back home in Hawaii? Where can we find often find you?
That's a question I get asked all the time and it's tough, because there are so many good waves and it's hard to choose just one. There's so many choices you can't go wrong. I really love surfing Vland, Haleiwa and Sunset.
How do you balance school with your surf schedule?
I can fit my schooling in the morning or evening because I'm homeschooled, and I'm currently taking classes like Spanish 2 economics, math and chemistry.
What are your surfing goals for 2017?
In 2017, I really want to stay in first place on the Junior Pro ratings and win the Regional Title, which would qualify me for World Junior Championships. I also want to get some good results in the QS and finish in the top 20 or 30 to be in a good spot for the next year.
What has grinding it out on the QS taught you?
The QS has taken me to a lot of places and I've learned to surf waves that are really different from my home, it gives me a good appreciation for the swell that we get. It has also taught me a lot about what the rest of the world is like and has given me lots of friends all over the earth.
Your biggest challenge on the QS: what is it and how are you facing it?
My biggest challenge is probably how different all the waves that we have contests are from where I live, but practicing as much as I can in those conditions and figuring out my boards has helped me a lot.
How does the North Shore inspire you?
The North Shore has a unique, raw beauty about it and it inspires people that have a really happy and healthy lifestyle. Everyone's focused around the ocean, whether you're surfing, diving or bodyboarding. You're always in the water and it's your playground growing up.
Best piece of advice you've ever received?
I think the advice I live by is to always try stay positive, humble and grateful.