By Daniel Ikaika Ito Photos Kirk Lee Aeder
CJ Kanuha thrives in duality. The Native Hawaiian from Kona has one foot firmly planted in the past, and the other stepping into the future. He is the balance of opposites: traditional and modern, Haole and Hawaiian, art and science, ambition and humility. CJ is a professional surfer who can cruise like one of the boys, strumming an ukulele under the Banyan tree in Kona, or rub shoulders with the upper-echelon of high society in the big city.
"CJ is a very good example of a fashionable dude that can go to New York and hang out and also comeback to Kona and build an imu (an underground oven)," says filmmaker and Big Island native, Chad Campbell. "He can span those two worlds of a young, cool person in this society, he can go and throw net and he can hang with supermodels in Spain."
Like his fashion sense, Kanuha's surfing is equally adaptable. His homebreak is Banyans and he grew up idolizing the Momentum Generation's Big Island representatives, Conan Hayes and Shane Dorian. According to Dorian, who watched CJ go from grommet to gorilla, the lanky hapa haole still has the surf stoke of a kid.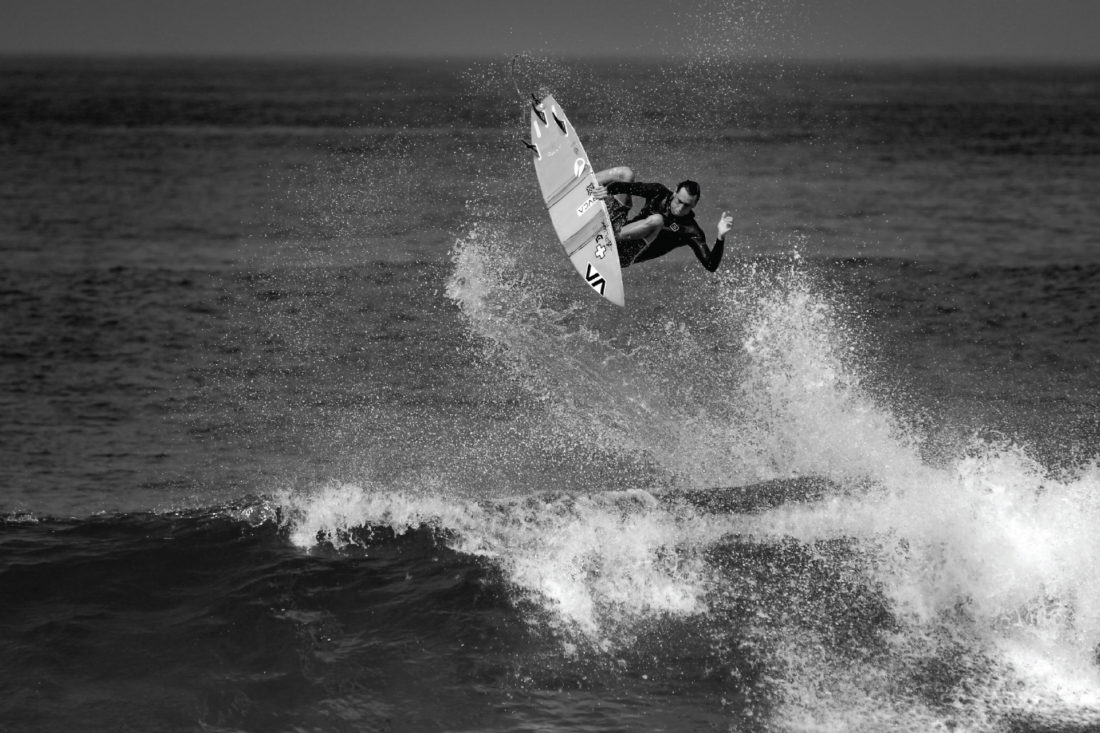 "CJ Kanuha is a frothy surfer, he's real excited to surf kind of like a grom," says Dorian. "He's like a man-child, a classic, big character full of aloha and he's really friendly."
CJ can ride a 5'10" thruster, blow the tail, get barreled and blast a giant air on the closeout section. His surfing is in the forefront of high performance in 2012, yet he can paddle out a 100-plus pound, 21-foot olo and masterfully slide the traditional Hawaiian surfboard in like it was 1712.
"It's like trying to control a car with no power steering, old school, and your breaks are shot, you're down to the pedal, pumping 'em, going down a steep hill: That's what an olo boards like," says Kanuha about surfing a finless, wooden traditional papa he'enalu (surfboard) versus a contemporary, polyurethane thruster."Riding a short board's like putting your pedal to the metal and jumping in your frickin' Ferrari, and doing 180s around corners with frickin' doughnuts all in one turn."
Kanuha's "Ferraris" are modern shortboards shaped by Doc Lausch under the Surf Prescriptions brand. While the traditional Hawaiian boards are CJ's creations under his Kanuha Hawaiian Surfboards label. When he was 12 he learned to woodworking from his great grandfather and uncles who started the Kai Opua Canoe Club in Kona and built outrigger canoes. Professor Tom Pohaku Stone helped refine CJ's skills and taught the young Hawaiian about traditional Hawaiian board design and building.
"For me I want to keep everything traditional and keep it roots," explains Kanuha, whose family are descended from the ali'i (chiefs). "There aren't any other professional surfers, let alone young professional surfers my age that shape those kind of boards and are riding them."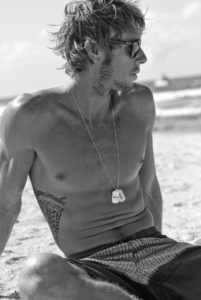 Kanuha's client list reads like The Forbes 400. Paul Allen, Michael Dell, Bill Gates, Louis Vutton and Kelly Slater all bought boards from CJ. When asked about the cost of a Kanuha Hawaiian Surfboard, he stays pretty vague, but admits that one papa he'enalu costs roughly the same amount as a brand new Toyota Tacoma. In addition to his high-class customers, CJ has also donated boards to different charities like the Mauli Ola Foundation, SIMA Waterman's Ball, Ryan Sheckler Foundation, Tony Hawk Foundation and more.
According to Kanuha, it's illegal to cut down a Koa tree, and he receives a phone call from friends when a fallen Koa tree is found. He is then allowed to take some of the lumber for board construction, but not before traditional Hawaiian protocol, which he learned from his family and late-father, Clement Keli'ipo'aimoku Kanuha Jr. Before CJ begins building a board, he will go to the wherever the log is with some ocean water, pour it onto the wood, say a prayer and ask it for permission.
"It's one of those things with any true Hawaiians there is protocol for everything. If you're going to go fish, if you're going to go take a tree from the land, you ask permission," says Kanuha. "To Hawaiians everything was a living thing. To me having a small pule or asking permission was the main thing that I was taught."
As the eldest son of full-blooded Native Hawaiian father and Caucasian mother originally from Texas, CJ epitomizes the term hapahaole.
"Hapahaole is a blond Hawaiian like me," explains Kanuha, "for me growing up, I don't know if it was one of those things that made me stronger or what. I was born around really rough, rugged cousins and loving people so they formed me to be a strong individual."
"[CJ Kanuha] has a gift for bringing people together," says Dorian. "He seems to have a really good instinct for what's right and how to do things right the first time. I think in the future I could see him taking on a more important role in the community. He's always there to help […] it doesn't matter what it is he's always there for me even though he's so busy."
The willingness to assist a friend or loved one, the power to unite people and the enthusiasm to educate the youth can be summed up in one word: Aloha. CJ Kanuha is truly an ambassador of this Hawaiian sentiment. Whether it is through CJ's surfing, board building, cultural practices, artwork, entrepreneurial endeavors or shine in the lime light Aloha is at his core. He'll never sacrifice who he is to accommodate a new opportunity, but will be able to transition between two worlds with ease because CJ always knows who he is.
"Hawaiians were always the coolest and nicest people to be around so you always represent with positivity and never be negative, but I'm not going to be fake," explains Kanuha," "Respect is one of the key things that you give everybody till they lose it."