Saturday, November 4 at 9:45 AM – 12:30 PM
Hey Surfriders, its time for our final beach cleanup of the year as our awesome friends and sponsors HIC – Hawaiian Island Creations and theVans Triple Crown of Surfing help us host at James Campbell Wildlife Refuge – one of the most plastic polluted areas of the island. We are grateful to the staff at U.S. Fish and Wildlife Service for allowing us access to the protected area. Its an awesome chance to see this beautiful shoreline and give back to help keep it protected.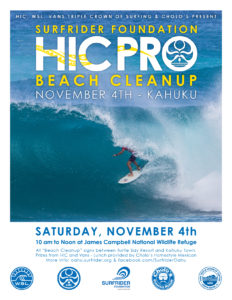 As we lead up to the 15th Annual John Kelly Awards on November 18th, its amazing to be able to partner with HIC to kick off the surf season with an act of stewardship and community service. Also continuing to be part of this partnership are our friends at Cholo's Homestyle Mexican Restaurant – one of first Ocean Friendly Restaurants Hawaiʻi on the North Shore.
Bring your friends and family and come spend the day on North Shore with.
We'll be releasing very specific directions on this invite and through our other social media channels about the exact location and the signs that you will be following.
We also really need a group of people with trucks for this event so please reach out to us if you might be able to help with hauling the marine debris