By Kahi Pacarro
What's taking you so long? Why are you still riding a standard PU or EPS surfboard? Is it because you don't believe the alternatives are good enough? Is it because your shaper doesn't offer eco-friendly options? Is it because your favorite surfers don't ride them? Or is it because you just don't care?
The frustration brewing inside of Cliff Kapono and myself has manifested itself into a project we are launching this Winter to convince you to make your next board an ecoboard. The project is called The ProTest. It's a double entendre on the word Protest. It's a protest against the conventional surfboard and an opportunity for the Pro's to Test a quiver of ecoboards we are creating in collaboration with the world's best shapers. Best part is, you too will get a chance to ride these same boards. With our World's surfing elite leading by example, the masses will follow.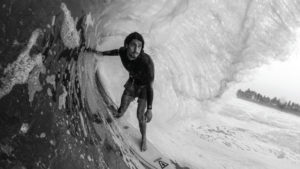 On November 1st, the ProTest will officially launch. A prize purse of $10,000 is up for grabs for the best ride of the winter on an ecoboard plus $1,000 for the team that submits the video. The competition will run until February 28, 2018. On March 1st, the same boards that the Pro's will be testing will then become available to you. You'll get a chance to surf the same quiver that the world's top surfers were riding days prior. What you'll realize is that ecoboards provide the same performance and often times even better performance than your standard shortboard.
Why are we doing this? Because we think everyone should be riding an ecoboard, but very few actually are. With over 400,000 surfboards made annually and only a small fraction of them as ecoboards, we are on a path of continued disregard to the fact that traditional surfboards are toxic. When you can understand that our surfboards are petroleum based (made out of oil) you start to understand that our lifestyle of caring for our oceans needs to extend to the craft we are riding, otherwise our actions of using less plastic, recycling, and cleaning up beaches are negated by our hesitance to adopting environmentally better alternatives to the traditional surfboard.
With a pop out, mass produced, short life span, toxic surfboard army at our doorsteps, we need to combat the movement by ordering ecoboards. Basic economics state that increased demand will create more supply. It will also create what are called economies of scale, which means that the more quantity that is created, the lower the cost for the individual part. In another positive, increased demand will create more innovation as there is now money involved in ecoboard technologies.
To put that in basic terms, the more people riding ecoboards, the cheaper and better they will become.
The top World Championship Tour surfers are dabbling in the eco-technologies. Jordy Smith is now riding ecoboards made from recycled foam and bio-based resins in collaboration with Channel Islands. Kelly Slater continues to push not only the design of his boards but also the materials. Greg Long is taking ecoboards into the biggest waves in the World. Michel Bourez and his superman hacks are done on ecoboards. The tipping point is within reach, and our goal is to utilize the ProTest to get us over that final hurdle. For 2018, instead of just a small portion of the 400,000 boards annually as ecoboards, we want to see a substantial percentage as ecoboards.
For the ProTest, to qualify your entry into the competition, the board must be similar to the Gold Standard set by Sustainable Surf. This means that your board is made from a minimum of 25% recycled foam or other alternatives like algae foam or wood in addition to utilizing a resin that replaces at least 20% of the combined resin/catalyst content with a bio based alternative. Shapers are encouraged to get creative, to push the envelope and to push their riders to switch to ecoboards.
We need to push the market and not wait for the market to dictate how we act. Mark Price from Firewire says it right: "companies should realize that at some point in the future, if you're not operating your business in the most sustainable way possible, consumers will reject your products."
Winter is coming, so keep an eye out for the ProTest quiver. You don't have to wait to get influenced by your favorite surfers. Get an ecoboard shaped now and pack the sickest barrel of your life, maybe you'll win $10K!
For more info, check out @theProTest.tv and www.theprotest.tv.
Kahi Pacarro is the Executive Director of Sustainable Coastlines Hawaii.