By Tiffany Foyle
Faceless surfers. Bodies crushed between the exhaustion of a musubi's rice and spam. Black waves that look like the hair barrel of a harajuku girl's bun.
Kris Goto's art is unlike anything you've seen in the surf world, and that's because her style mirrors her unique cultural upbringing. Born and raised in Japan, she moved to Hong Kong at the age of 9, spent two years of high school in New Zealand, and then moved to Hawaii in 2006. Her whimsical works are detailed monochromatic penwork with splashes of color. And while she's been focusing on the surf/ocean culture of Hawaii for the last three years, you can see every bit of manga obsession from her youth and a hint of Maori influence in the lines.
She is self-taught. "I have always drawn ever since I can remember, and wanted to be a manga artist all the way through high school," Kris recalls. "I'd spend hours replicating the characters from my favorite stories. I cannot really say how exactly I decided to pursue the style that I currently have. I remember being fascinated with the simplicity of pen on paper, which was the only method of art that I could think of that would give me full control of the outcome."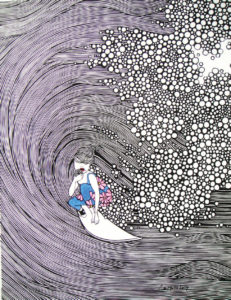 Control gives way to ritual when it comes to how Kris creates. She has to clean out her desk and studio before starting a new project. "And I must cut my nails before I draw something new between projects," she explains. "I don't like the sense of attachment from the last piece I worked on lingering on my fingertips, so I cut them off so that I can move on."
Another creation quirk: She doesn't listen to music, but instead prefers TV shows as background noise, usually shows she's already seen/listened to a thousand times. "My usual go-to would be Gilmore Girls. I love that they talk a lot," Kris says.
While the young artists thinks she hasn't had her big break yet, her surf prints currently hang on guest-room walls alongside vintage postcards at Waikiki's newest hip place to stay, the Surfjack Hotel & Swim Club. Her FISHIES series, a 15 wood panel installation, hung from the ceiling and displayed on the brick walls at NEXTDOOR in Chinatown in 2013. She has done a variety of local art shows and murals and her prints are available in about 10 locations throughout Hawaii, such as the Greenroom Hawaii inside the Sheraton Waikiki and International Marketplace in Waikiki, Hakubundo, Magnolia (inside Kahala Mall), Honolulu Museum of Art Shop and Aesthetic Hawaii Gallery on the Big Island.
"I can tell you how nerve-wracking it was to see my artwork on a wall in a gallery for the first time," she says. "I didn't have enough money then to even buy a frame, so it was literally nicely 'taped' onto a wall. I felt like people were watching me shower or something — so bare and vulnerable."
Art has always been a part of who Kris is, so it was just natural for her to believe that she would make art for a living. "I've never considered doing anything else," she admits. "I have never seen art as a hobby, it's a part of me, like your lungs. I had it and it's as natural as it is for me to breathe."
This is Kris's third year of being fully and independently supported by art. Prior to making that scary transition, she used to work on a boat off of Waikiki where she learned about marine life and how the ocean works. Kris's first wave was in 2010 and she was quickly addicted to surfing, especially the way the ocean tugs onto her hair when underwater and when breaking the surface. "Some people don't like to wait for the sets to come, but I personally love to dip in the water and imagine my body dissolving into the element of the ocean, wondering if anyone would notice if I just disappear," she says. "Surfing feels as if I am flirting with the waves, especially when I ride my single-fin longboard — tantalizing and mysterious. When I am on a shortboard on the other hand, I feel like a stale spinach floating away on the surface of the vast sea."
Current artistic inspirations include human anatomy, cornbread and muffin tops. Yes, you read that right! When asked to expand on this, Kris shrugs and says, "That's just what's been on my mind lately. I really don't know why." This makes sense when you look at her series called "Umbrellas" (a bunch of red umbrellas making cameos in a variety of surf scenes). Cornbread and muffin tops shredding the gnar will be yet another stroke of genius that Kris Goto fans will be excited to see.
To see her portfolio, visit www.krisgoto.com.