By Alex Kahn
A fearlessly creative duo dabbling in nearly every medium of art, Scott Yoell and Margo Ray of Island Eclectic have proven that they can take on almost any artistic challenge. From wood and ink to bronze and printmaking, this husband and wife team have combined their talents and passions into one company where they produce a variety of large-scale projects as a team while still working on solo pieces.
Margo is prone to colorful designs, while Scott sticks more to black and white imagery. Often combining varying media in their work, they have jointly created everything from surf fins and ink drawings to digital printed canvases and sculptures. Freesurf Magazine caught up with the artistic duo to find out about their inspirations and preferred media.
Where are you from?
MARGO RAY: I was born on Oʻahu and moved to Hawai'i Island as a baby. My parents were part of the 1960s cultural revolution and moved to Haleiwa in the early 1970s from the East Coast of the U.S. They had friends there and were attracted to the island lifestyle.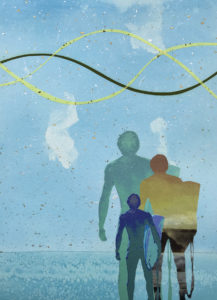 SCOTT YOELL: I was born in Windsor, Ontario, Canada. Margo and I met in Montreal, Quebec while she was in graduate school and I was teaching at Concordia University. Some friends introduced us, and here we are 11 years later.
Do you take inspiration from Hawaii when you create your art?
MR: Yes, my work has been very inspired and influenced by the natural and cultural landscape in Hawai'i… in particular, my use of bold colors [and reference to] the cattle-ranching Paniolo culture that is prevalent in Waimea on the Big Island, where I grew up.
SY: My work is definitely inspired from living in Hawai'i, especially its beautiful beaches, sunsets, and ecosystems. However, I am also compelled to discuss its flip side, the not-so-glamorous side such as poverty and the ramifications of tourist culture.
How often are you creating?
MR: I have a pretty regular studio practice on a weekly basis. There is so much other work around being an artist — promoting your work, applying for shows, running the business side of things — so that time in the studio is cherished.
SY: I always feel like I am being creative. I do a lot of creative work with Island Eclectic such as art restoration, curation, fabrication for interior designers, and art installation. My personal studio times are often in blocked increments. I usually sit on ideas and research them before I begin production.
Which medium introduced you to life as an artist?
MR: I started out in printmaking — mainly intaglio but screen print, woodcut, and lithography as well.
SY: I began with drawing and woodworking.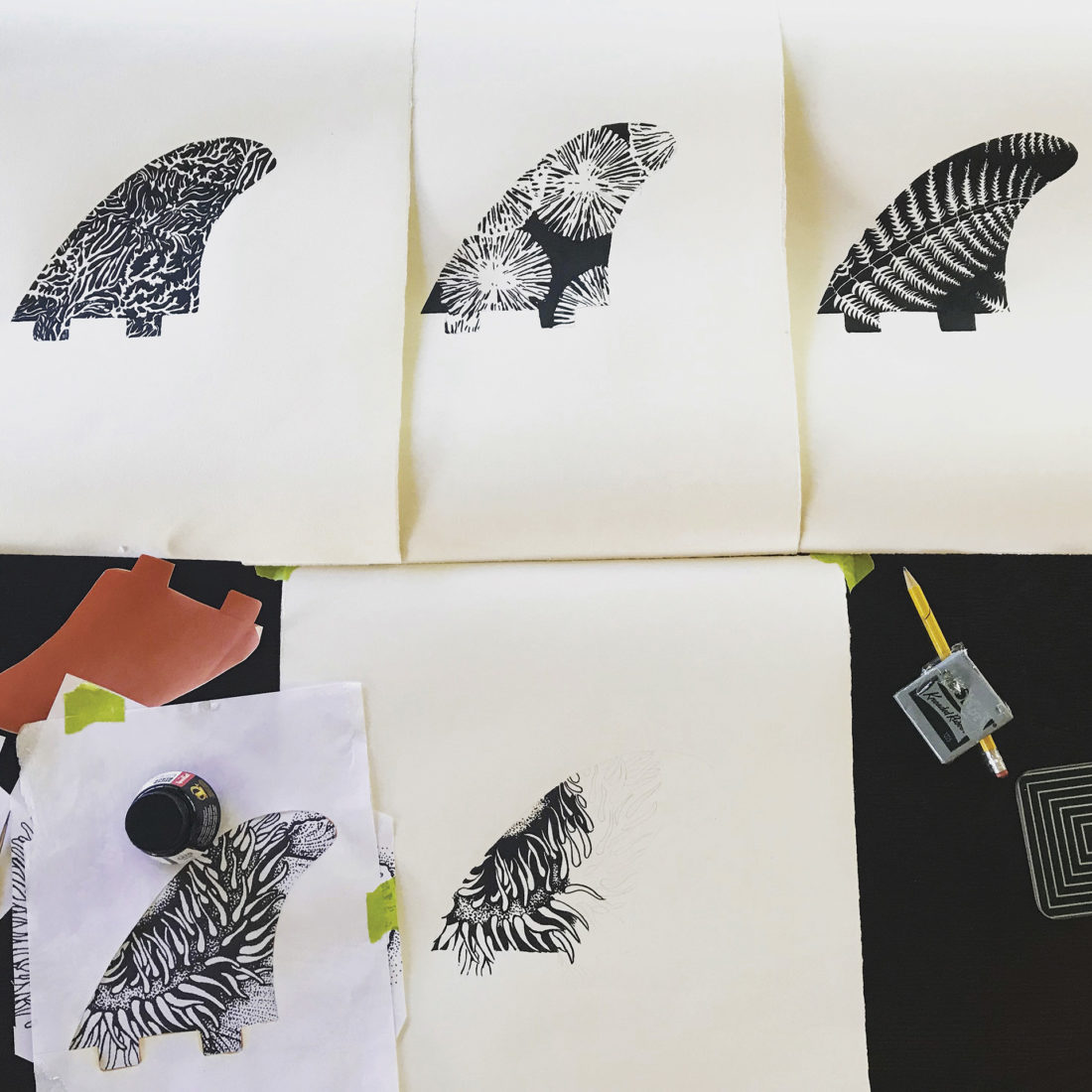 What were your first big breaks?
MR: When I first moved back to Hawai'i in 2006 after several years abroad, I was part of a three-person show at Mark's Garage in Chinatown where I exhibited one of my large-scale water tank installations. It was viewed by a lot of people and got some good press, which cascaded into showing regularly throughout the state while simultaneously being able to live in the rural areas on the Big Island where we wanted to be.
SY: I was asked to participate in an exhibition in Minneapolis called "Enchanted" that explored surrealism and the metaphysical curated by Andréa Stanislav. Here in Hawai'i, it was in 2010 when I was asked to be part of The [Honolulu Museum of Art] Contemporary Museum Biennial of Hawai'i Artists by curator Inger Tully.
Margo, you recently created a large-scale commercial project for Maui Brewing Company. Tell us more about that process of creating such an undertaking remotely.
MR: For the Maui Brewing Co. mural, I created a smaller original in my studio that I then shipped over to Oʻahu. It was photographed there and then digitally printed on canvas at 8' x 64'. The whole process took over a year between the time I started working on ideas and developing sketches to the final piece being reproduced and installed on such a large scale.
Scott, how did you begin creating your custom surfboard and fin drawings?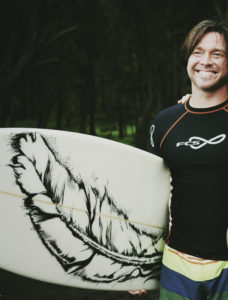 SY: I was going on a surf trip to Nicaragua and wanted a new board to bring on the trip. My friend and local surfboard shaper, Keith Tallett, had a good idea for a shape for me. I did the artwork and assisted in shaping the board, then Keith glassed it. The board surfs really well, too!
Where will the drawing series of Fins be on display?
SY: They were created for a pop-up show we just had, and are available for purchase on islandeclectichi.com