by Cash Lambert
"Powerful, haunted, retro-sexy and soulful": these are some of the ways that Lily Meola's music has been described. The Maui native, with light hair and mesmerizing green eyes, began singing at age 11 during a school production, and soon after, her mother, Nancy, began finding and booking gigs while brother Matt Meola immersed himself in windswept surf sessions.
It was at one of those gigs several years later that Lily, currently 22-years-old, experienced her big break. Willie Nelson was in attendance at one of her weekly shows at Cafe des Amis in Paia, and what followed was a whirlwind.
In 2013, she toured with Nelson, being named his protege, and in 2015 she released her debut album They Say. A year later, Rolling Stone named her one of "10 new country artists you need to know".
We sat down with Lily to discuss her thoughts on how her musical style has been described, what she's learned from Nelson, and what we can expect from her new album likely dropping by the end of the year.
What's new with you, Lily? What has 2017 been like, and what can we expect from you throughout the rest of the year?
This year has been crazy! I've been floating between Los Angeles, Maui, and Nashville. I'm currently spending most of my time in the studio, writing my life away. I plan on doing this for the next couple months until I feel I've got the right material for my next project.
Who are some artists that are inspiring you right now?
I am absolutely head over heels in love with the new Chris Stapleton record. I've also become a big J.Cole fan. I'm pretty funny when it comes to new music, because when I find something I really like I listen to it on repeat.
What are a few things you learned by spending so much time around Willie Nelson?
How to roll a good joint – just kidding! He and his amazing family have taught me so much, like how to live life to the fullest, how to treat others and what honest music sounds like.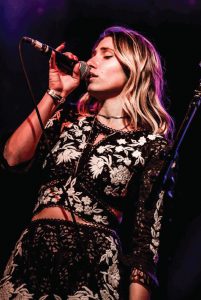 What would you say your style is? And where is it derived from?
Honestly, this is a hard question for me. I sing from my heart, and what feels good comes out. When it comes to describing my style most people say that it's bluesy soul pop.
Where can we typically find you when you are home on Maui?
When I'm home, it's normally my down time. You can find me at my home break Ho'okipa attempting to surf and swim. I love to go fishing with my brother, take my dog Baloo on adventures, BBQ and catch up with all my friends and family.
What was it like combining your talents with your brother's surfing by recording Numb, the song that was on Matt's recent video edit?
We've always wanted to work together on something like this, but it turned out being a lot more difficult than we were planning. I was in Los Angeles and Matt was back home. So we were sending files back and forth like crazy people. I'm excited to actually get in the studio with him and work on more stuff in the future. I really like his musical instinct.
Have any funny stories of Matt trying to play along with you in some way musically, or does he stick to surfing and leave all the music to you?
He actually has a hidden songwriting talent. He would never admit to that though…I might get killed for mentioning it… but yeah, sometimes we write songs and sing together. He is very honest and isn't afraid to give me his opinion on whatever it is I'm working on.
Every artist is consistently working to better their craft, so what are you working on right now? New songs, or focusing on shows?
This past year I've really been focusing mostly on writing. I've gotten to work with some super talented people and I'm planning on putting out some new music by the end of the year with Interscope Records!