By Lauren Rolland
Alex Florence (a.k.a. Momjohn) wears an array of different hats. Single mom, longboarder, John, Nathan and Ivan's business and travel manager, skater/dirtbiker, college graduate, world tripper. This woman's personality is like the cut of a diamond- multi faceted for exceptional brilliance. A story for every stepping-stone of life, Alex's experiences are unique considering where life is at today for the Florences, but we all know it's the hardships that build character.
The story begins with a 16 year-old New Jersey surfer girl, starry eyed over Hawaii after growing up on movies like 'Beyond Blazing Boards'- a flick about surfing's evolution during the mid 1980's- and surfing with her brothers and sisters in oversized wetsuits. Packing up and leaving home, Alex hit the North Shore as a young, beautiful, free spirited female and was quickly swooped up into the lifestyle she had always dreamed of.
It's easy for Alex to get lost behind the moniker Momjohn, and many would be surprised to know Alex actually dislikes this nickname. Water photographers Darren Crawford and Todd Messick started referring to the quiet mother of three as Momjohn because although Alex was always surfing and on the beach with the boys, no one actually knew her name. But everyone was quickly beginning to know John John by name. So Alex simply became John's mom, or Momjohn. Even though Alex has always hated the alias, she feels after ten years it's best to just embrace it. "Kind of how you would deal with a bully at school," Alex mentions.
But flying just below the radar is how this humble soul likes it- especially when home on the small, yet buzzing surf town of the North Shore. It's easy to lump this woman into the limelight of her sons, thinking the media and industry is someplace she wants to be. But really Alex is just a modest, soft-spoken working and surfing mom trying her best to keep the family bonds tight and the egos to a minimum.
Maverick by nature and surfer girl at heart, Alexandra Helen Florence has proved that success doesn't come from handouts, luck or financial wealth. The payoff for this family came from working through hard times together, living life to the fullest and accomplishing something every single day. Here's a little more about the wonderful life of Alex Florence.
Where's your favorite place to surf?
I like to sit on the shoulder of Pipe when it's west and catch the wide ones, that's my favorite. Or if Pipe is small I'll go to the peak but it's got to be west or else I'll surf Pupes, Ehukai or Gums, or even Gas Chambers. And Chuns, I like Chuns too. Wherever it looks most fun for me.
What board are you riding now?
That Travis Reynolds board right there. (Points to the classic single fin log in the grass.) He's been shaping my boards for a long time now and he's just getting better and better. That's pretty much the magic board right there.
Worst wipeout?
Oh wow, I've had some pretty bad ones. One time I was surfing Pipe, it was super north and I got caught inside and I just got super worked. I couldn't tell which way was up. And my ear was all clogged. When you're all spun around under water and you're trying to figure out where you are, that's pretty scary.
Tell us a little bit about surfing on the East Coast versus Hawaii
I started surfing there (New Jersey) every summer when I was about 10. But we didn't have anything, just old junky boards and wetsuits that were too big. So really when I got here I just got straight into it every day. It's more of a novelty to surf there when you're young because those summers are pretty short and then winter it's 5 mil wetsuits and snow on the beach. It's more about being out in the elements than real surfing when you're a little kid.
You were 16 when you moved to the NS…
Yep. I had won some money in a bikini contest and I came to Hawaii with my winnings. Actually I stopped in California and did another bikini contest at the OP Pro. A long time ago they used to have those big bikini contests in Huntington Beach and I made 10th finalist and then I came straight to Hawaii.
There were only a handful of girls it seemed like on the North Shore. And definitely not that many that surfed. It's funny because it was like the North Shore just took me in with open arms. It was real easy for me, I didn't have any problems and everything just kind of clicked, lots of aloha for me here when I first came.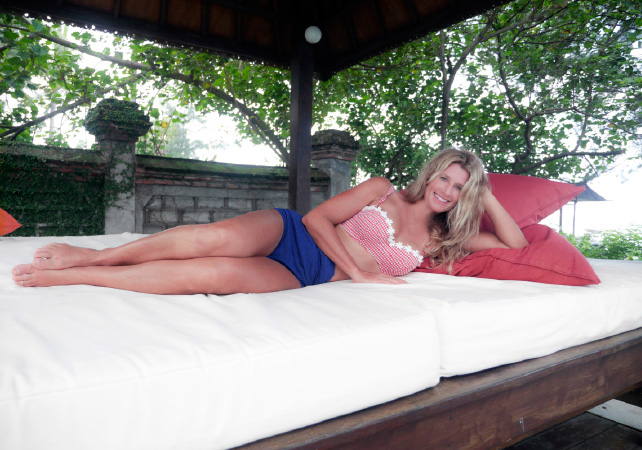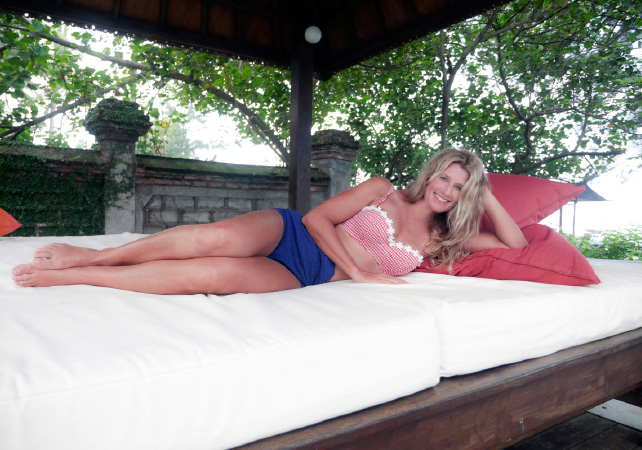 Where was your first job?
My first job was being an extra in the movie 'North Shore'. And then my second job was at Storto's sub place. And then I moved on to Pizza Bob's and then I worked at Steamer's. Of course I got fired from all of them.
First car?
I had a 1960 Valiant. It was blue and it had two white doors. I lived on Kauai for a little while and I bought it over there. They used to have this radio station over there… it's the funniest thing. You'd be listening to the radio and you'd call in and people would have stuff for sale. I guess it's like Craigslist now, but instead it was on the radio. You'd call in and tell the guy what you needed, what you're looking for. So I called in and said, 'I'm looking for a good, running car and I only have $400 to spend.' I had that car for 10 years or so.
Your first house?
The same day I arrived this girl picked me up hitch hiking. She asked, 'You need a place to live?' And I was like, 'I do!' She had a room for rent for $50 a month at V Land on the mountainside and it was really cool, so I lived there. It was a little outdoor room.
We (Alex and the three boys) used to live down that little dirt road right there and it was just me and the kids at that point. John was about 6 or 7 and we had a year notice to be out of that house, they were going to do some heavy renovating. I was like, oh no. I'm with my three little kids and I was going to school full time. But this was a vacation rental (the home she's in now) and the owners happened to be in town. John and I were walking up to check the waves and I said to him, 'Let's just ask them'. He was like a little adult at this time and so he said, 'Okay mom, let's go ask.' And we walked up and we knocked on the door and I just said, 'Hey would you consider long term renting this?' And they were like, 'Yeah we would.' And we moved in a month later. That was about 13 years ago.
Any challenges you faced when moving out here?
Not really. I think I had a guardian angel or something. But I don't think there were many little girls coming to the North Shore; it was kind of the Wild West still. Yeah, but it was all good, I had a lot of protective big brothers and it was cool.
What book are you reading?
Right now I'm not reading anything to be honest. But we spend so much time in airports these past few years that I'm picking up books in airplane stores and just reading them in the plane. I just read this book "Tinkers" but it wasn't very good, so I wouldn't recommend it (laughing). I like the classics, I read them over and over again. I was just reading some Bukowski… you just have to appreciate him for his style of writing and kind of rise above the content of it.
What's the most important lesson you've strived to teach your sons?
Just that they're good and honest and humble. And they are. We spent a lot of years being really, really poor and John was kind of the man of the household, so they're coming from a good place, a real soulful place. I just think that if anything, our struggle has helped them as individuals become pretty solid people.
Do you skate with the boys?
Yeah, we do, we just went like a day ago, it was really fun. I'm glad that I can go do that with them. They don't ride dirt bikes so I don't really share that with them, but we all skate. I skate with Ivan a lot and John all the time, on the road we skate a lot. Bowls and parks, it's really fun.
How'd you get into dirt biking? 
I went a few times with some friends up to the track and I was just hooked. I ended up buying a dirt bike and then I bought a trials bike.
Do you have a favorite Pandora station?
I listen to a variety of music. I like everything from Billie Holiday to Black Sabbath and Ozzy, and lately I've been listening to the Black Lips. I mostly listen to old music and like I said Sabbath. Heavy metal.
What are you doing for work?
I work for my sons. I'm basically everything from slave, cook, cleaner, errand runner to businesswoman. It's a full time job. And it's good because it keeps the money circulating in our little family and ya know, no one's going to love them more than me. You have their best interest in mind. Yeah so, it's just better. And I can't let go of that because I'm like, 'no, I can do that for nothing, why would you pay that person?' And he (John) gets like, 'mom you don't need to do everything'. Just from raising a family by myself I guess I'm a little bit old school that way, I can't let go. But it's a good thing.
What's the best part about returning home to the North Shore after traveling?
After you're away for a while you start dreaming of home. And that smell when you come onto the North Shore… and then the winter. Like that swell we just had the other day, I couldn't stop watching it, it was amazing and just out of the blue. It was so exciting, literally the first days of winter.
Quote that you try to live by?
I have always tried to live life to the fullest and I think that's important. Maybe that's a quote, I don't know. But definitely try to accomplish a lot every single day. There isn't too many sitting around days in our family, and I never put up with it either. We never had TV or video games. I always told them to get out, go play outside.
pau