By Sean Reilly
North Shore super grom Noah Beschen has been blowing up everywhere from New Smyrna to Germany. Son of progressive surfing legend Shane Beschen, Noah has inherited a deadly air game and silky-smooth style. Not many teens can link together critical barrel sections and lofty frontside reverses like this 8th grade shralper. Mini Besch just turned thirteen, but has a video archive more impressive than most guys on the QS. The most recent edition to Noah's video library is Teenage / Eve, an extended edit by Arron Lieber. Noah shreds a skate park, rips a beach break, tears apart a standing wave and weaves his way through a congested line-up in a 9-minute clip that will leave you wanting more. But don't worry; this talent-packed teen is only getting started. It is only a matter of time before Noah is turning heads on the World Tour. 
As for now, Noah utilizes his surreal surroundings to their full potential. When the little ripper isn't punting full rotations at Rockies, or pig-doging barrels at Pipe, you can catch him cave diving at Sharks Cove, rock jumping at Waimea Bay or climbing coconut trees along the bike path. As talented as he is blessed, Noah is a stand out in whatever he puts his mind to. This North Shore local can shut you down in a game of ping-pong, break your ankles on the basketball court, get nuts on a trampoline, slay kumu with his three prong, and nail a bull's eye with a bow and arrow… Oh and did I mention this kid surfs and skates?!
Yes, this young grommet is quite a spectacle. But don't let his fantasy life give you the wrong impression; Noah takes in successes with a tall glass of humility. Mini Besch resonates stoke, shows respect to all and exemplifies the Aloha Spirit. Just above his wetsuit tan and behind a thick layer of Vertra, you can always find a gleaming smile from ear to ear.
Freesurf had a chance to sit down with Noah and pick his brain; here is what the high flying, fun loving, coconut muncher had to say;
Hometown: North Shore, Oahu
DOB: November 18, 2000
Height/ Weight: 4'11/ 78 lbs.
Stance: Regular
Home break: Rockies/ Pipeline/ Backdoor
Favorite Session: Kirra- Goldcoast, Australia
Favorite Grindz: In-N-Out Burger
Addictions: Fun & coconuts
Sponsors: Hurly, Lost, Neff
Thruster or quad?
Thruster.
Smooth or chunky?
Smooth and chunky.
Skittles or M&Ms?
Skitttles.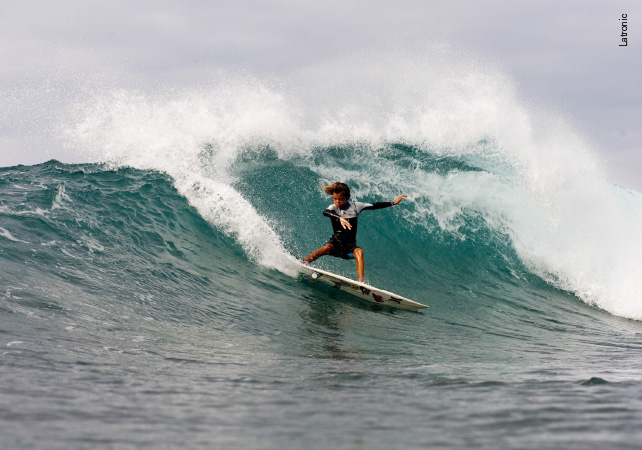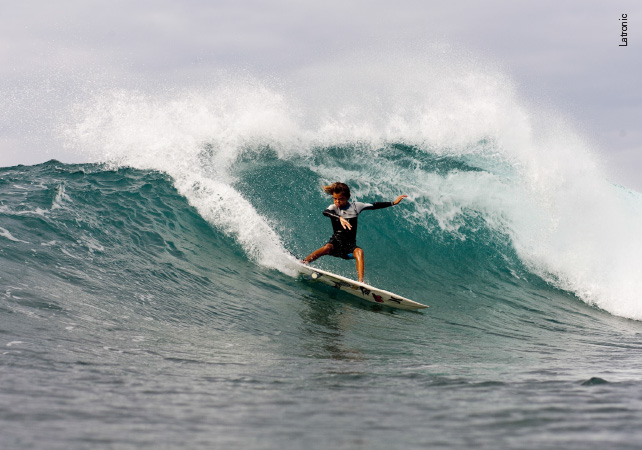 Air section or barrel?
Get barreled then hit the air section.
Chess or checkers?
Chess
Competition or video shoot?
Competition and video… So both.
Waffles or pancakes?
Waffles for sure!
Cats or dogs?
Dogs for sure!
Cool Ranch or Nacho Cheese?
Cool Ranch.
Rap or rock? 
Rock, then some rap.
Books or movies? 
Movies.
Sunrise or sunset?
Sunrise.
Drums or guitar? 
Piano.
Mullets or mohawks?
Mullets.
Lion or tiger? 
Lions.
Last words for the Freesurf audience?
Stay dry!