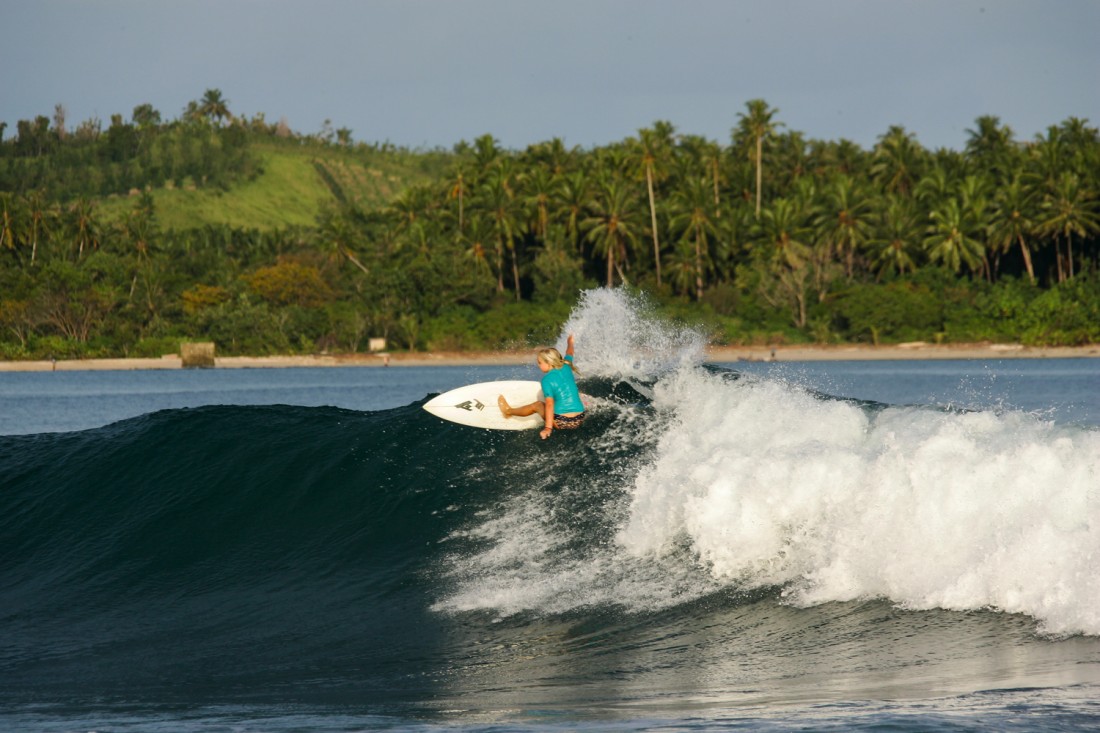 Photos: Dane Grady
Gabriela Bryan 
By Mainei Kinimaka
DOB: April 9, 2002
School/Grade: Kapa'a Middle School, Grade 7
Hometown: Kilauea
Homebreak: Pinetrees
Favorite Board: 5'4" by Aukai Lee
Instagram: @gabriela_bryan_
Gabriela Bryan hails from the town of Kilauea on the Island of Kaua'i. She was raised surfing not only the powerful and pristine waves produced on Kaua'i's north shore, but also the perfect rights of Nias, Indonesia. Her father helped rebuild the community near Nias after the torrential tsunami in December of 2004 and since then, Gabriela has been fortunate enough to return and surf the famed Indonesian break.
On any given day at home, you can find Gabriela fearlessly charging Hanalei Bay with power and confidence that exceeds her mere 12 years of age. With a quick wit and spitfire attitude that has always separated her from her peers, this wahine is showing that she's more than just your average grom.
I remember encouraging Gabriela at Huntington Beach before her all-boy mini grom heat just two years ago, and am now amazed to watch her compete in contests like the Sunset Jr. Pro without any need for advice from me. I've never seen someone progress as fast as Gabriela, and still maintain such a sweet and respectful nature. This girl is one to keep an eye on in the future!
How long have you been surfing and what's your 'first wave' story?
I've been surfing since I was four. It was at Hanalei pier and Andrea Smith pushed me in.
Describe yourself with five words.
Athletic, funny, nice, smart and outgoing.
What do you love most about surfing and being in the ocean?
My favorite part of surfing is that it makes you a well-rounded person. You get to travel and have new experiences and learn new things about how other people live.
What has been your best contest result?
I got first place at HSA States in 2014 on O'ahu for Under 12 Girls, and at Surfing America Championships I got 4th in Under 12 Girls two years in a row.
Free surfing vs. competition… what do you love most and why?
I would probably say I like free surfing better because there's no time limit and no one's judging you. You can have as much fun as you want!
Who is your favorite surfer and why?
My favorite surfer would either be John John Florence because he does big airs, or Joel Parkinson because he does powerful turns.
If you could change/improve one thing about surfing, what would it be?
I wish surfing could be an Olympic sport.
Biggest wave you've ever charged?
Sunset. It was like 10 to 12ft. faces this past January at the Sunset Jr. Pro. Kahea (Hart) put me right in the impact section and said, "Go!" even though he knew the set was coming!
Worst wipeout?
Probably at Sunset. I went right over the falls! (laughs)
Who or what inspires you?
My friends and family inspire me because they support me in whatever I do.
Any hobbies outside of surfing?
I like to do jiu jitsu.
Do you/have you traveled for surf?
Yes, I've traveled to Indonesia, Salina Cruz in Mexico, and O'ahu and California.
Where do you see yourself in the next 5 years?
I see myself getting good results in the Jr. Pros and winning NSSA Nationals or USA Championships.
What's your favorite break?
A secret spot on Kaua'i.
If you could travel anywhere in the world for a surf trip, where would it be?
Fiji!
What do you think about school and surfing? Is it hard to balance good grades and good contest results?
It's hard with all the travelling, because you miss so much school, but you're also getting a good education.
What maneuver do you dream of landing?
An air reverse.
Airs or barrels?
Barrels.
If you could have any super power, what would it be?
A wave magnet, to bring all the good waves to me during my heat!
What would you do if you won the lottery?
I would buy houses all over the world right in front of perfect surf spots.
Anyone you'd like to thank?
My family for supporting me, my dad for taking me to contests all over the country, and Kahea Hart for coaching me.
pau