By Cash Lambert
How a Hilo boy became a Renaissance man, serving as a voice for environmentalism, activism and science in Hawaii
It's late Friday night, and while most are relaxing, talking story with friends or catching up on much needed rest, Cliff Kapono is in transit.
Busy is an understatement for the Hilo native, who has spent 2017 in perpetual motion: In the past year, the 30-year-old, who has a strong build, an inviting smile, and shoulder-length brown hair, ventured to Chile, Ireland, Mexico and more recently, Montana, all for scientific purposes.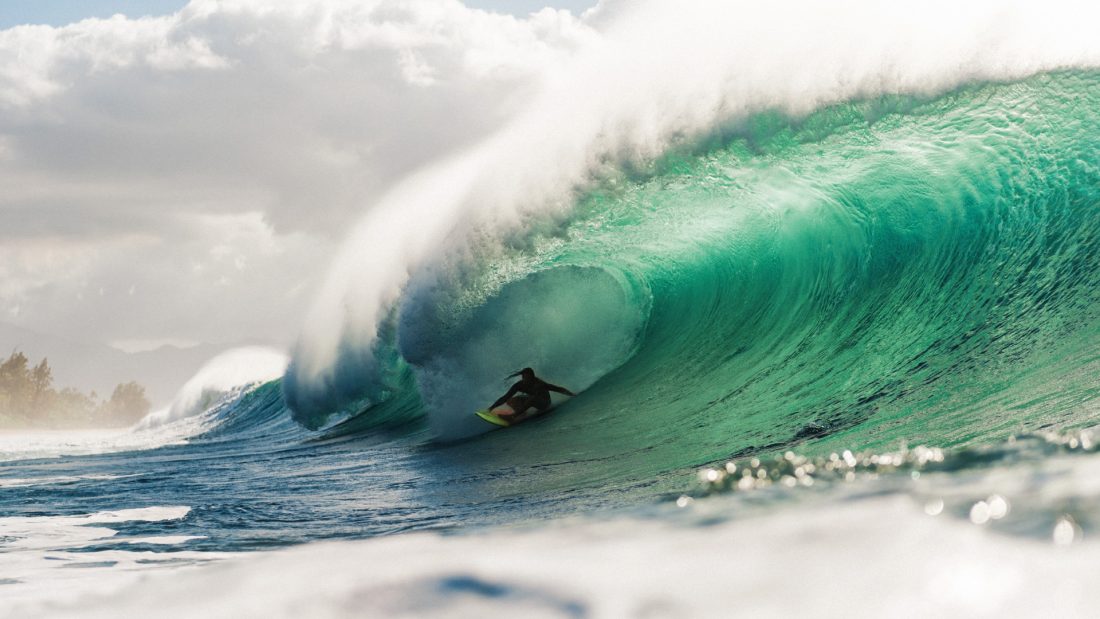 "In Montana, there was a film festival workshop focusing on how science can be better communicated to the public," Cliff says, his speech rapid yet eloquent. "I actually heard about a river wave there in the mountains; the wave itself had a face, a lip. So I get there and Genki Kino, who lives there now and who I competed against and haven't seen since I was younger, was ripping, surfing it like it's Kaiser Bowls!"
Cliff's recent mission to Montana serves as a microcosm of both his daily schedule and the goals he's seeking to accomplish. Currently finishing a PhD at the University of California at San Diego, Cliff uses science as a portal to travel across the globe, not only educating himself, but also relaying that information to others, all the while wielding his air and power repertoire in lineups along the way.
His resume is extensive: he's had a major part in several sustainability and environmental films, traveled in search of the bacteria that sits on or inside of surfers – known the Surfer Biome Project – and has used social media to stay in the discussion of hot button topics.
"School has provided access for me to not only gain better education, but also surf world class waves, waves I dreamed of surfing and places I never thought I would go," Cliff says with a smile. "For example, I was recently in Ireland with Fergal Smith, seeing the organic farm there and we didn't score the craziest waves, but just to feel the vibrations they have going on, it's the same commitment to community that is happening in Hawaii. Surfing and the ocean connects the culture."
Though he's only 30, Cliff has cemented himself as a Renaissance man of sorts, a man of high standing within the Hawaiian, surf and research community who is using what he learns to perpetuate sustainability, environmentalism and other forms of activism.
How did Cliff go from a Big Island boy "never expecting to leave Hilo" to becoming a voice for all things science in Hawaii today? It all started with limu.
THE DRAW OF THE LIMU
"During my little kid days, even though we lived close to the beach, we would camp out on the sand and practically never leave," Cliff says. "We built sandcastles, fished, looked for turtles. All of that was the surfing lifestyle in my mind. I'd boogieboard, grab and climb vines, hang out with the guys at the beach. We belonged to the ocean culture."
It was during one of those beach days that young Cliff began taking a closer inspection at the environment that was shaping him.
"I remember being young and noticing this limu… how it looked, how it felt. And looking back, I credit my Dad, because he wasn't pushing us to look at things like limu, but he provided access to knowledge. He would say 'this is the Hawaiian word for limu and the scientific word'. Growing up on the Big Island, we knew when it rained, because the tree leaves changed pigment. We were aware of our natural environment, the waves, the wind patterns."
According to Cliff, being Hawaiian or living on a Hawaiian Island requires "an innate scientific perspective. We study everything because if we don't understand it, we won't exist on the Island."
Other than Merrie Monarch, a week long cultural festival annually attracting crowds, Hilo relatively stays quiet, compared to other towns in the Hawaiian Islands. Thus, a small town vibe permeates.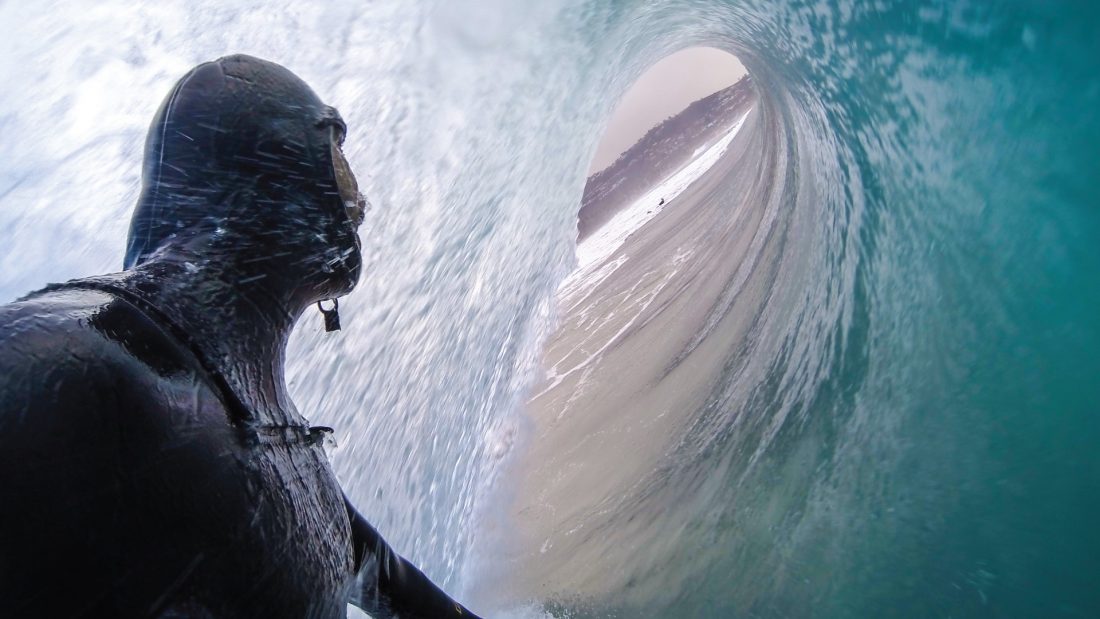 "Hilo is a place where it's cool to have fruits and veggies in your yard, along with standing up for your beliefs, and be a positive light, not negative," he says. "It's a place where the surf breaks still have Hawaiian names. Honoli'i, for example, is what it was called from the beginning. There's just such a sense of pride and accountability in Hilo, and you learn that from an early age. From the lava to staring into the galaxy on top of Mauna Kea, the mana is so strong. And to exist in a place where you don't see other footprints in the sand, that's a good feeling."
RECEIVING HIS FIRST SURFBOARD
Cliff wasn't pushed atop a longboard into waves as a child, being groomed to someday join the ranks of professional surfers. Instead, his surfing life began when he voiced the desire.
"After I told my Dad that I wanted to surf, he said that he was going to take me to get a surfboard," Cliff says. "So we went to my Uncle's house, and I'm thinking we're going to grab a board and head to the beach. But my Dad and Uncle sat down, drank beers and talked story for 3 hours. At one point, my Uncle noticed me looking at one of his surfboards. 'Boy', he said, 'take that board'. It was a lightning Bolt Sunset board, a 6'0", you know just when the plug started to come out. It's a classic wall hanger for sure."
Looking back, Cliff pulls a valuable lesson from the interaction.
"In Hawaiian culture, we are taught not to ask questions. I can see how many see this as a terrible inconvenience when trying to disseminate knowledge or help people understand things, but in reality I feel it works out quite well," he says. "Many times we just expect people to tell us everything because we believe it's our right to know. But when we put the responsibility of understanding on ourselves, we show those with the knowledge that we are willing to learn, that we are willing to put the effort into whatever it will take to acquire that knowledge."
Cliff believes that in some strange way, he proved how much he wanted that board.
"Over that time spent in Uncle's garage, I traced the outline of that beak-nosed pin tail with my eyes over and over. Never interrupting the conversation, I wondered why there were two lighting bolt logos overlapping each other, one red and the other black. I wondered how the rails went from so round to sharp from nose to the tail. The rainbow had me captivated since I first laid my eyes on her. Maybe unknowingly, I knew that I wasn't there to ask for a surfboard. I was asking to be given a chance to surf. Uncle Gabe had seen that and honestly, I would have been stoked on the boogie board that the dog was chewing on. I'm just glad he decided to give me the lightning bolt."
But Cliff wasn't up and riding immediately on the lightning bolt. "I was eating shit," he says, grinning. "It was such a hard board to surf, so instead I was standup bodyboarding for two years."
Young Cliff worked his way from the inside breaks of Honoli'i to the outside, and when he made his way to Oahu for Kamehameha schools in his teen years, he learned more about the hierarchy in surfing and who not to call uncle.
"My Dad didn't want me to surf the North Shore at a young age, so one time I went to the West side, Makaha," he says. "I can remember one session in particular where I almost ran into a little kid in the water. I asked him if he was ok and everything, and when I got back on the beach, I wasn't paying attention to where I was going and I walked straight into the belly of a massive Hawaiian uncle. I said 'oh sorry Uncle', and he said 'I'm not your Uncle. That boy, you hit him, I hit you'. It was a different vibe from what I was used to, sort of welcome to Makaha."
STEPPING OUT
From 2005-2012, Cliff attended the University of Hawaii at Manoa, where he received a Bachelors of Science in Plant and Environmental Biotechnology, along with a Masters in Bioengineering.
"Growing up in Kamehameha Schools, I struggled," Cliff says with a laugh. "My grades were less than stellar. I remember getting a C in Biology and a D in Chemistry, never thinking I'd eventually be in a Chem program along with being a lab teacher in college."
It was at UH that he realized he could travel and "get paid for science," and for the first time, he ventured outside Hawaii's warm waters for academic purposes. This set the precedence for the globetrotting missions he would soon embark on.
In 2012, Cliff was accepted into the University of California at San Diego, and for the first time in his life, he would live somewhere other than Hawaii.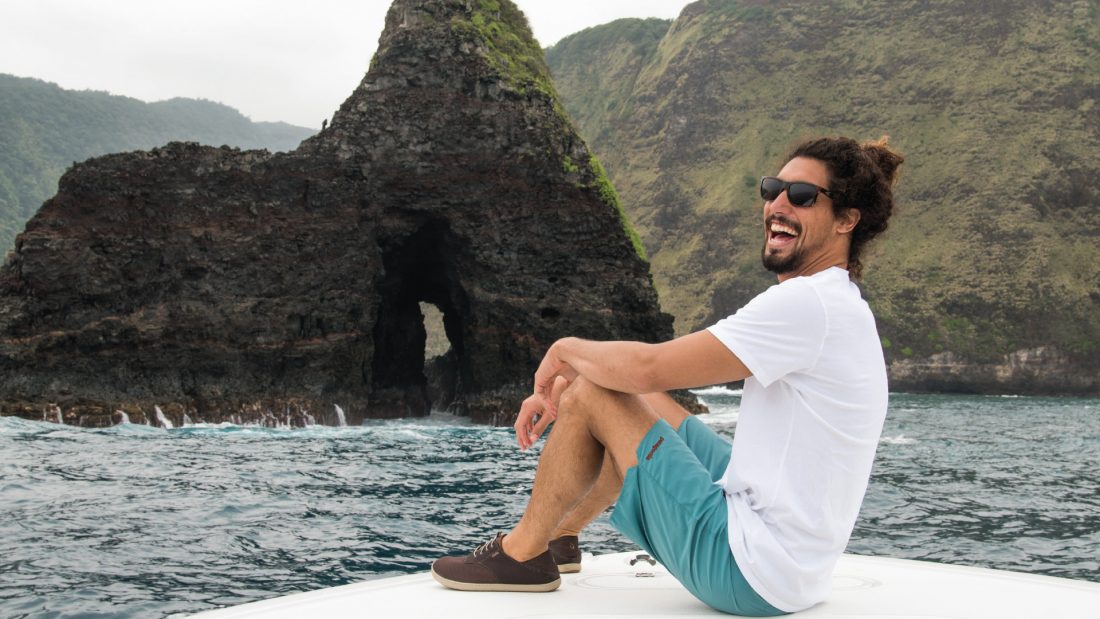 "I was thinking, wow I'm really doing this," Cliff says. "I had a backpack, a duffel bag and I rolled up at the house I was living in, and had to tell my roommates that if there's a little bit of juice left in the fridge, hey, I'm going to drink it. But I'll go to the store the next day and bring back a gallon. I was raised to respect food and to make food together, so I had to tell my roommates that's how I was going to be."
During his second year at the UCSD, though he had reached a goal in receiving his Masters in Chemistry, the newness had worn off and the cultural differences began to resonate, like the fact that people wouldn't say hello to each other in the street or the chilly lineup. "The level of individualism was unprecedented," he says. "It was culture shock."
By his third year, after refusing to fall victim to the attrition rate, Cliff found beauty in the mental and emotional struggle. "The only way to get stronger is to face resistance, and that's what really helped me appreciate the process," he says.
Today, Cliff is ready to pluck the fruit from the tree that started as a seed years prior, nearly complete with his PhD in Chemistry.
MERGING HIS PASSIONS
In 2016, Cliff had a hand in a myriad of projects, like Surf Wasted, where he worked closely with surfboard manufacturers to create a short documentary shedding light on the alternative materials when creating "low-waste" surfboards, along with creating virtual reality expeditions of coral reefs, voicing his perspective in Island Earth, a film discussing genetically modified agriculture, and the Surfer Biome Project.
The Surfer Biome Project's goal has been to determine if routine exposure to the ocean has an effect on the microbial communities of the body. Cliff has been obtaining microbial swabs from surfers in different corners of the world, from Ireland to Hawaii and Chile to differentiate surfers from different regions based upon the bacteria and molecules found either on or in their bodies. His research not only caught the eyes of the surf media; the New York Times published a photo of Cliff wearing a lab coat, discussing his endeavour.
"The project is wrapped up, and now I'm writing up my findings to present it to my colleagues, but in short we're finding that surfers have a unique chemistry and unique bacteria versus people who don't go into the ocean," he says. "It's been cool to see and show how nature influences humans, and it's going to shake how we see ourselves."
The overarching goal of the project has been to "inspire us to be better stewards."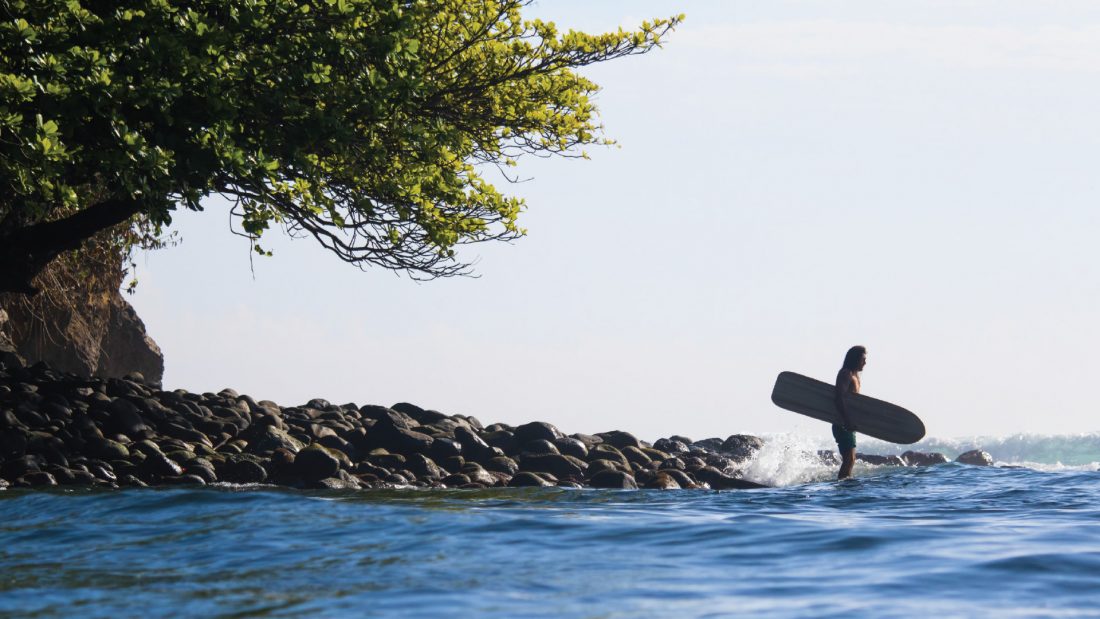 While conducting such research, Cliff has been juggling other tasks and projects, and his Renaissance man moniker also indicates his clear understanding of time management.
"People told me to choose between a life of surfing, a life of science or a life of filmmaking," Cliff says. "That there's not enough hours in the day to do it all, and I agree, there aren't, but we forget how much time we waste doing other things. I eliminate the idea of weekends, and if a swell is coming, I'll work through the night to have my work done so that I can get out there. My goal has been to merge it all: film, science and surfing, and so far it's been a good challenge."
For the next few months, other than putting the final touches on his presentation for his PhD, he's working with VISSLA, Olukai, and others on items like recycling, sunscreen, and overall "having a conversation with people."
"I HAVE TO STEP UP"
With the Surfer Biome Project, Surf Wasted, sharing his scientific perspective in Island Earth and other notable projects, Cliff's driving force has been to "be the guy that helps".
He says that back in the 1990s and early 2000s, Hawaii was known for localism,  waves of consequence and respect, but in the past few years, "fighting for a purpose, coming from a place of scarcity, is cool," and he's looking up to those leading the charge, like Dustin Barca, Kala and Kamalei Alexander and others.  "When you look at all the guys representing Hawaii, like Zeke Lau and Keanu Asing in surfing, we have Duane Desoto putting together youth empowerment, Barca is an ambassador for food security, guys doing Keiki contests…I'm so proud of everyone. Hawaii used to be about getting poundings, but they're shifting that intensity and it's cool to care. That's what keeps me diligent in what I'm doing, realizing that these guys are animals and I have to step it up."
Long term speaking, Cliff wants to return to Hawaii and see this new wave not only continue, but expand and thrive.
"Ten years ago, if I would have tried to start a conversation about science, I feel like I would have been written off," he says. "Of course I was just a kid, but now people are out there saying it's cool to care. Surfer's aren't just seen as beach bums or stoners; there's been a shift to a whole new perspective. And Hawaii, we're not as isolated as we think. If we start talking about sustainability, we can put a flag in the ground and say this is what we're doing to protect our place. We can become a model and empower ourselves."
pau