By Kyveli Diener Photos Keoki
Walking into the Kai Ku Hale shop and art gallery in Haleiwa feels much like opening a long-hidden treasure chest. Every inch of the store is teeming with unique and beautiful objects ranging from candles to custom furniture knobs to clothing to books and artwork. Sunshine beams through the windows, illuminating the vibrant paintings and making the assorted knick-knacks sparkle. You could hunt around the store for hours and still find new surprises tucked away in the homey atmosphere, where several local women, all artists themselves, are available to answer questions or just talk story. This special environment, and the women and artists involved in it, were all brought together by California transplant turned aloha queen Layne Larsen, who opened Kai Ku Hale over ten years ago.
Larsen, a true Valley Girl who grew up on Malibu beaches, first visited Hawai`i at the age of 11 and immediately felt drawn to live here. She was deaf to the nay-sayers and moved directly to the North Shore of Oahu as young woman, and still lives near Shark's Cove 25 years later. A steward to plants and animals with an overgrown jungle garden and a rescue herd of three dogs and six cats, Larsen raised two Kahuku High School graduates and also took care of her mother on Oahu for over 20 years until her recent passing. In the midst of all this caring for others in her life, Larsen still managed to open a shop in Haleiwa, even if the road to it was a bumpy one.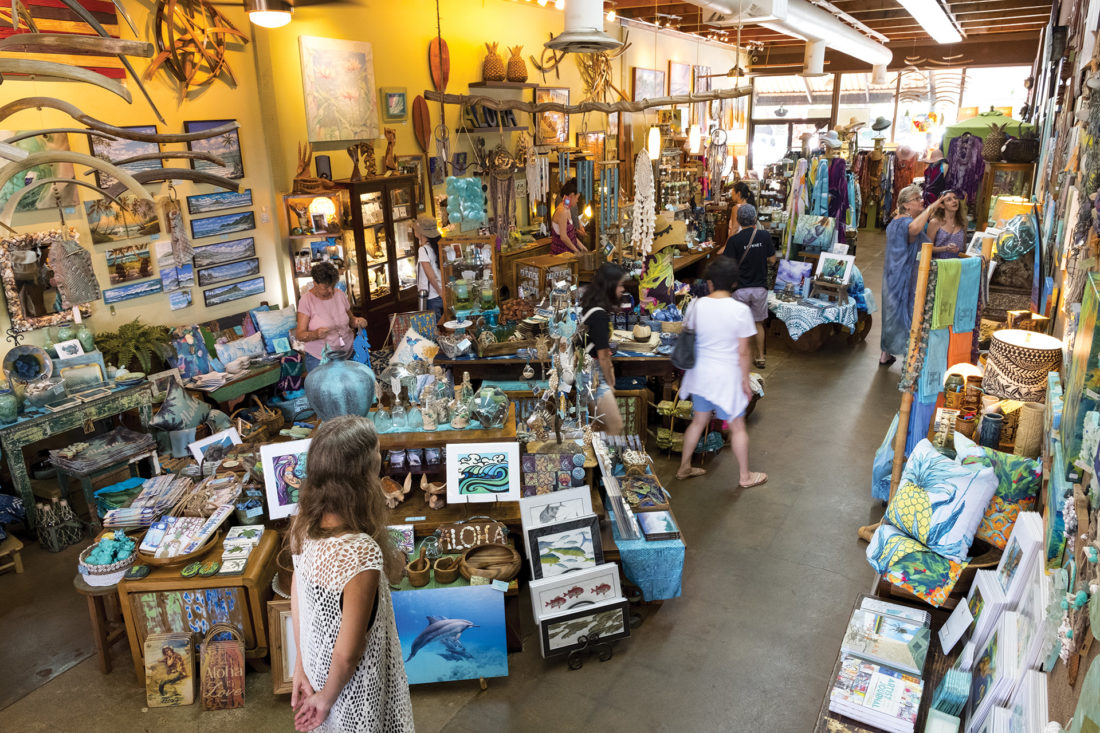 Larsen's original hope was to use her background in interior design to open a custom interior design house for new homeowners, but when the Recession hit just as she opened her doors in May 2008, she switched gears, choosing instead to open a store that helps support local artists trying to make a living.
"This store is a compilation of all the things I've done in my life: I used to have a ceramics business, I do make a lot of jewelry and sell it at the crafts fairs and arts festivals. So I've been on the other side of the coin like most of these artists just trying to make a living doing what they love," Larsen said. "I'm actually a frustrated artist because I'd rather be at home doing my creative thing all day, but someone said to me one day, 'you are doing your thing all day: this whole store is your palette.'"
One of the biggest obstacles to opening the store was actually deciding the name. Larsen scoured Hawaiian dictionaries, knowing that when she came upon the right phrase she would instantly know it was the one. Larsen admits she's not the typical Hawai`i resident: she'll snorkel, but has never surfed. You'll never find her fishing or sailing because she gets seasick very easily. The pastime that is her Hawaiian heaven is quite simply strolling the beaches of the North Shore collecting shells, drift wood, sea glass, and plastic debris revealed by the low tide. And it's in that practice that she found the name.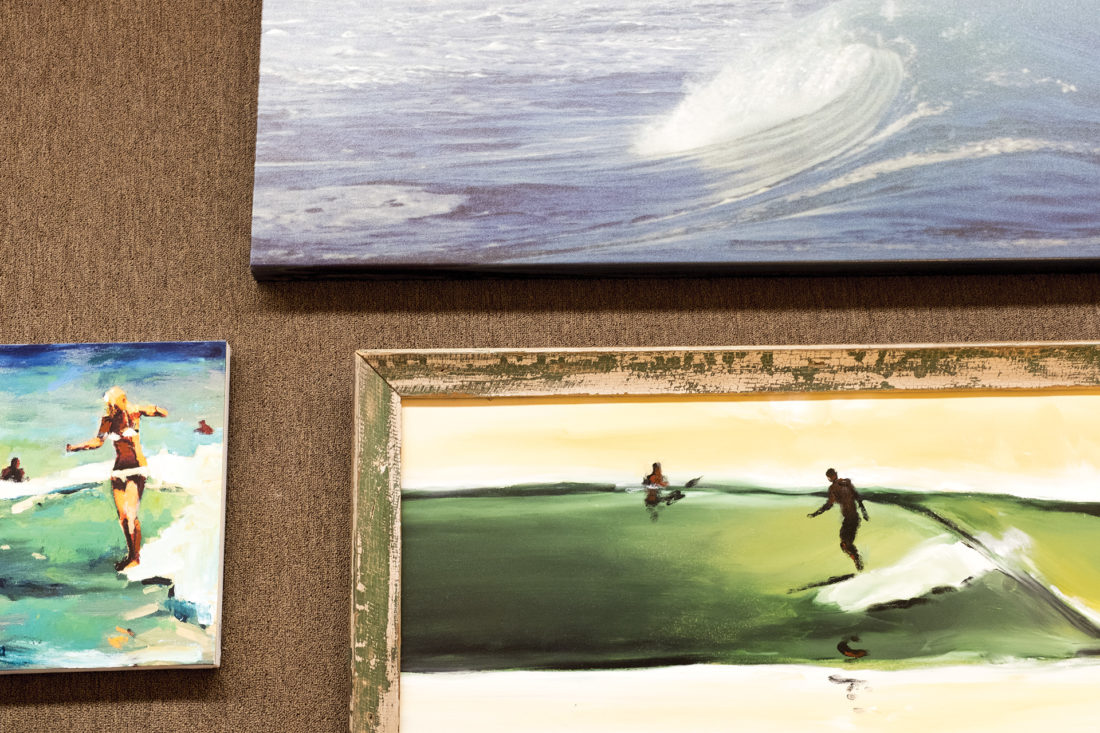 "Kai means ocean, hale means house, and when you put it together like kai ku hale — and I asked a Hawaiian person to make sure I got it in the right order — it means 'house on the gentle ocean at low tide,' and that's when you find your shells and your sea glass and your driftwood," Larsen explained. "So I saw it and said, 'That's it!' and I could sign my lease. Because that's what I love: walking the beach at sunset collecting my little beachy stuff."
The ever-rotating, star-studded roster of over 60 local artists spans the whole Hawaiian island chain and runs the full spectrum of media and objects, including essential oils from the Big Island company Alohatherapy. The family running that business lost their home to the eruption of the Kilauea volcano earlier this year, though the farm where the oils are made was spared. Every item in the shop is connected to the personal story of the artist behind it, and Larsen knows them all. The energy of the creators fills the room as if they were all standing there with you, and Larsen described a strange phenomena she's noticed surround artists giving their personal mana to pieces in the store.
"Many of these artists do spend a lot of time coming in and talking or coming in and polishing things, giving it a little love. And it's the funniest thing: they come and do it, and a half hour later the piece sells," Larsen said, her never-ending smile beaming.
Artists featured include visual artists from Kauai ( like Kelly Keane), Big Island (like Victoria McCormick) and North Shore Oahu (like Jamie Swim), among countless others. There are pieces from famous Hawaiian artists including Vince Cavataio, Bill Braden, Margo Goodwill, and Beverly Fettig. One of Larsen's favorite piece in the store is a giant print of a dreamy photograph of palm trees by the late Jon Mozo, and she's the only store in Haleiwa that can sell magnets of the famous Haleiwa sign created by Carole Beller, who happens to be a good friend of Larsen's and will sell her items featuring the famous wave and surfer image.
One consistent theme in the store that gives away Larsen's passion for and background in environmental science is artwork created with recycled materials, especially ocean debris and beach plastics. All the frames on the John Holm paintings covering the walls are made from recycled plastic, and most of the furniture in the store is made from recycled teak from abandoned fishing boats in Bali. Hanging near the Holm pieces was a stunning life-size mermaid by Dale Cronn that was constructed out of reclaimed copper telephone wire and decorated with glass pieces that were discards brought home from the UH glassblowing class Cronn's husband teaches. Another local artist specializing recycled materials is April Ahui, a friend of Larsen's for 20 years and wife of legendary waterman Terry Ahui , who is a perennial fixture in the store and who creates lamps and art out of driftwood, ropes, and railroad ties she finds on the beach.
"My biggest passion in here is our recycled art. [I estimate] about 40% of the things in here are made of recycled materials, and I would like for it to be even more," Larsen said before pointing to another meaningful piece of reclaimed art: a giant wooden State of Hawai`i flag stained blue and red where it should be, which was built from wood that used to be Larsen's deck. The artist who took down the deck created four copies of the flag, and the first one was sold to State Representative Sean Quinlan at a Waimea art auction.
As the artists continue to stream through Kai Ku Hale with their treasures, Larsen also seeks out wares of her own design on buying trips to Bali every couple of years. Down there she is able to manufacture unique knobs and fineals (the screw on top of lampshades) in the shape of mermaids and seahorses to sell in the shop. The two most common things you'll see in the store are peace signs and the word "aloha," because to Larsen peace and love are what life is really about.
"If ever down the road I have to look back, I'll be able to say, 'you know what: we had a really good thing going here,'" Larsen said, content and calm, surrounded by the art and energy of her community.