Story and photos: Alexandra Kahn
Influenced by the colors and cultures of her childhood, Osta Lange is a talented painter located on the Big Island of Hawai`i. Her paintings are bright and loud because, according to her, "Color is life! It would be a challenge for me not to use it." Lange pulls at the emotional heart strings through specific colors, such as blue which "stimulates a sense of innocence and calm."
As a child, Lange's family spent many years living amongst the diverse wildlife of Central America and South Africa, and she finds inspiration from her past and the natural world around her.
"I remember there were leopards living on the mountains behind us in South Africa, and baboons," Osta recounts to Freesurf Magazine. "It was pretty special to have the presence of wild animals near us. My brother would also bring home interesting snakes, and Mom always walked around in cheetah and zebra tights, so everything was pretty exotic at home," she recalled with a laugh, pinpointing the reasons we see these animals and cultural interests appear in many of her paintings today.
Her travels also impacted her world view and interests. Lange believes that "travel helps people to see humanity as a whole." She hopes that by capturing the colors, life, and spirit of natural elements and wildlife of the jungles and oceans, she can bring the viewer's awareness back to nature. Ultimately, her goal is to promote nature conservation and be more actively involved in conservation initiatives.
While art has always been a part of her life, Lange started painting around the age of 17 at the University of Hawai'i Manoa's Art Department. Her preferred medium is acrylic, yet she also works with oils and ink on wood canvases of all sizes. "Experimenting keeps things interesting, but large pieces are all-encompassing and fun," she tells us.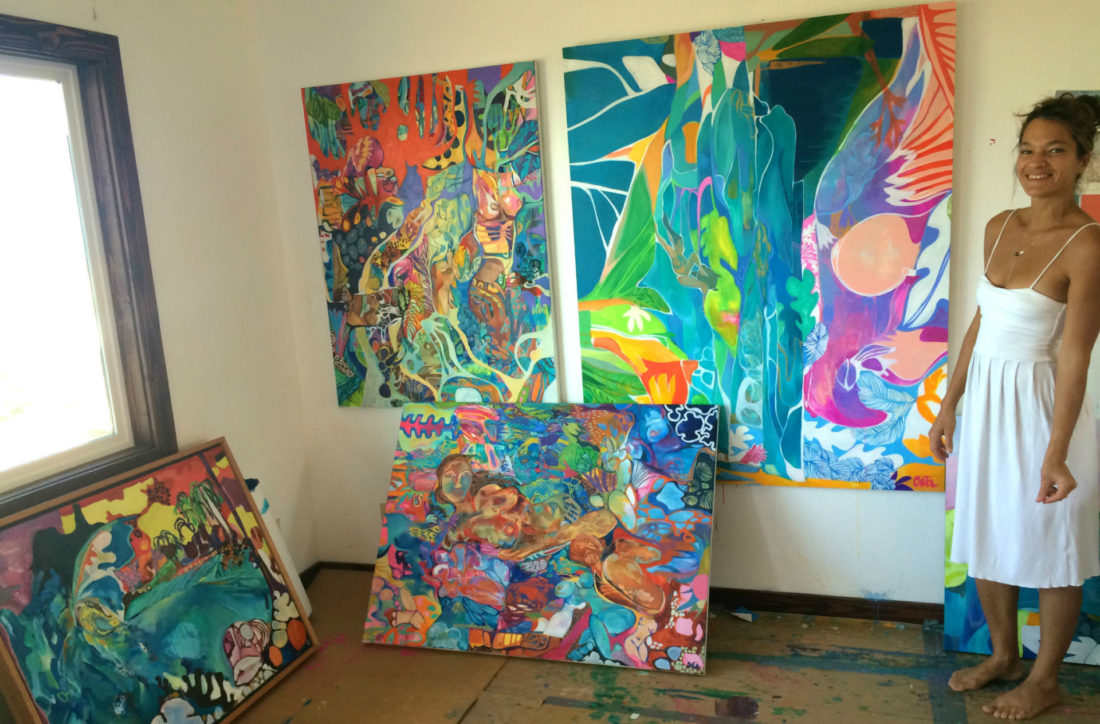 Lange explained that painting is mostly to express how much she loves life, with "life" representing the gamut of the natural world, discovery, travel, music, the erotic, experiences, collective consciousness, and higher states of awareness.
"The act of painting quickly becomes an experience," Lange explained. "This love of life inside me has to give fruit, to be expressed…and when I'm finished, I still get energy back from each one. I guess that is the self-expression we all desire and need in whatever we are doing. To express ourselves is to channel that deep love inside. I feel it is intuitive when I realize a piece is complete, and I hope that people feel something when they see my work."
Every artist approaches their creation and process differently, often changing over the artist's lifetime as they develop as a person. Lange described her unique approach as, "usually I'll start with something [like] an emotion, one basic image or color. Even if I'm unsure of what I'm going to paint, if I have one of those elements it will lead me to the next thing." She added, "I like layers and surprises. However, lately I've been putting more forethought [into my work]…I like the deliberate approach as well. It's good to change it up."
Viewing Lange's works in gallery exhibits at venues like Barela at the Mauna Lani, Thomadro Haleiwa, and The Gallery of Great Things in Waimea, one notices that she likes to create full collections. Each collection is a unique, direct reflection of an artist continuously inspired by life around her. "A body of work says more than a single piece. When it's done, it's done, and then you consciously move into new territory," she said.
Mining inspiration from other artists around the world, the Hawaiian islands, life's mysteries, fascinating people she might encounter, and personal experiences, she reveals, "I do not know boredom. Whatever I might be involved in at any moment comes through artistically, like a chameleon's changing shades. I was doing martial arts a while ago and unconsciously started doing Japanese-inspired graphic ink drawings and mokuhanga [woodblock printing]. Inspiration is everywhere if you have a curious mind."
Lange loves collaborating with other artists, as well as seeking inspiration from them. She believes that "as artists, it's very important that we uplift each other, learn and encourage one another freely and openly — not just for ourselves, but in the name of art. Like anything, if we're strong in numbers, the nature of collaboration can really impact our world in a positive manner. More art, more nature, more love."
You can find more of Lange's art on Instagram @osta_artista and ostaartista.com.