By Kyveli Sophia
Hometown: Waialua, O'ahu
DOB: May 7, 2004
Current sponsors: Billabong, Sticky Bumps surf wax, Scarfini Fins, Ono Yo Hawai'i
Whether you're in the lineup at Sunset Beach, on the sand at that storied break, or anywhere on Oah'u's North Shore, you have a good chance of hearing about Luana Silva. More specifically, you'll hear tales about the searing power turns she lays down, ripping into the face of any wave she stands on. The 14-year-old North Shore local has been surfing here so long (since age 3) and charging so hard that this isn't the first time her ripping ways have been featured in this magazine — Silva was already garnering attention and stacking sponsors the first time we featured her at just 10 years old. Some things have changed: back then, her quiver was full of Bushman boards and her step-up was a 4'11; these days, she's riding Tokoros and her favorite go-to board is a 5'9 5+. And some things have stayed the same: she still attends local public schools (from Sunset Elementary to Kahuku High), she's still gracing the top of the podium (including recent U14 and U18 division wins at the USA Surfing National Championships in June). And she's still routinely called Lulu, far more than Luana, the Hawaiian word for "happy" and the perfect name for this rising surf star. When asked "What always makes you smile?" she replied, "Anything really. Anything that makes me laugh. I love to smile." With people already calling her the next Carissa Moore and a rapidly-growing confidence on waves of consequence, it looks like Lulu will find many reasons to keep smiling in 2019.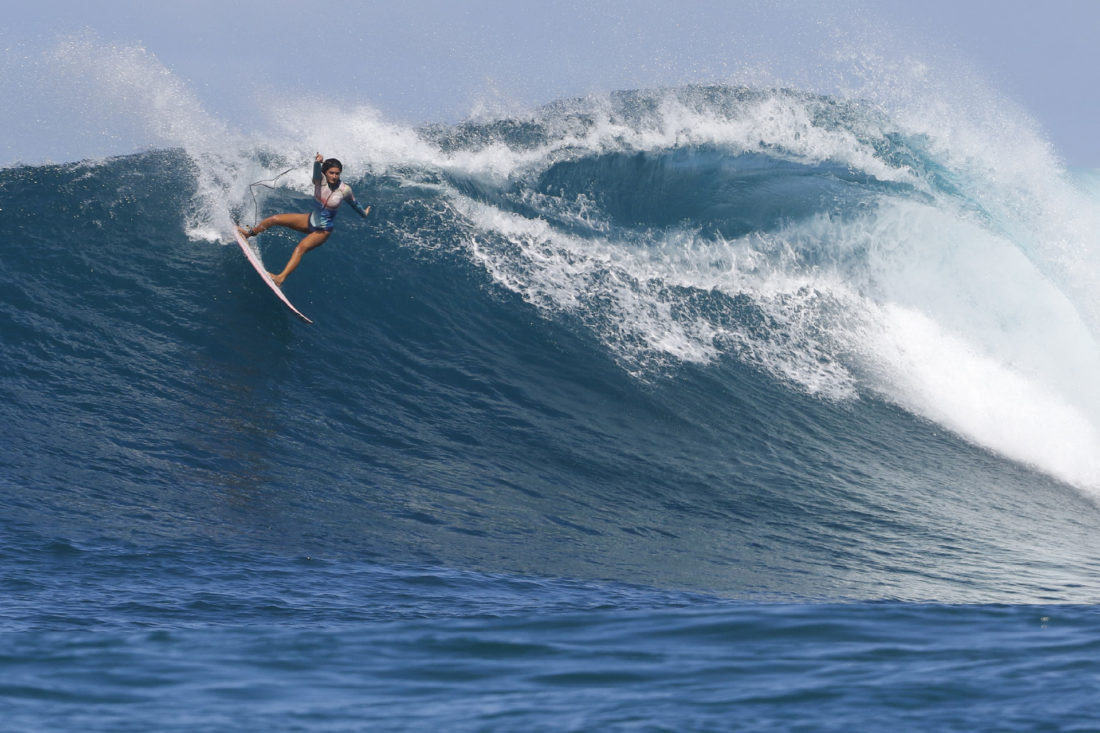 What are your favorite breaks in Hawai'i and outside of Hawai'i?
I love V-Land, Sunset, Rocky's, Pupukea, and there is a wave in the Maldives called Sultons — super long right and one of my favorite waves now. And I love Lowers.
How's the vibe out in the lineup at Sunset and how has that wave improved your surfing?
I love surfing Sunset; it's one of my favorite waves ever! It's definitely a very challenging wave to surf and figure out the lineup — it can also be tough getting waves from the locals. This wave has also helped out with my confidence on surfing bigger waves, and I'm happy I have the confidence to get out there and get a couple.
What's the biggest challenge you have ever been faced with while surfing? How did you overcome it?
I've faced a lot of challenges while surfing, but the biggest challenge I think I've faced over the past two years was getting used to bigger waves. Last year I started to face my fear and take it step-by-step surfing in the bigger waves, and now I feel more comfortable out there knowing there's nothing to be afraid of.
What's the biggest wave you've ever surfed, and do you have interest in surfing big Waimea, Jaws, or any other big wave spot?
The biggest wave I have ever surfed was towing in with my dad and Gabriela Bryan out at 15-foot Phantoms just outside of V-Land. It was one of the best experiences I've ever had, and I can't wait for another good swell to do it again. I think it would be a good experience for me to go and surf Waimea and Jaws. I would be up for the challenge.
What are your goals in surfing?
My goals in surfing are to win a WSL Junior first, start doing Qualifying Series events, do good in the Qualifying Series events, make it on tour, and, hopefully, win a World Title.
What recent achievements have been most meaningful to you?
The most meaningful [contest] achievement so far was winning the U18 Governor's Cup at USA Surfing Nationals at Lower Trestles in San Clemente, California. Achieving that at just 14 years old felt pretty special to me.
Who do you look up to in surfing and why?
I look up to more of the up-and-coming girls like Brisa Hennessy, Macy Callaghan, Caroline Marks, Summer Macedo, all those girls. But my all-time favorites have to be Stephanie Gilmore and Carissa Moore-Steph because of her beautiful style and Carissa because she can do any type of maneuver — she's good in the air, can get barreled, and has an amazing rail game.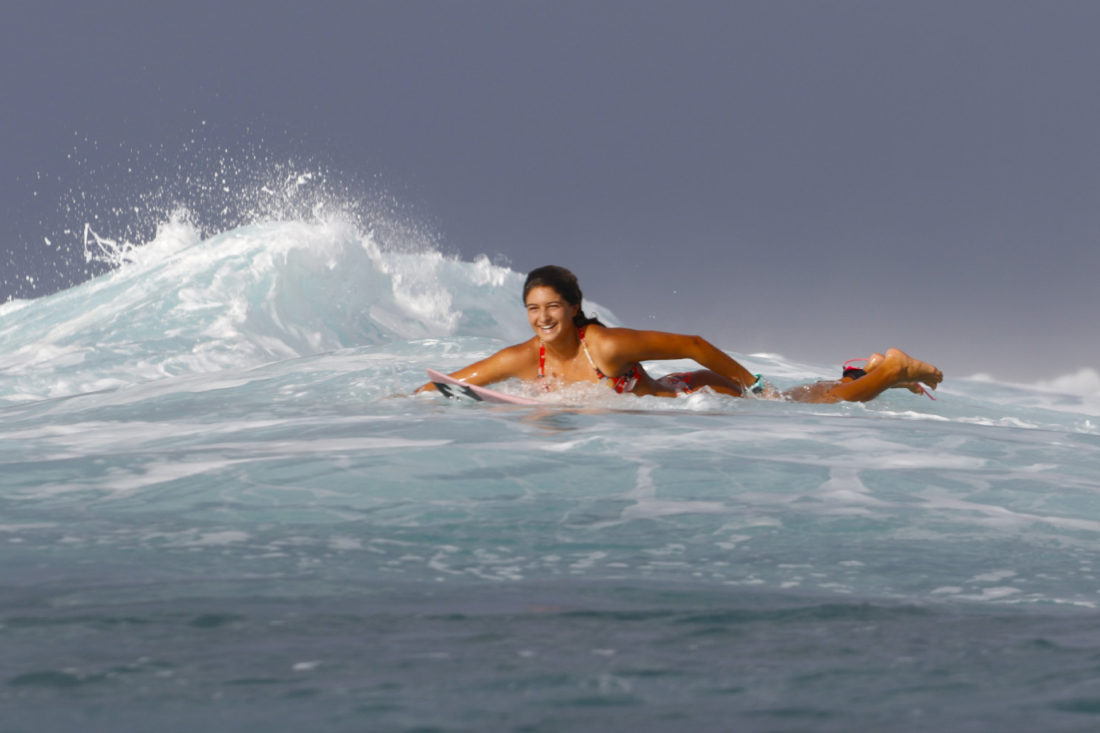 Tell us about your current quiver.
I am very fortunate to be able to ride such amazing boards by Wade Tokoro. In my current quiver, I have seven boards: three are step-ups and the last four are short boards. My go-to board (my favorite board) is…a 5'9" and the model is a 5+, my favorite model by Tokoro. It is also the same model board that Seth Moniz rode to make the Tour.
What are your favorite maneuvers to do and what are you currently working on improving?
My favorite maneuvers to do are those big rail carves. I am trying to work on reverses now, but what I really want to learn is how to do aerial maneuvers.
How do you like to train and stay fit for surfing?
I train in the gym with Kahea Hart two times a week and surf train with him once during the week. I also do Kid Peligro's Ginastica Natural.
What are your other favorite hobbies besides surfing?
Yoga…It helps me stretch and relax.
Where do you go to school and what would you be if you weren't an athlete?
I go to Kahuku High School — yes, I go to school, I am not homeschooled. If I wasn't pursuing a career as an athlete, I would like to be a physical therapist or a trainer.
Where are your favorite places that you've traveled to?
Some of my favorite places I've traveled to are Tahiti, Bali, Mexico, Brazil, and I just recently went to the Maldives last summer on a boat trip. It was one of my favorite trips of all-time!
What do you wish for the future generations of surfer girls?I wish for girls [to try] anything the guys are doing — just go for it! Push yourself, because no one else is going to do it for you.