By Cash Lambert
"We're in the middle of a supermarket on the North Shore of Oahu. Carissa is crying. She wants to quit. It's pretty much all my fault."
This is how Chris Moore, father to 3-time World Champion Carissa Moore, begins his 135-page tell-all book about their journey to the pinnacle of professional surfing.
In the book, Chris explains that Carissa had just lost a surf contest, and his compassion turned into frustration as he questioned her tactics in the water. Carissa, in tears, responded that she didn't want to surf anymore. She was done.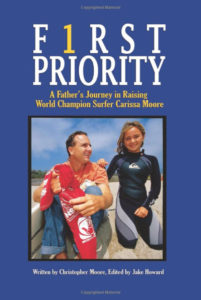 But this wasn't at Snapper Rocks, Huntington Beach, Honolua Bay or any other professional surfing event. Instead, it was at the Haleiwa Menehune Surfing Championships, where little Carissa had surfed in the 7-9 age division.
"Nobody prepared me for any of this," Chris writes. "Before we left the hospital after Carissa was born, the doctor didn't tell me that she was going to be a freak athlete, nor did he hand me a how-to book on how to raise her. Now, years removed from the scene at Foodland, I look back and think about what a remarkable challenge we've overcome together."
Chris chronicles that "remarkable challenge" by providing a behind the scenes look at the peaks and valley's of Carissa's 2015 World Title campaign in First Priority: A Father's Journey in Raising World Champion Surfer Carissa Moore. Along the way, Chris tells stories that shaped who Carissa is today as both a person and a professional athlete, from her first surf sessions atop a tandem surfboard on Oahu's South Shore to her – at only 14-years-old – beating Layne Beachley at the Roxy Pro Gold Coast, tales of competing in the boy's divisions and more. Chris also explains how he went the extra mile to help Carissa prepare for events, like warming up hot packs for her feet at cold water locales and coming up with the idea for her to train in waves on Oahu that mimicked World Tour breaks with guidance from coaches.
We already know how the book ends: with Carissa hoisting the 2015 World Champion trophy. But it's the details, the honesty and stories along the way that make First Priority: A Father's Journey in Raising World Champion Surfer Carissa Moore a must read.
First Priority, written by Chris Moore and edited by Jake Howard, is now available on Amazon.