Hurley Pro
ASP World Tour Men's Event
Lower Trestles, San Clemente California
15 – 21 September 2013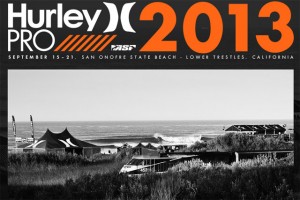 Live Coverage  |  Results/Photos/Videos etc
Benefit for San Onofre Foundation means 5 will surf Lowers with Rob Machado
The dream of surfing Lower Trestles with just a few others is now a reality at the 2013 Hurley Pro. For the first time ever, Hurley is offering five spots in an Expression Session featuring Rob Machado and an empty Lowers lineup between the dates of Sept. 15-21.
The spots will be decided through an online bidding process, with the nod going to the five highest bidders. All proceeds from the online auction will go to the San Onofre Foundation, caretaker of the San Onofre/Trestles region.
"I'm honored to be a part of this event and part of this historic expression session," says iconic surfer Rob Machado. "The San Onofre Foundation has been instrumental in keeping Trestles pristine, and I can't wait to high-five my fellow expression session surfers and help preserve one of the best waves in the world."
Beginning August 26, the public can place a bid  or text the word "Hurley" to 52182 and place their bids to participate in the 2013 Hurley Pro Expression Session. The online auction will end midnight PST on Sept. 5, when the top five bidders will be announced.
"Without organizations like the San O Foundation, we wouldn't be here," says Hurley Pro Contest Director Pat O'Connell. "This is our small way of giving back and also providing the opportunity for a few surfers to have the half-hour session of their lives at Lowers. It's going to be a lot of fun."
The Hurley Pro Expression Session is open to everyone. Be sure to place your bid here or text the word "Hurley" to 52182.
The San Onofre Foundation (SOF) is a California non-profit, charitable corporation, whose mission is to provide education, protection, and preservation for the California State Parks at San Onofre and San Clemente State Beaches.  As a public liaison to these parklands, the San Onofre Foundation will foster a comprehensive stewardship of this unique recreational resource, with its historically important sites and environmentally significant setting.