"Shooting directly into the barrel at Pipeline can be elusive. Pipeline doesn't break in the same place every wave. It's like Goldilocks and the Three Bears: I'm too far in, I'm too far out, or I'm just right. Each day that DaHui Backdoor Shootout was held had epic moments where all the ingredients came together perfectly. This day stands out to me because my cookies got tossed by north waves more than once; I paid a lot of my winter dues.
Keito Magauoka had two amazing waves during the contest — his twelve point ride, and this wave during Team Japan's second heat. I could tell I was exactly where I wanted to be. His ability, the wave quality, and mid-afternoon light were ideal. The bonus lip flare made it an image I won't soon forget."
– Christa Funk, Water Photographer
______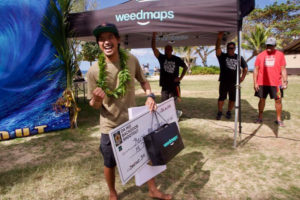 "My first time on the North Shore was when I was 12. Now I'm 28. Since my first day on island, my dream was to catch one of the best Pipeline waves and complete the ride.
On this wave during Da Hui Backdoor Shootout, I tried to pull in with no grab, but the wave was super powerful and my board was going too fast, so I grabbed it and tried to stall again. It was a beautiful emerald green room. Such a beautiful Pipeline wave to remember."
– Keito Matsuoka