By Cash Lambert
Photos Joao Paolo Araujo
For 9 years, Kauai's Sammy Morretino has grinded it out on the Hawaii Bodyboarding Pro Tour, traveling interisland to sharpen his bodyboarding repertoire. Along the way, he hasn't only collected a wicked aerial game, spray-infused carves and multiple contest victories and regional titles; the 20 year old has also become a beloved member of the Hawaiian surf community. In September, Morretino, who also competes on the Association of Professional Bodyboarding (APB) World Tour, took his talents to the 22nd Annual Sintra Pro in Portugal. He entered the contest second in the Drop Knee World Title points race, and surfed his way into the Final, where he faced a goliath – Dave Hubbard, an 8-time Drop Knee World Champion – who was leading the points race at the time. Instead of feeling the pressure, Morretino applied it, laying down an 8.5 and a 7 and holding onto first place until time expired. He was then chaired up the beach to the podium, where he let out a roar: "I screamed so loud everyone back home in Hawaii probably heard me!"
Freesurf: Talk us through the Final in Portugal, Sammy. You faced Dave Hubbard – the 8-time DropKnee champ. What was your mindset going against him, knowing his talent and experience level?
Sammy Morretino: To be honest, I thought I was out of the World Title race, and I thought that even if I won the event and Dave got second, then he would still win the Title. Right before the Final, one of the event directors told me that if I won, I would actually beat Dave by 100 points. I wasn't as nervous as I thought I would be. I was more excited to surf with Dave in the Final and have a good battle, since it's been awhile since I've had a final with him. I got a 8.5 on my first wave. After that, I sat a little inside and got another wave under priority and got another good score – a 7 – and then I heard the announcer say that Dave needed a 9 with not much time left. When I heard that, I had the biggest smile on my face.
What did it feel like to stand on the podium holding the trophy?
The feeling was amazing! I'll never forget it. I was in tears of pure joy. I kept looking at the trophy, thinking no way I actually did it! I screamed so loud everyone back home in Hawaii probably heard me! I'll never forget that moment for the rest of my life. It was a dream come true.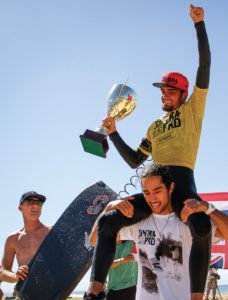 What's been your biggest struggle this contest season, and how have you pushed yourself to overcome it?
In July of last year, my sister passed away and that was super hard to deal with. I had my mind caught up on that for a few events and didn't get the results I wanted. Life has a way of throwing these obstacles at you all the time, and you just have to learn how to overcome them and deal with your problems. For me, I deal with it by riding waves every day of my life. Even it's for twenty minutes, I'm out there!
You dedicated the win to your mother – would you like to share more about that?
In September of 2007, when I was 10, my Mom passed away because of a heart attack in her sleep. I didn't know how to handle it. I was silent…I didn't like to talk about about or bring it up. I went down the wrong path for a while and had some very hard times coping with her death. I accepted it a few years later that my mother is with me no matter what. She's my guardian angel. She never physically got to watch me compete or get sponsored, but I know she's seen every one of my contests and my accomplishments in life and I wanted to dedicate my World Title to her, because she deserves it more than anyone. Love you Mom!
So what's the future now that you're the DK World Champion? How are you going to capitalize on this win?
There's two more events in Portugal, so I'm going to try and get some points so that I have a good seeding for the Mike Stewart Pipeline Invitational in the winter. I'm going to for sure do my best to defend my Drop Knee World Title next year! I want to give back to the community at home on Kauai and do a free Bodyboard Clinic /Beach cleanup at my homebreak for the keiki. I also plan on trying to go on a few trips with my sponsors and friends to work on a film. I'm stoked to head back to the beautiful little island of Kauai so I can spend time with my family and friends, and save money to do the Tour next year.
Anyone you'd like to thank after this big win?
I would like to thank Science Bodyboards, Gyroll Leashes and Wetsuits, Viper Surfing Fins, Hidentity Surf, Jamba Hawaii, Intricate Shockwave, Fumanchu Clothing and Tetro Times. A big shoutout goes to my dad, Sam Morretino, my girlfriend Ayana Kemmler, Conor Turley, Abraham Balmores, Holden Koki, Brandon Buza, Bud Miyamoto, Spencer Skipper, Aka Lyman, Joey Vierra, Shawnee Lyman, Mike Stewart, Norman Skorge, Pohaku Kekaualua, Debra Kekaualua, Blaine Jacintho, Billy Grace, my sister Alison, Carol Connelly and all my crew back home back home on Kauai! Love you guys and thank you for all the support over the years! Mahalo ke akua!