By Cash Lambert
Trial by fire: by most accounts, this is what the first few years on the WSL's Championship Tour is like. The surfer hoisting the trophy at a contest's conclusion may not necessarily be the most polished, but is often the competitor that best adapts to the conditions on hand on all fronts. It's a trial by fire because there is no guidebook to being the last one standing, only recommendations and coaching points. It's a trial by fire also because of the sheer unpredictability of the sport. Sure, there are fan favorites depending upon geographic and wave factors, along with surefire bets and passion picks. But there are no guarantees.
Such is competitive surfing.
Alessa Quizon knows this, and so much more. The Hawaiian has spent more than half a decade competing in CT events, navigating this aforementioned unpredictability and learning the nuances of travel schedules and CT waves continent by continent, with this year serving as her third full year on tour. She embodies everything that is a wahine in and out of the water, especially with her gritty toughness acquired while growing up in Makaha.
The 23-year-old has gone through this trial by fire early in her career, stepping out of the Fiery Furnace without a hair on her head singed. Today, she has no intention of staying at her current rank on tour -13th- and she's ready to follow the manifesto she's been researching and writing heat after heat straight to the podium. And dance "like Beyonce" every step of the way.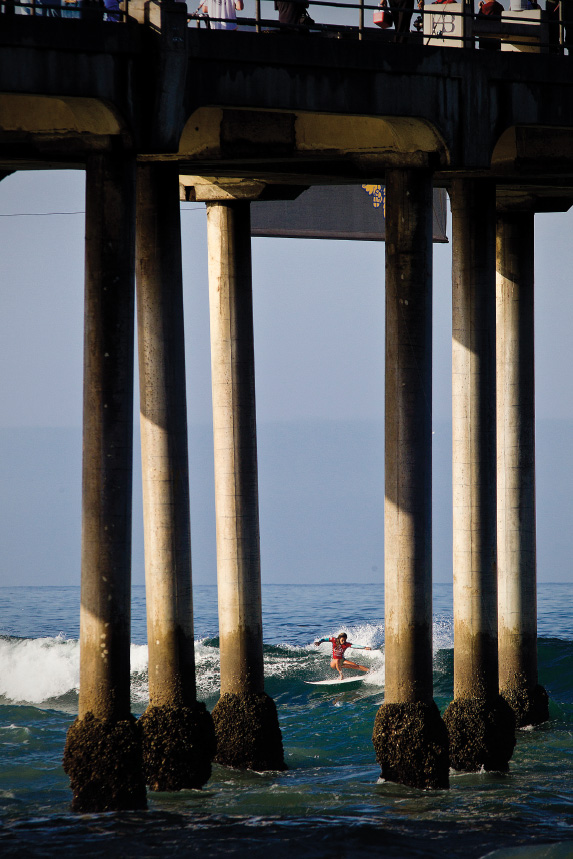 How has the 2016 CT been different for you, Alessa?
This year I feel that I am more relaxed and not so pressured in trying to make a result. I realized after two years of being on tour that if you want to be consistently good and make good results, you have to feel confident and relaxed. No matter how well you do in a comp, you can't let a result define you or your surfing. I've pretty much learned that you have to wash out all the negative and stressful stuff, just have fun and be happy in the moment. Don't stress yourself about the future or what has to be done, and to let things flow and stay confident and focused.
Other than maintaining a confident and focused mindset, what else have you learned about Tour life, since it's a constant learning process?
I learned on tour that it's important to keep your life and traveling balanced. My rookie year taught me a lot about myself, because there was much learning I had to do in so little time. I learned how to be more on top of things, how important training is in and out of the water. I had to adjust the way I ate to improve myself as an athlete and I'm still working on that. It's hard growing up from a place where all you want to eat is rice and Portuguese sausage… So far, I am happy on how far I've come. But from here on out, there's only room for positiveness and improvement for me.
How do you reset and refocus mentally before a contest?
Hitting the reset button can be hard at times, and it depends on how close each comp is and how you did in your last one. For me, I just let everything set in when a contest is over. I analyze the mistakes I've done in a heat, look for things that need improvement and this usually takes a day or two. Resetting, another thing I want to improve on, hasn't been my forté. As soon as I've gone over everything, I wash it out and start all over again and I'm back to where I left off before I went off to a contest: training, trying new boards, working on what I need to improve on and looking forward to the next event with a clean slate.
Pressures as a female competitor: what are they and how do you personally deal with them?
Being a female competitor means that you can be a pretty busy woman throughout the whole year. Juggling surf events and lifestyle shoots can be overwhelming and on top of that, there is always this obligation to keep your social media feeds consistent on what you are doing, wearing, surfing etc. I just face it head on. It can be overwhelming but most of the time it's fun and exciting. You're getting paid to do what you love, also showing young women around the world that surfing isn't just a man's sport.
You're on the road more than you're home, so what do you miss most about Makaha?
I miss my home so much. I dream of surfing out at Makaha and watching the sunset with my family and friends. I miss Hawaii in general, too: the food, the people and atmosphere. Listening to Hawaii reggae music takes an edge off of my homesickness.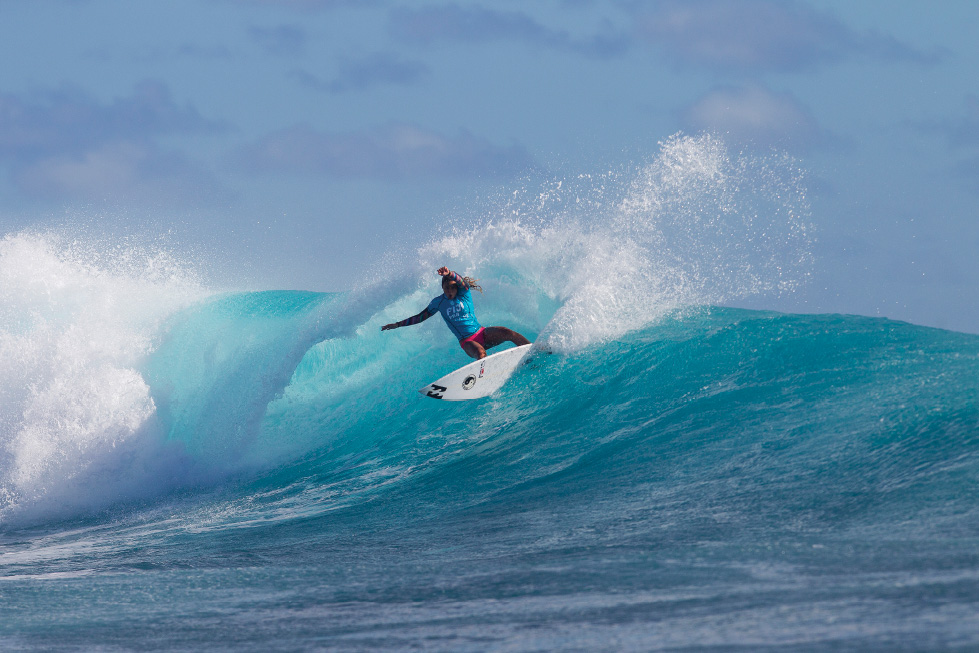 Talk about the relationship dynamic you have with Caio Ibelli — certainly there's a hectic travel schedule between you two. How do you guys as a couple deal with the rigors of Tour life?
Being on tour with Caio has been amazing. A dream come true for the both of us really. We've actually spent the most time together this year because the men and women have shared events. We are both competitive people and we like to challenge each other. These days, our arguments aren't about the basic relationship stuff. We fight over surfboards and waves. It's actually quite funny. Overall, I think we are both lucky to have each other on tour, living and achieving for the same things. We share our losses and victories together and I've learned so much from him. We adjust to each other's needs and push each other to keep going.
What is the single result you're personally most proud of throughout your surfing career and why?
I am proud of making semis last year at Honolua. Of course I wanted to make the finals but that event was unreal. The waves were amazing, it took place in our homeland and most of my family were there to support me! I love that wave and that year we got to make Hawaii proud.
Your fashion sense: describe to us your clothing style of choice both in and out of the water.
I'm not sure how to describe my style. I love wearing all the Billabong rompers and dresses. I like to be edgy and I lean towards the darker colors and shades. In the water, I love wearing the Billabong surf capsules. One way I draw fashion inspiration is from TV series and movies.
What are a few things we might not know about you outside of surfing? Any quirks, odd talents, etc?
I like to draw and paint. Free diving too, whenever I get the chance. I like dancing like Beyoncé- but 10 times worse.
Advice to female surfers who look up to you on chasing dreams?
Never give up no matter how hard and difficult the journey of getting there will be. Don't let society tell you what you can and cannot do as a woman. Your choices will be your only limitation.
Your outlook on the remainder of the 2016 season? What can we expect?
I'm just living day by day, heat by heat. Living in the now and stressing less on what to expect ahead.
pau