D.O.B.: 5/11/04
Sponsors: Lady of the Sea Creations, Kai Coffee Hawaii, Moku Hawaii, Two Crows Surfboards, OnIt Pro, Banán Bowls, Siren Song Wetsuits, Sun Bum Sunscreen
Haley Otto rips…but you already knew that. We first featured this talented Waikiki log rider three years ago, when she was just 11 years old and all she wanted was to visit Malibu one day. Fast forward to 2018 and some things are still the same: Haley is still graceful as ever as she cross-steps and noserides her 9'0 Two Crows (which is still her favorite board), she's still sponsored by Moku Hawaii and tight as ever with the Queens groms that can be found handing around that shop and who essentially own Waikiki's most crowded lineup, and she still idolizes Honolua Blomfield and Kelia Moniz. But there are a couple differences in the confident blonde: where she previously couldn't name any hobbies she enjoys as much as surfing, she now admits to being a normal teenage girl who loves shopping (especially Billabong clothes, though she fears she'll have to return to shortboarding to fulfill her dreams of being sponsored by that brand one day), she's racked up a ton of new sponsors (including one that reflects her love for protecting coral reefs), and yes, she made it to Malibu. She's older, wiser, but just as grounded in aloha spirit — this is Haley Otto 2.0.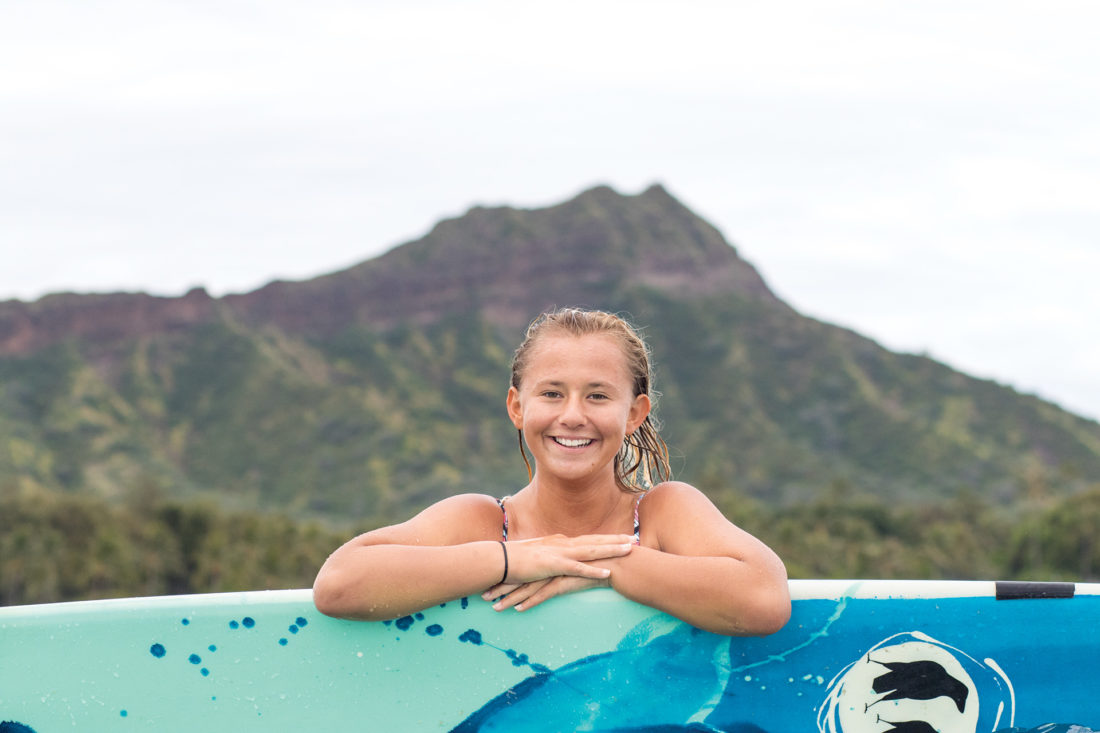 You were originally born in Chicago before moving to Waikiki around age 7 — do you remember anything from the Windy City?
I do — we lived on the lake, so I always got to go on a boat and we'd go tubing a lot. I've always been around the water.
You started out on a shortboard because you began surfing so young, but what brought you around to longboarding and what are you favorite maneuvers?
My Auntie Lori got me a longboard for my birthday, so I just started riding it and I completely fell in love with longboarding. I think it was my 8th birthday. I really love to hang ten and cross-step, and I really love logging, which is a really traditional surfing style.
You've had some great female longboarding role models growing up here on Oahu.
Honolua [Blomfield] is a surfer that really inspires me, and she rides Two Crows too sometimes! She's just an amazing person and great surfer, I really look up to her. And I love Kelia [Moniz]. Watching Kelia surf she really inspires me, she makes me want to become better and surf like her. She's a really amazing person, I've actually surfed with her out here a few times and she's doing more events with the girls so I think we're going to get to see her more. It's really exciting. She's starting her own events, just hanging out with the Waikiki girls, shopping and surfing and stuff.
And now you're becoming a role model for younger girls getting into longboarding — it's going full circle!
It makes me really happy when I see little girls surfing. You're just like "Go, go!" and they catch their first wave and they're so excited. I really love the idea of women's surfing becoming more popular. These surfers, these women, these long boarders, they're so amazing and I really look up to them a lot. I'm really happy that longboarding for women is becoming bigger.
Where are some of your other favorite places to surf when South Shore is flat?
Some of my other favorite spots are Haleiwa on the North Shore, and Chuns.
Education has always been really important to you — what are some of your favorite subjects?
Next year I'll be going into 9th and starting Myron B Thompson, it's an online school. One of my favorite subjects is ELA, English Language Arts. I really enjoy science, and I'm really interested in marine biology.
What would be your backup career if you couldn't be a pro surfer?
Definitely to be a marine biologist and study coral reefs.
So you must be stoked that Hawaii passed that law in May banning oxybenzone sunscreens.It's exciting to see change happen when people take action and speak up about something they're truly passionate about! Since this ban has been brought up before but never passed, it's really exciting to see that it has passed. Also I'm very happy to be a part of a company whose product is reef safe and who care about our coral reefs and how they're being affected.
Living in Waikiki and being surrounded by tourists, what do you think we can do to help them understand how to protect the reefs?I think we just need to inform people about how sunscreens are affecting coral reefs and look at other factors like pollution. The one thing I would say is just to get more people involved and talk with tourists to learn what's in their sunscreens and how they can use other sunscreens.
How was it to finally get to Malibu last year and fulfill that dream of surfing First Point?It's really different and the waves are totally different. It's really cold, but I completely fell in love with Malibu, it's one of my favorite waves. I did the MSA Classic in 2017 and I won my division, so I was super stoked about that. I just really love to wave. I feel like I really connected with the wave, it was such an amazing wave for noseriding. I also got to meet a lot of new people.
What are your new travel dreams?Hopefully Australia for the Noosa Fest. I hope one day [to get to Mexico], and I might go back to Malibu in September.
What competitions do you have coming up and what are your long-term surfing goals?I competed in the HSA state championships at Bowls [the last weekend in April]. I didn't do as well as I had hoped, but I have four more years to compete in that division, so I'm hopefully going to do better next year. I made it to semifinals and then I got fifth in that heat. Right now I'm focusing on HSA, but hopefully I'll get to do NSSA, I'm still looking into that. And then one day I hope to surf on the WSL World Longboard Tour and become World Champion.
Last words for the Freesurf audience?
See you on the next wave!