Breaking Down 4 Summer Hot Spots
Ala Moana Bowls
A man-made wave referred to as the "Pipeline" of Town, Ala Moana Bowls is known to some legendary watermen as one of the birthplaces of modern day tube riding. Different swell sizes reveal the varying nature of the wave, which is predominantly a left, along with a right, and on any given day, you can expect to see some of Hawaii's top surfers pulling into barrels and showcasing power turns, or see longboarders sliding down fun-sized faces.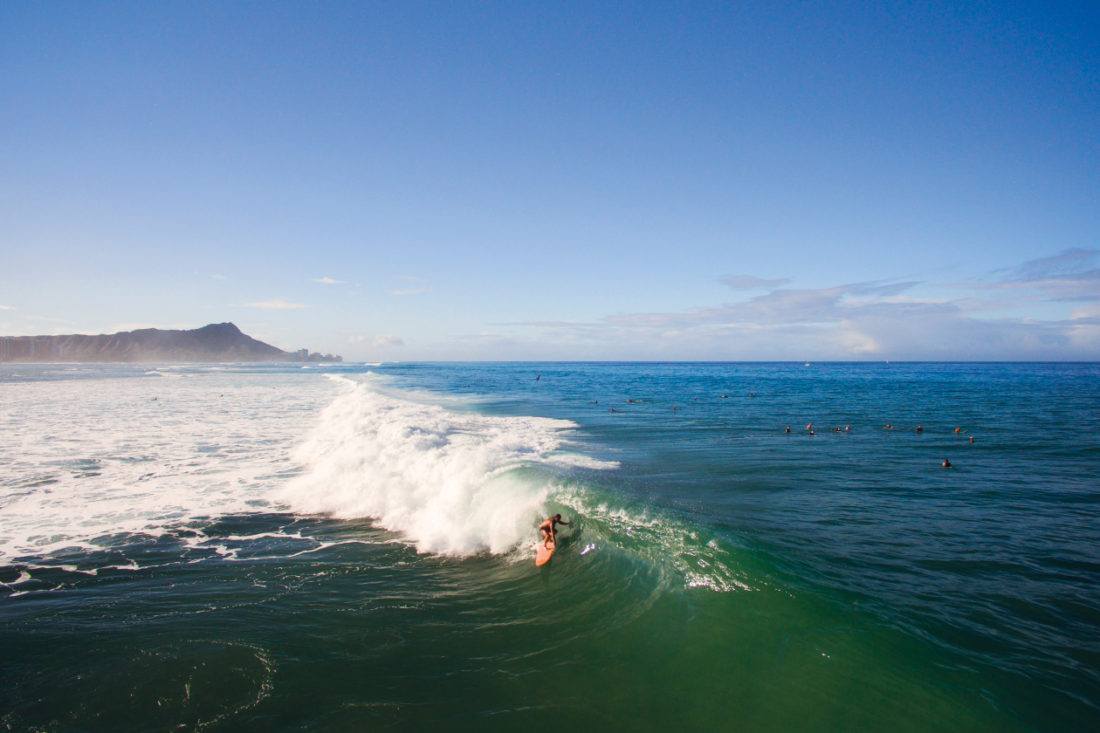 History: Ala Moana Bowls is in fact a man-made wave. In the early 1950s, construction began to connect Kewalo Basin and the Ala Wai Small Boat Yacht Harbor. Dirt and coral were excavated to join the two harbors, and with that sacrifice emerged the Bowl: the Ala Moana Bowl. Swells then began to hug the reef creating what is now known as the 'Pipeline' of the South Shore.
Bowls was originally known by the locals as being a very hollow and fast wave that was – at the time – too difficult to surf. But Young Donald Takayama and his crew never stopped pushing the limits of their 9-foot longboards, showing that the bowl could be conquered.
After that, legendary local boys like Gerry Lopez, Buttons Kaluhiokalani, and Larry Bertlemann were some of the first to really prove its potential while pinging Bowls as a hub of progressive surfing. The Town summers in the 70s were just as progressive as they are today.
The Wave: Bowls is predominantly a left, but there is also right. Under the best conditions, the right can be superb, sometimes A-framing to a consistent open face where you can tag 2-3 sections before punting or bashing a finish. It's also very natural-footer friendly.
The left at Ala Moana Bowls is no doubt a world-class wave. With the perfect swell direction, Bowls is a machine. At 1-2 foot, it's a fun longboardable crest that'll take you gliding on a 50-yard ride before you know it.
At 3-6 feet, bring out your sharpest blade because Bowls at this size was made for shredding! Bigger swell adds more dominance to the left, but also offers an incredible canvas that has the potential to break deep on the middle outside bowl and peel delightfully down to the furthest capacity of the Bowls reef. The amount of turns that can be performed on a single good wave is baffling.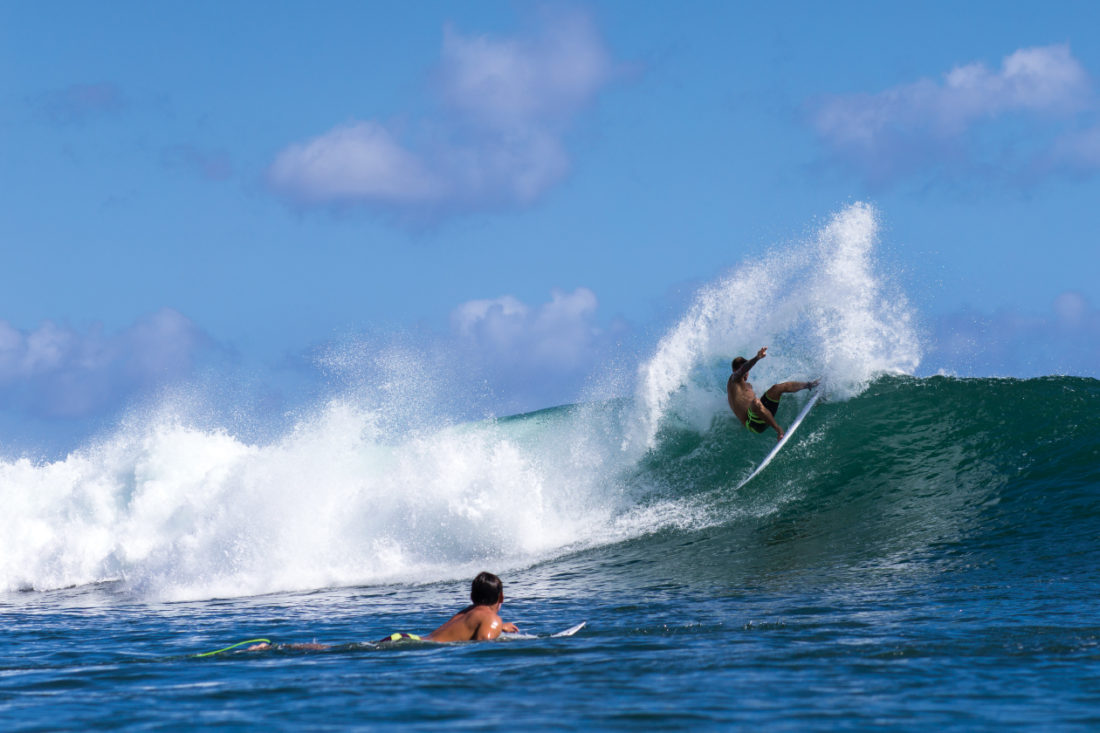 A Bowls swell of 8+ feet (if you are even lucky enough to witness one) is what every Town-commuting surfer waits their entire existence for. These swells shift the break over to the Big Bowl, which provides just enough reef for the biggest south swells to slab into picturesque barrels, pitting and pitching its victims with power comparable to the North Shore.
The Crowd: There will always be someone out at Bowls if there are waves breaking. But the spectrum does vary, depending on time and the amount of swell forecasted. On peak swells, it's very possible to have the North and South Shore locals saturating the spot for the entire day. On smaller days, you'll find less pros out at any given time with a lot more opportunity to ride. If you time it just right, especially on a Friday, there's a fine possibility to miss the crowd, catch some sets, and watch a firework show from the nearby Hilton Hawaiian Village all in one session.
Where to Park: Ala Moana Beach Park parking lot on Magic Island is the quickest way to get out to Bowls. With minimal paddle out distance, you have to brave over the murky abyss of the harbor canal and you're there.
You could also park at the Ala Moana Boat Harbor parking lot on the Diamond Head side of Bowls. This area offers access to other spots as well. Bowls is about a 5-10 minute paddle out, depending on your paddle speed.
Go to Board: The best shred stick in your quiver.
Queen's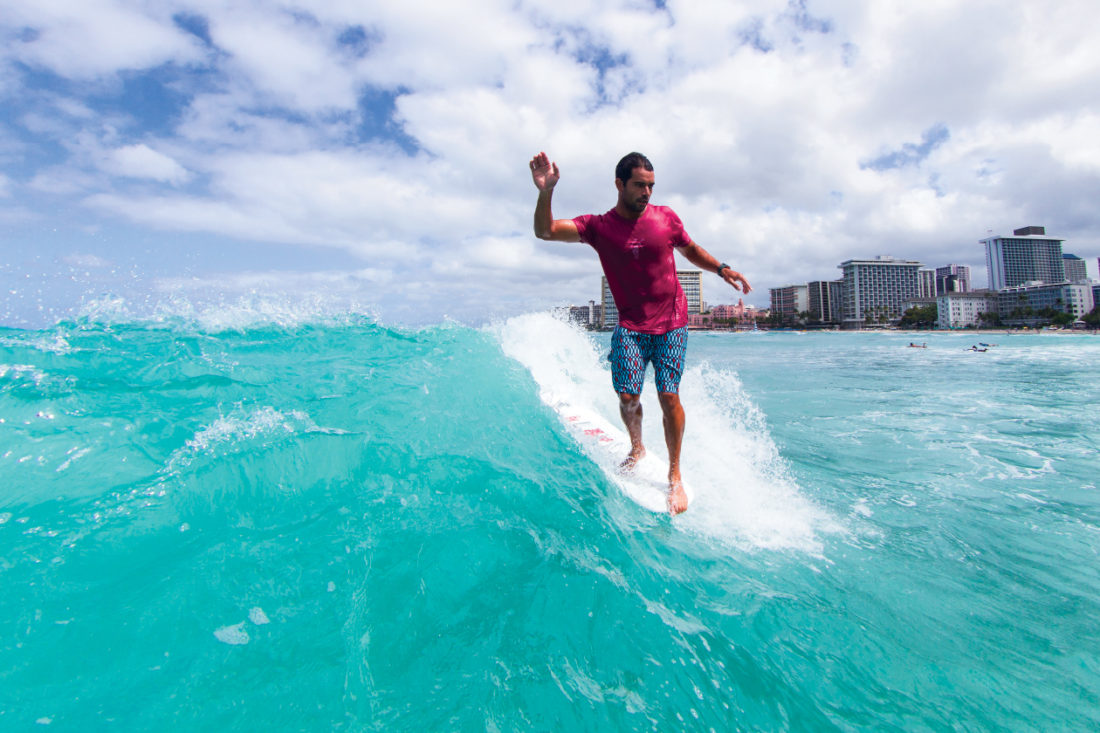 What was once a playground for Hawaiian royalty is now one of the world's most iconic surf breaks, where beginners are pushed on their first waves by beach boys and lifelong surfers expertly noseride towards shore, with both Diamond Head and towering skyscrapers serving as a backdrop.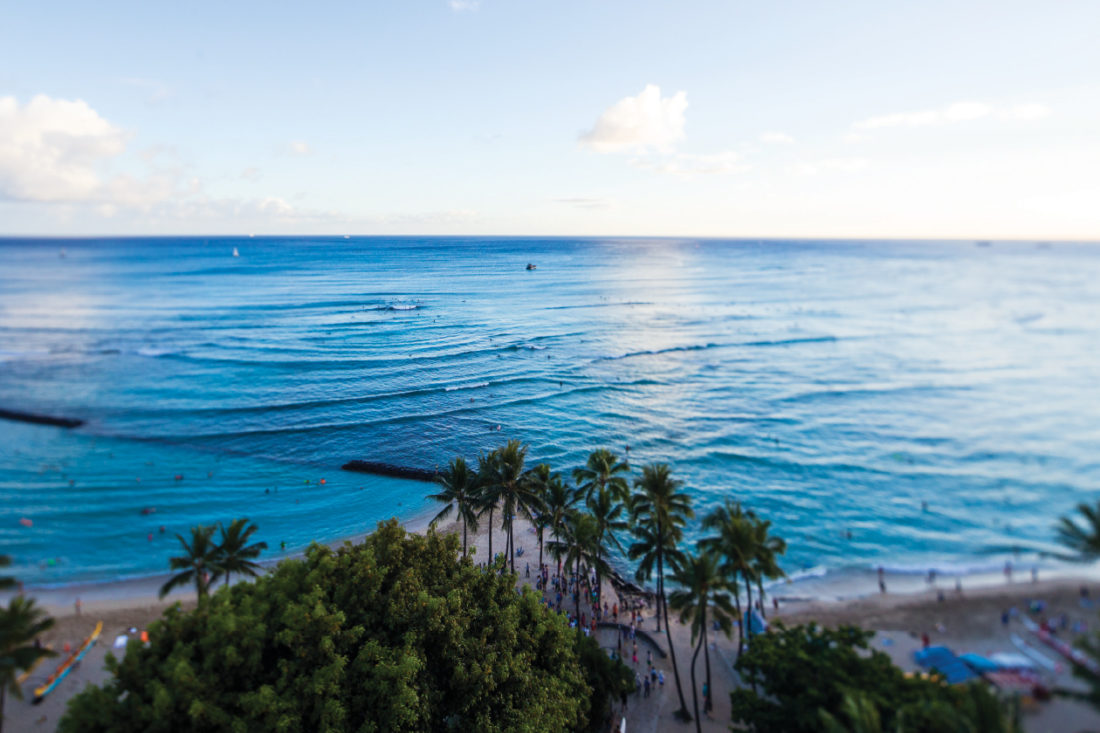 History: Queen's is located in the heart of Waikiki, near the bronze statue of Duke Kahanamoku welcoming all with open arms. The wave is named after Queen Liliuokalani, who had a beach house and pier near Walls, a break found south of Queen's. It's also the site where Duke Kahanamoku, in 1917, achieved the longest ride in surfing lore – over a mile – from outside Castles to Publics, Cunhas, Queen's and ending at Canoes. Many of surfing's iconic figures – Rabbit Kekai, Fred Hemmings, Dane Kealoha, Larry Bertlemann, Buttons Kaluhiokalani and more – were, in part, shaped by this break, whether it was catching their first wave at this locale or being known as a familiar face in the lineup.
The Wave: A mellow vibe permeates through the Queen's lineup, revealing the nature of the wave. Slow-rolling and playful, Queen's is a fun wave to longboard, and is home to many longboard contests throughout the summer. During bigger south swells, when waves range from shoulder to head high, the inside ramp section is prime for progressive surfing.
The Crowd: Paddle out on Queen's on any given day, and you'll find yourself in a lineup of surfers on longboards, SUPs, soft tops and shortboards. Because the break is so accessible and user friendly, the lineup is usually heavily crowded. If you're looking to score a session with few others out, the best bet is an early morning or sunset session on a weekday, or, if there's a full moon, a night surf.
Where to Park: There are multiple parking garages along Kalakaua Avenue, along with less expensive street parking near the Honolulu Zoo.
Go to Board: 8'0"+ Longboard
Sandy Beach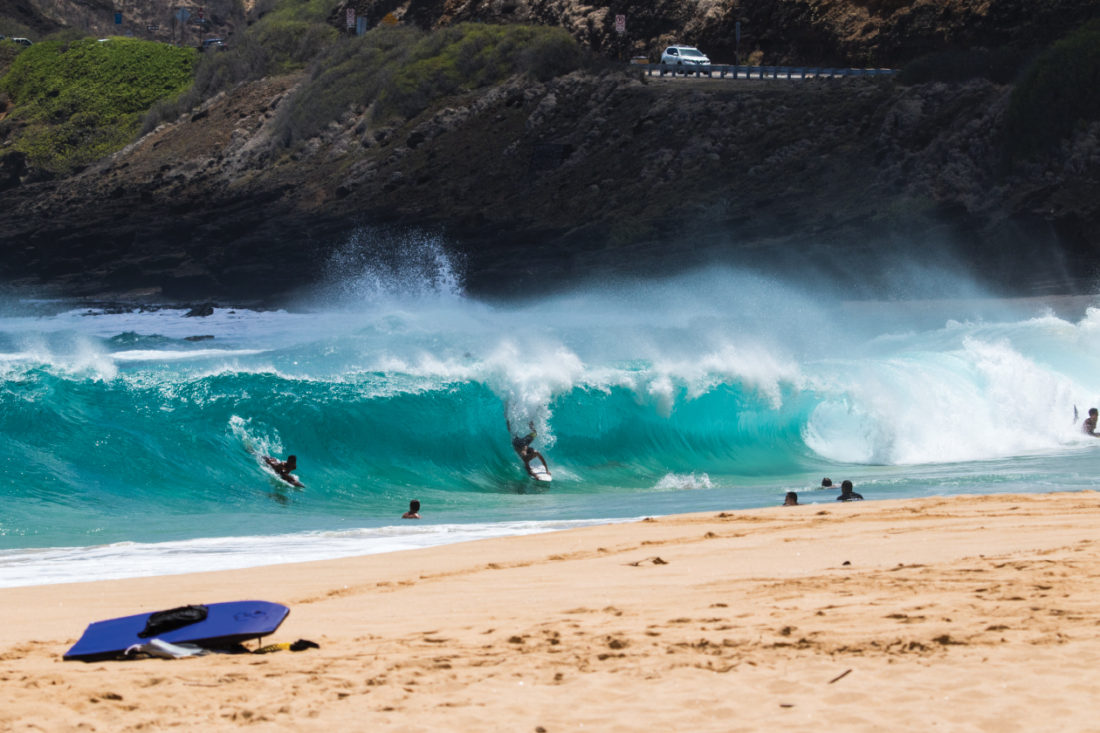 Located on Oahu's southeast shore, about 12 miles from Waikiki, is Sandy Beach, a favorite among locals and visitors alike. Sandy Beach boasts a variety of breaks along its shoreline, suited for different types of wave riding. Sandy's is also a hangout hub for those looking to escape the nearby city and enjoy a day at the beach.
History: Sandy Beach wasn't accessible by car until 1931, when a newly constructed coastal road following the cliffs from Hanauma Bay was completed. The beach's name comes from the fact that it was the only sand beach on the rocky coast. When this new road opened in 1931, Sandy Beach attracted crowds, but few would enter the water because of its thunderous shorebreak and strong rip currents. In the 1940s, bodysurfers began to infiltrate the empty lineup, and by the 1960s, the area had become just as popular among the bodysurfing community as nearby Makapu'u. After the park was improved in the late 1960s, Sandy Beach became one of the most popular beaches among visitors and locals alike. With deep roots as the "birthplace of progressive bodyboarding", according to 9-time Bodyboarding World Champion Mike Stewart, Sandy Beach has been the site of many bodyboard contests, along with seeing many bodyboarding innovations throughout the years.
The Wave: The shorebreak is always the most crowded, with swaths of bodyboarders, bodysurfers and swimmers frolicking in its often powerful and dangerous shore pound. The nickname "broke neck beach" is no joke, as the shallow inside is well known for serving up spinal injuries. Moving up the beach to a small reef outcropping just out from the sand is Half Point. While often frequented by bodyboarders and the site of pro bodyboarding events, the shallow reef provides a short but punchy barrel and ramp section. Further outside is Full Point, a softer but longer ride that is more suited for a shortboard or longboard. On rare huge east swells, the way outside has seen a fast running left that has potential for towing in.
The Crowd: Sandy Beach gets crowded, whether it's the beach itself, the shorebreak or the other reef sections. As a very well known and popular spot, people young and old, local and visiting, all flock to the sunny golden sand to enjoy a day at the beach. Thus, the lineup and especially shorebreak can get a bit congested.
Where to Park: The parking lot along the stretch of beach holds many stalls for cars. The prime spots right in front of the main shorebreak section tend to go quickly and people will post up all day. But there is more parking past the bathroom and showers and overflow parking on the grass out near Kamehameha Highway, so getting a spot is never much of an issue.
Go to Board: For Sandy's, your best bet for fun is a bodyboard, or a good pair of swim fins to bodysurf the shorebreak.
Kewalos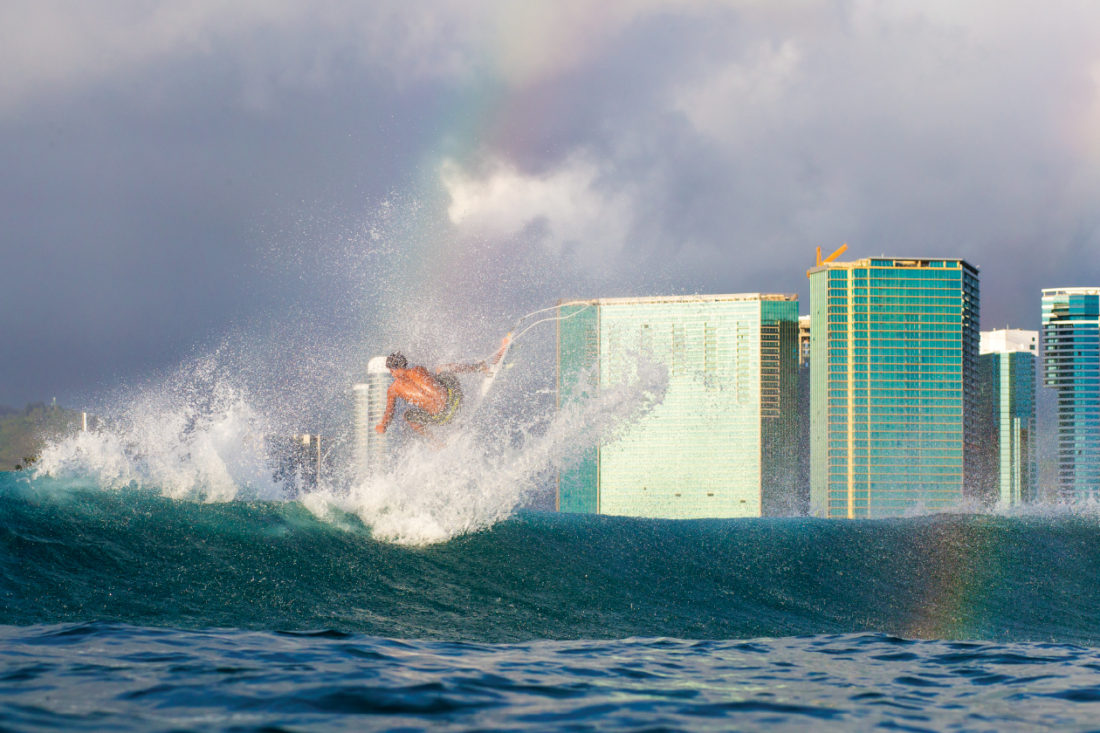 Kewalos is the go-to South Shore spot for high performance surfing on any given summer day. A hot bed for Hawaii's emerging talent, the left and right A-frame is a favorite surf locale for a unique group of surfers native to Oahu such as Carissa Moore, Zeke Lau, Seth and Josh Moniz, Alessa Quizon, and Kaito Kino to name a few. The adjacent beach park of Kewalo Basin is host to several summer-time surf competitions as well as a great place to meet up with friends for a surf. But it wasn't always that way.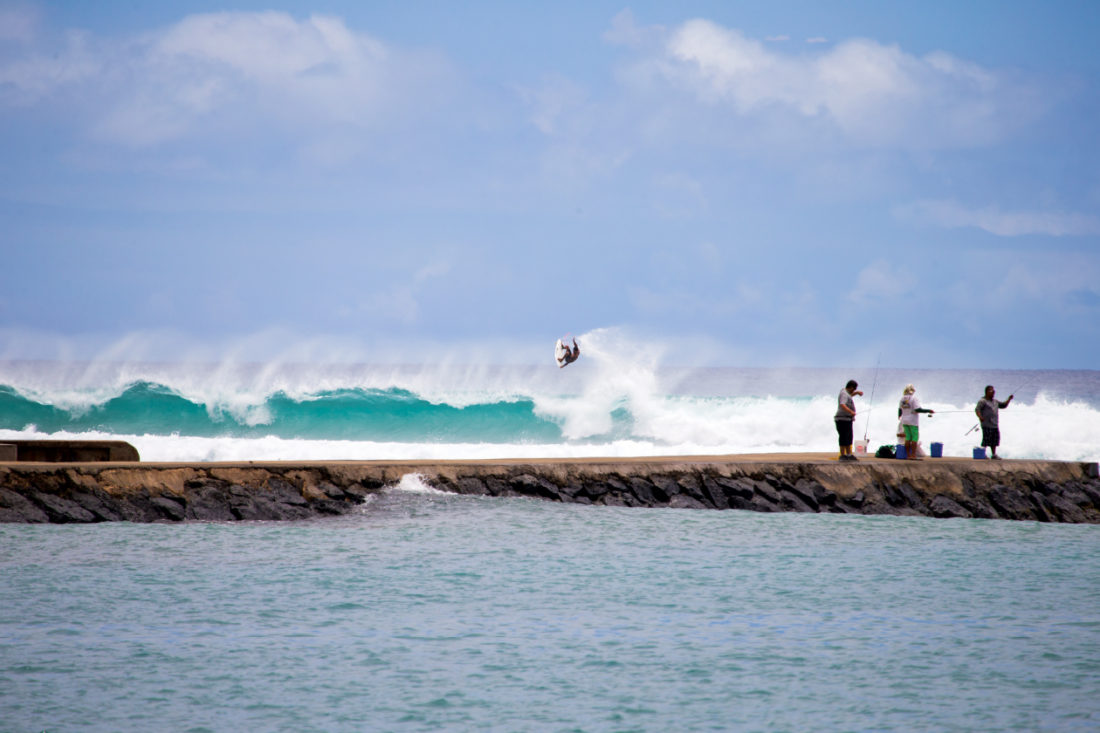 History: Kewalo can be translated from Hawaiian as "the place of wailing." In ancient times, this area contained a spring which was used as a place for human sacrifices. Here, kauwa (outcasts) were first drowned before being taken to the Heiau of kanelaau (temple) on the slopes of Punchbowl Crater for burning in the imu ahi (fire oven). The harbor area at Kewalos was once a shallow reef that enclosed a deep section of water that had been used as a canoe landing, fishery and anchorage during pre-industrial Hawaii. Originally know as the fishery of Kukuluae'o, this unique place was a beacon of sustainability and provided a bounty of seafood for the early Hawaiians of Honolulu. During the first quarter of the 20th century, the Kaka'ako area of Honolulu became home to Honolulu's heavy industries such as iron works and lumber yards. Due to its proximity to these warehouses, Kewalo Harbor was regularly used to unload massive amounts of timber and other goods, which would be used to build the city's growing infrastructure and housing. Dredging of the harbor area throughout the years continued to shape the wave at Kewalos and the 8-acre swatch of adjacent land emerged as the Kewalo Basin Park we know and love today.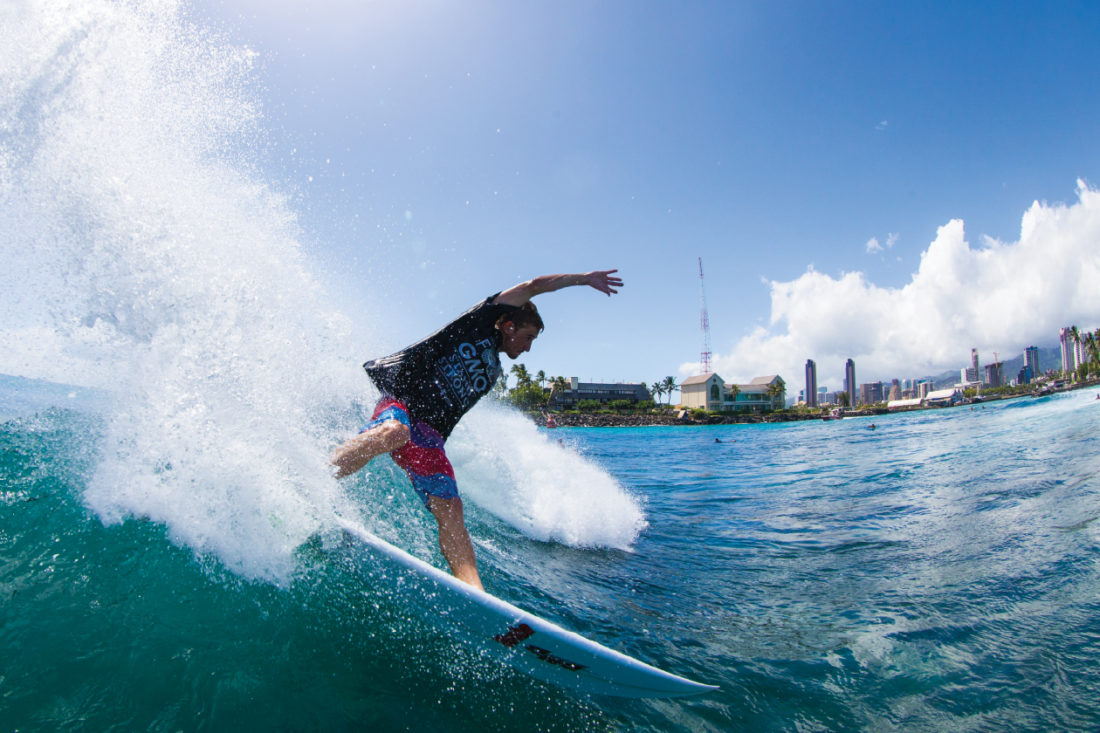 The Wave: A wave some may call "man-made," Kewalos breaks left and right along a shallow reef during south / southwest swells and works best from 2-6 foot. The left is a slow churning reform crawling along the deep water channel of the harbor, and offers up multiple sections for big turns. The right can barrel, but usually either stands up and lets you hit it or runs fast towards Diamond Head, ramping up to a launch section with a pillowy whitewater landing. In other words, it's the perfect training ground for polishing today's most progressive repertoire.
The Crowd: As with most South Shore spots, you're going to have to deal with a crowd. Kewalos can be exceptionally crowded with Uncles on the outside and groms on the inside, and everyone in between. Don't despair though. Be polite, wait your turn, and you may find that even the so called "scraps" at Kewalos can offer up the best rides. Try to catch it uncrowded weekdays during work hours, or early morning on weekends.
Where to park: If you can't find parking in the adjacent beach park, you may have to find a pay spot in the lot near Ala Moana Blvd.
Go to board: Something close to your height or a bit shorter.