By Daniel Ikaika Ito
The Vans Triple Crown of Surfing is a resident of the North Shore and like every good citizen of the Seven Mile Miracle it recognizes its kuleana (responsibility) to its home. This event was born and raised in The Country and as it matured so has its socio-environmental consciousness. The Triple Crown is partnering with Sustainable Surf as a designated "Deep Blue Surfing Event," a five-tiered program that guides brands and producers to greatly increase their event's sustainability. As the most prestigious surf series in the world, the Vans Triple Crown of Surfing has an opportunity to show the world what it means to be a steward of the land.
"I would like to see the Vans Triple Crown of Surfing become the model for sustainable and positive impact events around the world via the ASP World Tour, and for the state of Hawai'i," explains the event's media manager, Jodi Wilmott. "Our sport is based in nature, art, health and wellness– it is in our best interests to play our part in preserving that lifestyle and its inherent opportunities for many more."
In its 32nd year, the Vans Triple Crown of Surfing is stepping up its stewardship of the North Shore to preserve its home for future generations. Grassroots initiatives like beach cleanups and repainting the beach park bathrooms of the three venues (Ali'i, Sunset and 'Ehukai) are in place. As well as more sophisticated eco-endeavors like organic and locally served food for the event staff, free Internet access for the public and giving the world's top ranked surfers bicycles for the winter to reduce the amount of cars on the road and encourage others to do the same. The Vans Triple Crown of Surfing's sustainability efforts is a three-prong plan of attack (environmental, social and economic), utilizing strategic partnerships with several different organizations. Here is the sustainability trifecta of this year's Vans Triple Crown of Surfing.
Environmentally Yours
What happens when you throw stuff away? Do you really know where "away" is? The Vans Triple Crown of Surfing is bringing back Sustainable Coastlines Hawai'i (SCH) to make sure that the event knows and educates others as to where "away" is located. Many times, "away" ends up being a beach, but SCH will be helping to reduce waste through partnering with local Waiehuna Farm and Bokashi Buckets to convert compostables into soil, recycle the HI-5's and convert the remainder into energy utilizing our H-Power Facility (trash to energy).
H-Power currently consumes 90% of Oahu's trash and produces 7-10% of the island's energy. While Sustainable Coastlines Hawai'i Executive Director, Kahi Pacarro, is stoked on reducing landfill impact, he also wants to point out that burning our trash is not the answer. According to Pacarro, the solution is multi-pronged with the main focus on the reduction of plastic use and the increased use of sustainable renewables.
"With the Triple Crown, what we see is the opportunity to increase people's awareness to what is actually littering our beaches," says Pacarro. "Our goal is to show people first hand what's littering our beaches and then foster the connection that the debris is the same stuff we use everyday. Then encourage changes like reducing uses of single-use plastics and cleaning up every time you go to the beach. Specifically for the Vans Triple Crown, the ability to reduce source-point pollution is exciting, and teaching more people about this will only help to create more coastal stewards."
Last year, the environmental non-profit organization (NPO) helped the Vans Triple Crown of Surfing mitigate 100% of its C02 footprint, divert 25% of its waste from landfills, as well as compost and recycle 39% of its trash. Furthermore, free filtered water stations at the contest sites reduced consumption of plastic water bottles by competitors, event staff and the public. Plus, the event's infrastructure is powered by bio diesel that is made from old cooking oil from restaurants on O'ahu.
In addition to the heavy lifting, Sustainable Coastlines is also helping the Vans Triple Crown of Surfing crunch the eco-numbers by coming up with a set of metrics that shows how much debris is diverted from landfills and beaches. Kahi and the NPO also realize that the most prestigious surf series in the world provides a great soapbox to help raise the eco-consciousness of the collective surf world.
"If you can get these surfers to start understanding things, like trash is more than just trash and I should be composting and recycling and maybe not drinking so many single-use plastics, or not using that plastic fork that you're only going to use for 10 minutes […] every single piece of plastic that was created is still here today," explains Pacarro.
"So if we can get these surfers to understand this and their followers on social media […] and through videos, then the other people that look up to these people will follow suit. We want to inspire these surfers, these administrators and the owners of these companies to realize that they can have an impact in improving this world by simply understanding some of the issues that the world is facing right now."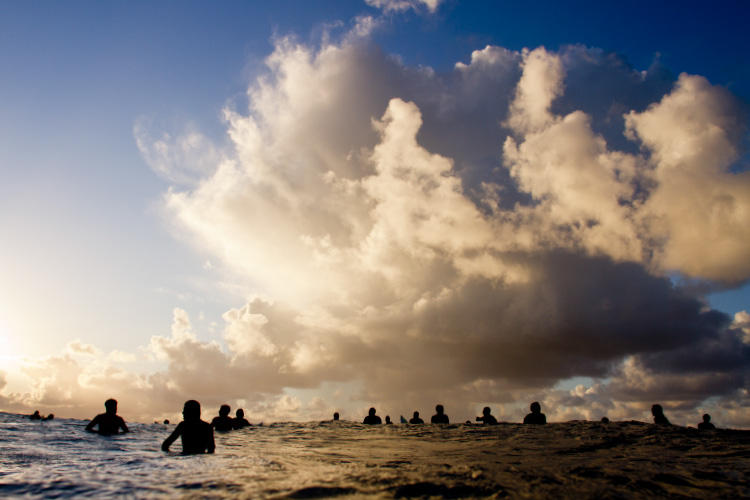 Socially Adept: VF Corporation
Not only is the Vans Triple Crown of Surfing responsible to stimulate the local economy for six weeks, but also care for the North Shore's residents and resources at the same time. For the past 32 years, the world's most prestigious surf series has given close to $1million worth of grant money and donations to the community. The event has gifted everything from lifesaving equipment and a rescue vehicle, to a great variety of educational programs in schools across the North Shore.
VF Corporation (the parent company of Vans, Reef and several other brands) Sustainability Manager Kimberly Matsoukas states, "Equally important to protecting the environmental resources of the North Shore is supporting the local community."
"Events like the Vans Triple Crown of Surfing can have a positive social impact in addition to economic and environmental benefits," Matsoukas adds. "One example of a social benefit is the monetary support for local organizations."
Last year, the Vans Triple Crown of Surfing annual charity golf tournament raised $40,000 for local non-profit organizations. In addition, proceeds from event merchandise goes to schools on the North Shore. So maybe you buy your nephew or niece a Vans Triple Crown of Surfing t-shirt to help someone else's nephew or niece's school make improvements. The Vans Triple Crown of Surfing is investing in sustainability and the local community at the same time to keep this amazing event running for another 32 years.
"First and foremost, surf events depend on a healthy environment to operate. Without clean water, clean beaches and healthy reefs, surfing could not exist. For that reason, brands like Vans have a vested interest in maintaining a healthy ocean environment and therefore making their events more sustainable," explains Matsoukas. "Creating positive social impact is also critical because local community members are a key stakeholder and vital to the success of any surf event."
Sustainably Economical: Turtle Bay
As the host venue of the Vans Triple Crown of Surfing, Turtle Bay Resort wants to set a precedent for how a hotel should operate sustainably. The most-recent improvement to the property is the installation of 1,600 photovoltaic panels on the roof, which produce 400 kilowatts of electricity. Turtle Bay Resort also dedicates 469 acres of its land to farming locally grown produce for their guests and the community, as well as conserving 665 acres to retain open public beach access in perpetuity.
"In 2009, the process to begin identifying the Resort's responsibility to becoming sustainable and reducing its carbon footprint began with the creation of a Green Committee," says Turtle Bay Resort Events Manager, Marc Winchell. "Comprised of members from the Facilities, Rooms, Culinary, Human Resources, Spa, Purchasing and Executive Teams, the Green Committee has been able to cohesively work in making changes for a greener future."
In an effort to alleviate the amount of traffic during the Vans Triple Crown of Surfing, Turtle Bay Resort runs a shuttle service from the hotel to the event. During the Billabong Pipe Masters last year, two, fully-loaded 14-passenger vans made round trips of people four times a day from the hotel to 'Ehukai Beach Park. The resort is not only investing in their guests' experience, they are also donating funds to the local community as well.
"Operating the only resort on Oahu's Fabled North Shore is a distinction and a responsibility we take seriously. As one of the area's largest employers, our staff is an integral part of the fabric that makes up this breathtaking stretch of coastline, giving us a deep understanding of the needs of our communities," says Winchell.
"That's why in 2012 we launched the Turtle Bay Foundation, which aggregates, enhances and oversees the resort's numerous charitable contributions to various community organizations. This includes advancing the preservation of historic and cultural sites and environmental stewardship; educational and cultural activities; health care, housing and job-training programs; and educational organizations and scholarships."