By Lauren Rolland with Keoki Saguibo
On a hot summer Saturday, pros and amateurs from all over the island invaded the Hawai'i Kai skatepark for the T&C/Dakine/Stereo Sunburn Classic, where athletes had the chance to show their skating skills and nab some awesome prizes. Dakine and Stereo skate pros Walker Ryan, Jordan Hoffart and Chris Haslam dropped in for a demo, while local talents like Evan Mock, Chris Miyashiro, Malakai Montes and more helped inspire the younger generations of skater groms.
The entry fee for the event was one canned food item, and all food collected was donated back to a local food bank. This skate event was just one of the many ways T&C Skateboards gives back to the community.
The top three division winners took home trophies, while grand prizes were divvied up and the champs took home Globe and Penny skateboards, plus a couple decks from Plan B, Real and Almost. Congrats to Ian Tamanaha (winner of 10-13 Division), Griffin Anderson (14-17), David Quan (18 & Over) and Malakai Montes (sponsored division) on their first place wins. Prize packs and giveaways also included shwag from brands like Stussy, Globe, Brixton, Catch Surf, RVCA, Spit Fire, Stance, Mizo, Hydro Flask and more while other goodies were raffled off to stoke out each and every grom. Families and supporters posted up under tents and trees and cheered on the skaters as they carved, grinded and kick- flipped around the cement park.
Special store entry winners had the privilege of joining the Dakine and Stereo pros at a private skate demo at the Hickam Hangar skate park the following day for more personalized skate action. This secret session also allowed the lucky winners to invite one of their comrades to join them in the private skate demo with the pros – an experience like no other.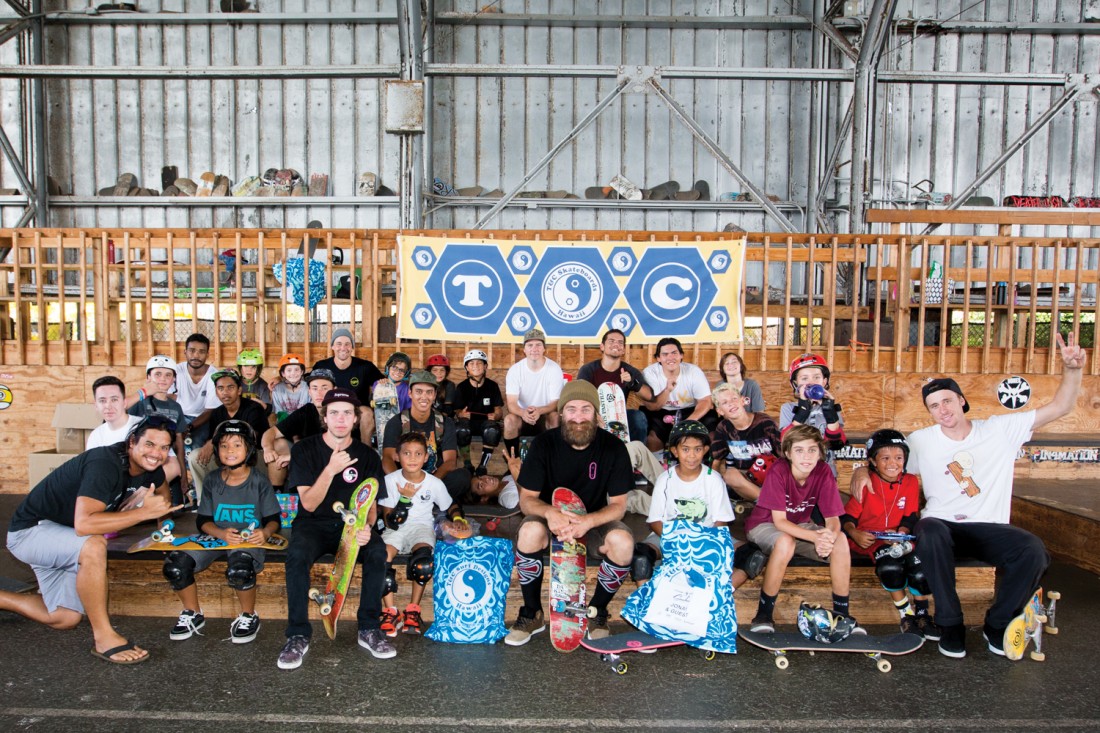 Amid the giveaways and lunch from dedicated sponsors and the show of talent and precision from skateboarding's top artistes, there was a skate-off among the groms in the Hangar bowl for the best move. Miles Sahetapy-Engel wowed the crowd and walked away with a brand new deck presented by Walker Ryan and Stereo Skateboards.
The T&C/Dakine/Stereo Sunburn Classic amateur skate contest was an entertaining way for groms and their families to spend the weekend. Skaters island-wide delighted in the occasion to skate two awesome parks and head home with awesome prizes from their favorite brands.