Despite being one of Hawai'i's most well-rounded surfers, and the first and only surfer from Maui to qualify for the ASP World Tour, major competitive success has somehow eluded Dusty Payne. With only one previous career win (the 2013 WQS Prime event at Margaret River), Dusty's most recent run of success has given him the momentum and confidence to go hard in 2015.
The freesurfing aspect of Dusty's performance has been top-notch, but translating that into the competitive realm hasn't been quite so easy. The guy has also seen more bumps in the road than most.
Throughout his four years on tour competing amongst the world's best from 2010-2013, Dusty has never broken the top 20, often times facing off against top seeds in the early rounds. It was ultimately a sidelining injury that kept Dusty from re qualifying for the World Tour. After a tough run, the 26-year-old decided to take it easy on competition leading into the 2014 season.
Another injury, not what Dusty wanted mid-way through the year. But it's how you bounce back from setbacks that ultimately builds character and the drive to really do better. Dusty was determined to come back stronger than ever.
"When I injured myself I was like 'alright, I've been injured a bunch, and I don't want to do that again.' Sitting out on the side and watching everything happen, it sucks, but for me it was kind of a blessing in disguise. It really made me take a step back and just be grateful for everything that I'm able to do and I'm so blessed to be able to travel around the world and surf the best waves with my friends. Maybe it was the injury that made me realize that and be grateful for the opportunities that I do have. So I worked really hard and continue to work hard to keep myself in shape so I can do this for a long time. I don't want to do anything else; this is what I want to do."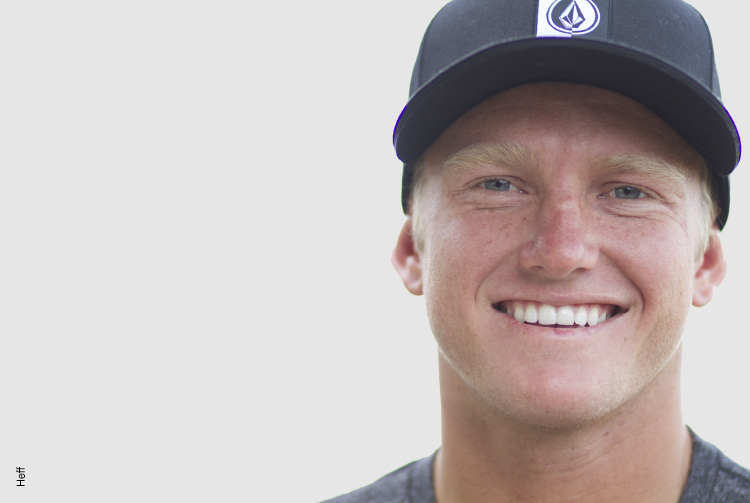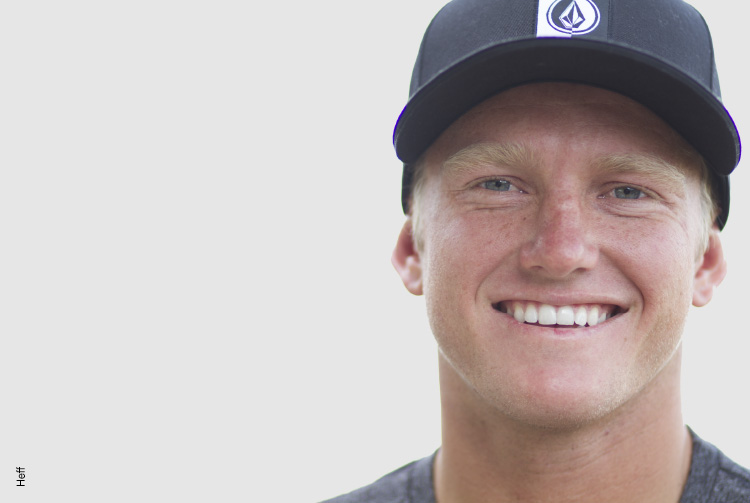 After knee surgery, Dusty had a speedy recovery and was back in the water in three weeks. Surfing at about 80%, it wasn't until coming to Hawai'i that he felt back to full form, comfortable with his body and able to put himself in awkward positions to surf at top performance. Dusty was ready for the Triple Crown.
"My body felt ready, my boards felt great and I just wanted to get two good waves. The events I was going to this year, it was hard to get two good waves. We were going to these beach breaks where you might not even get one good wave. Coming into Hawai'i I saw the swell and knew it was going to be huge and was like, 'well, here's your chance to get two good waves in a heat finally!' That was just my goal, and to go out and have a lot of fun. I felt confident I could keep making heats if I just surfed the way I know I can on those waves. I just went out and had a blast."
Taking this confidence into the final at the first Triple Crown stop in Haleiwa, Dusty's come-from-behind win over Julian Wilson was legendary. Steamrolling into the second stop at Sunset Beach, Dusty ripped through heat after heat and into the final once again, nearly taking the win, but getting edged out by Michel Bourez. Come Pipe, Dusty had a strong points lead for the Triple Crown race, but a round 3 loss to eventual world champ Gabriel Medina left the door open.
With the race now out of his hands, Dusty had to watch as Julian Wilson clawed back to take the win at Pipe and the Triple Crown title. Nonetheless, Dusty's strong showing through the first two stops was enough to catapult him into a qualifying spot for the 2015 WSL Championship Tour.
"Next year that's my goal; just go out and compete. I love contests and competing because when you do get those victories, it's probably the sweetest feeling in the world. I love freesurfing and just being out in the ocean with friends and enjoying it, that's what it's about. But I've got that competitive side in me and I love it. I'm looking forward to it, can't wait. I'm ready to get back and get on the grind."
The road back is never easy and Dusty knows this well. But the important thing is keeping perspective and staying positive. Looking forward, the renewed confidence and strong return from injury will hopefully see Dusty find success on the tough top-tier circuit. Dusty has a good head on his shoulders and the talent is obviously there. As one of the few Hawai'i surfers now on tour, we hope for big things from this Maui boy and are confident to say, Dusty's back!
pau