By Cash Lambert
On Friday, October 27, Ty Simpson-Kane and his father, Chris, took a jetski out to Jaws to watch the rising swell before the start of the 2017 Pe'ahi Challenge, which began at noon that day. After watching the waves crash into an explosion of whitewater from the channel, Ty, who had been training with big-wave surfing in his mind, felt confident. He grabbed his surfboard, paddled into the lineup, and after some positioning help from his father, he paddled and streaked down his first Jaws wave.
"Paddling into Pe'ahi has been my dream for as long as I can remember," Ty said. "There are no words to describe the feeling out there. It's like scared, psyching, frothing, heart pumping, brain screaming all rolled up together. The rush is absolutely insane." After the session, icons in the surf community congratulated young Ty: "This is epic!" said two-time Pe'ahi Challenge winner Paige Alms. "Amazing! Looking forward to surfing with you out there next session!" said waterman Kai Lenny. "Right on Ty! So stoked to see you out there!" said big-wave charger Mark Healey. We called Ty on Halloween to get the details from the session, and also had to ask what he was dressing up as. He replied, "My role model: Ian Walsh."
Freesurf: Ty! Talk to us about how your first session at Jaws went down.
Ty Simpson-Kane: It was my first time going out there. My dad (Chris) and I weren't expecting to surf. We were just going to cruise for the day and watch the contest, but when we showed up, it was a rising swell so there were a couple bombs coming in with only a few guys out. We sat in the channel for a little bit watching it, and we saw a couple sets come in that were really good on the West bowl. A lull came and we went out. My dad positioned me and I waited for some good ones to come. It was super easy cause he helped me look for waves.
What were you feeling? Nervous? Excited? A little bit of both?I was very nervous waiting out there because I didn't know what to expect, just like when you surf a new spot. Jaws was new to me, so you have to get super comfortable with it.
Your first wave: What was that experience like?
When I saw the wave coming, I turned around, started paddling my hardest, and as soon as I felt like I was picking up speed, I stood up, relaxed and held on for the ride.
What were you thinking and feeling after you kicked out of the wave?
I was super psyched! After the wave, I got back on the ski and my dad and I were super pumped. He gave me more advice like sitting deeper, paddling a little sooner and I went back out, and by that time, everybody was starting to show up for the contest. Uncle Ian Walsh came over and helped position me a little better in the lineup.
What board were you riding?
I was riding Uncle Ian Walsh's old board, a 9'0.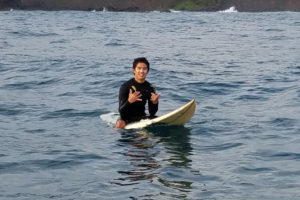 You had a wipeout as well. Talk us through how it happened.
I was sitting out there with Uncle Makua Rothman, Uncle DJ Walsh and Uncle Mark Healey. I positioned myself farther in because they were sitting way out the back waiting for the bombs. This wave came right towards me; it swung underneath everyone and peaked right where I was. When I saw it, I turned around, put my head down and paddled as hard as I could. I felt it about to pitch so I stood up and went down the line. I finally got to the bottom of the wave and when I started to bottom turn, I looked down the line and there was a nice big open face. I remember looking at everyone in the channel because it was such a nice picture. I've dreamed of it so many times. Then I hit chop in the water, lost a lot of speed, and saw the lip coming down. I straightened out and hoped for the best and prayed I wouldn't hit my head or break my board. The lip landed behind me and I was ejected out into the flats and I got a super bad whiplash when I was underwater. The leash ripped off under my ankle, so I pulled my vest, which was super helpful because if i didn't pull it, I would have been under the water for a lot longer. I popped up and the World Surf League guys were right there to pick me up.
Where you shaken up?
I was. It's a powerful wave and you can't underestimate it.
Did the wipeout – turbulence under the water, the hold down, your leash ripped off – scare you?
I've trained for that day for so long, so I was ready to take it on. I wasn't too hurt because I've trained for it with Deep2Peak (Deep Relief Peak Performance), so I was super confident and Uncle Zane Schweitzer has been helping me with water safety.
Did you watch the Pe'ahi Challenge from the cliff, or the channel?
I was sitting in the channel watching everybody charge. It was cool experience! I was watching where they were sitting and positioning themselves, what the right wave to choose looked like, how to find the bigger wall that will barrel super hard on West bowl, things like that.
How have you been training for big-wave surfing?
I do breath-holding exercises, cardio and stamina in the gym so that I can help with my paddling and last a lot longer in the water. It's cool because over time it seems I've progressed a lot and there still is so much more knowledge to gain.
What can we expect from you during this winter season?
You can expect me back out there! I'm always pushing myself to the max and even if I don't go out to Jaws and surf, I can get a better feeling for it. You can count on me to catch bigger waves and send it harder!