By Cash Lambert
In August, Brisa Hennessy stood atop the Vans U.S. Open of Surfing podium at Huntington Beach, holding the first place trophy for the Pro Junior division, along with a Hawaiian flag. The win was a career highlight for the 18-year-old who calls Kailua home, and after the awards ceremony, although she was all smiles, her mind had already shifted to what was to come.
"I think it is important to take in the moment, but not get caught up in it too much and have it inspire you to move on to your goals ahead," she said.
The "goals" Brisa referred to are her results on the World Surf League's Qualifying Series. She's been chasing points in contests across the globe all year, so we caught up with her to hear about her travels abroad, how she's fine tuning her repertoire and why a seahorse became her spirit animal following a recent surf session.
How has 2017 been different for you, Brisa?
This year, I am doing the entire WSL QS Tour for the first time and trying to focus mostly on that. It's been a very different journey for me…stressful and trying at times, yet inspiring moving from the junior events to competing against some of my heroes. It's a whole new ball game and is very humbling. One of the biggest things I've learned this year is that it's a marathon, not a sprint and in the end, the race is against yourself. I know it sounds cliche, but I've realized how true this is once I started competing on the QS. It's a long road and I've been striving to take it heat by heat, wave by wave and just be in the moment as much as I can.
What's the funniest thing that's happened on the road this year?
One of the funniest moments on the road happened to me in France. I was surfing by myself and practicing for the comp when I duck dove a wave and realized I had some seaweed stuck in my hair. When I started pulling it out, I heard this soft squeaking noise in my ear. Out of curiosity, I took a better look at the seaweed, and to my surprise it was a baby seahorse! It was as small as my pinky finger and the cutest thing I have ever seen! In the midst of this happening, I was stuck in the impact zone, just getting worked, trying to get this little guy out of my hair. I finally got him free. I hope he is okay! It was a funny and surreal moment that I won't ever forget. I definitely think a seahorse may be my spirit animal now!
Grinding it out at surf contests has taken you around the globe, so what's one of your favorite places to spend a lay day and why?
I haven't competed in Fiji, but I've stayed on the island of Namotu several times and it's my favorite place in the whole world! I would spend my lay day there because it is beautiful, relaxing and the possibilities are absolutely endless. You can surf, swim, snorkel and shell hunt all in beautiful crystal clear warm water. What more could you ask for?
Winning the 2017 Pro Junior at the US Open – what does that do for your confidence headed into the back half of the year?
The QS has been hard mentally, so getting that winning feeling back really brings up my confidence. The US Open is a huge event and stage of the surfing world, and it's even more special to finally win it, given that it's my last year as a junior. It's crazy how much of the game is mental and how important it is to have a positive head space. Any little edge helps and confidence is key.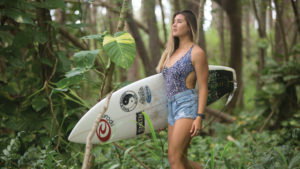 With winter just around the corner, what's your favorite winter season wave on the North Shore?
My favorite winter season wave would probably be either V-Land or Sunset. I love how playful and perfect V-land is. Sunset, on the other hand reminds me of what surfing in winter should feel like: heart pumping, adrenaline rushing, but always the constant desire to catch another one.
What do you listen to before a heat? Have any go-to pre-heat jams?
I really like an array of music, both new and old. If I want to get amped up, I listen to AC DC, and if I want to relax and calm down, I listen to Odessa.
What are some of your surfing goals, and how do you plan on accomplishing these goals?
I have a lot of goals and I know the list will always grow. Right now, I'm focusing on getting good results on QS and just surfing my best. Staying focused, staying positive, working harder than I ever have and honestly, the biggest one is having fun. When I'm having fun, it usually comes out in my surfing and I do my best. Another important goal is to keep pushing my progressive surfing and my big wave game. I also want to keep sharing the stoke of surfing any way I can. I am so lucky to meet people who love surfing from so many cultures around the world, and if I can share a wave or a smile, that's what it's really all about.
Anything you're fine tuning right now with your surfing?
I've been really working on small beach break surfing. Growing up in Costa Rica and Hawaii, we are so lucky to have amazing reef breaks, but the downside is the lack of beach breaks. The QS is primarily in beach breaks and it's a very important skill and confidence to have. Getting my progressive game up is also something important to me. When I'm home, I look forward to having time to practice and practice and practice and practice airs. They say when you get to 1,000 you may have it down!
Your thoughts on the talent level of Hawaii's junior girls?
I have to say the Hawaii girls definitely rule! I think what sets them apart is they are exposed to bigger and more powerful waves growing up. It's just a great group of girls coming up that are all pushing each other. I look at the younger generation and am reminded of all the HSA and NSSA comps I did with all my friends. When I go to Kewalos now, I am blown away by how hard the young girls are ripping. I better watch out!