by Cash Lambert
At first glance, Billy Kemper's North Shore backyard is full of mango, avocado and lychee trees, along with baby toys and surfboards. Because Winter season is just around the corner, we wanted to see what boards the 27-year-old Maui native would be riding while pulling into massive Pipeline barrels, carving open faces at Sunset and elevator dropping down Jaws waves the size of a 3-5 story buildings, so when asked about his quiver, Billy – a big wave champion, strike mission specialist and threat in any contest he enters – led us into his yard and started with his 10'0 Jaws gun.
"This is the board I won the last Jaws contest on," Billy says, grabbing its rails and standing the board in the grass. "It's the board that will get you into waves that you probably shouldn't be riding."
He places his Jaws gun delicately on the grass and picks up another board that likely "gets you into waves that you probably shouldn't be riding" – a 6'10 that he plans on using for Sunset.
We talk story, and Billy tells us about board sizes ("look at the boards Pancho Sullivan, Kahea Hart and Sunny Garcia are riding out there at Sunset. They ain't riding a 6'4s"), his contest expectations ("hopefully the results will come"), why he's "never been so focused, so determined and so confident in the ocean" heading into the 2017/2018 winter season and more.
Come to find out, the reason for this "focus, determination and confidence" isn't only because of his finely tuned quiver. It also has something to do with the baby toys scattered throughout the backyard.
Today, you have a wide spectrum of high performance boards in your quiver. Can you take us back to where it all started with your first surfboard? Do you remember what that board was?
It all started when I got my first surfboard at 3 years old. It was basically what Catch Surfboards is now – a beater board – made by BZ back in 1992 or 1993. I think I was going tandem with my brother on his boards before that.
Let's fast forward to present day. How have your shapes evolved working with Glenn Pang and T&C Surf in recent years?
A few years ago, I sat down with Glenn Pang and the boys at T&C, and they've been a huge part of my success. Glenn is there from the beginning to the end, asking questions and he's really good with my feedback. Now, there is no feedback, because every board is perfect for me. He knows what I like and I'm very confident with his boards. For example, we started working on a summer quiver a couple years ago with boards that have a lot more volume, and what came out of that were these crazy dome decks with double stringers. The boards were designed strictly for slabs and barrels in places like West Oz, Fiji and Panama, and the boards proved to work perfectly in those conditions over the summer.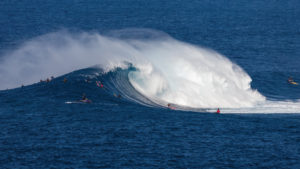 Give us a breakdown on your winter quiver and how it's organized.
Everything under 6'6 is a S4 model, and everything above that is a W4X model. As an example, one of my S4's is a 6'2, 18 and 5/8ths, 2 and 7/16ths. It has Future fin boxes, and is my go to for Sunset Point or Haleiwa. I have this W4, which is a 6'10, 8 and 5/8ths and 2 and 7/16ths, and it's my Sunset Beach magic stick.
You perform so well at Sunset, and of course you won the HIC Pro there in 2010. What do you ride on bigger days at Sunset? Do you lean towards bigger or smaller increments?
Boards have been shrunken down a lot in the last few years. If you ask Pancho Sullivan or Kahea Hart what they would have ridden at 12-foot Sunset 15 years ago, they'd say a 7'8 or 8'0. The biggest board I ride out there is a 6'10, and other guys are even riding 6'4s. I feel like I'm riding bigger boards than most of my competitors. Overall, I feel confident. I feel that with a little extra foam, you can push harder and throw more spray. You're not cutting corners; your surfing like a man should there. Look at the boards Pancho, Kahea and Sunny Garcia are riding out there. They ain't riding a 6'4 with big N/NW swell at Sunset, that's for sure. So my magic numbers are 6'8 and 6'10.
Do you use same boards for Sunset and Pipe?
I ride two different boards at Pipe and Sunset. There's a little difference in rocker, the concave should be the same but the volume and distribution of foam is completely different. My boards at Pipe have a lot of foam under my chest – close to 3 inches thick – and the boards have this crazy dome deck. The rails are super pulled down to hold the wall of the wave, so you don't have too much foam where you bury a rail. But at Sunset, I'm riding thinner boards. People say things like 'why ride thinner boards, there's way more paddling there' but for me, putting your board on rail and doing big turns is hard when you have a big, beefy rail. That's why I've thinned my rails out and my boards turn sharp and go fast at Sunset. The other difference between my Pipe and Sunset boards are size: 6'8 is the magic number at Sunset and 6'4 – 6'6 is my go to board for big Backdoor.
You've won the Pe'ahi Challenge back to back in 2015 and 2016: talk us through your Jaws quiver. And are you changing anything about it this year?
I'm not changing anything about it, because this is the board I won the last Jaws contest on. This is a 10'0, with ranges from 9'6-10'6. We came up with these concepts of digging foam out of the deck and a crazy concave, double concave through the whole board. It has a really thin tail, and if you look at the deck and the nose, you'll notice it has a huge beak nose. I don't have a big board that turns on a dime like this one does, and it has a 4-fin set up, a big thick stringer, and like I said crazy amounts of concave and good foam distribution. It's the board that will get you into waves that you probably shouldn't be riding.
Blue, orange, green, red: why did you choose a bright color scheme for your boards?
Johnny Boy [Gomes], Pottz (Martin Potter) and those guys had the craziest airbrushes back in the 80s. It all goes back to an image pictured in your head as a kid, and today, when I see good Backdoor, I still picture Johnny Boy dropping in and coming out and doing a huge turn on a bright green and red board. I like bright colors because they stand out. And surfing a wave like Sunset, it's really far out, so when you see a bright color going across the face it's like painting a picture. That's cool to me.
It doesn't seem like there's any specific differences in your winter quiver heading into this winter season.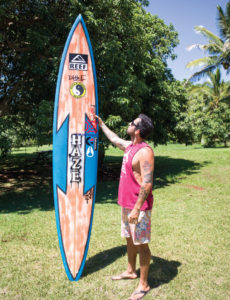 Nothing's really changed. My boards last year felt 100 percent, and I'm not going to change what works. You come into the HIC Pro and you don't have too much time to do testing and trial, so I stick to what works for me and Glenn knows that, he's very confident in what he's shaping for me. Over the summer, I've gained 15 pounds, so I've been training and preparing myself, but my boards are staying the same.
Heading into the winter season and the competitions that come with it, including the HIC Pro and Triple Crown, what's your focus? Anything you've fine tuned in your repertoire, or maybe you've been training differently?
Your confidence comes from being physically ready and mentally ready. I've been training 5 days a week with Kahea Hart and working with my nutritionist. This is the earliest I've started my training camps, and the best I've felt at this point leading up to winter. I just had my second son, and Dad has to bring home the money and pay for diapers and food. For me, it's all about no slouching and no half assing. It's full throttle all the way.
Congratulations on that! What has fatherhood been like for you?
I always thought being a dad would be the scariest thing ever and I wouldn't ever be able to surf, because all my time to myself would be gone. But it's taught me that the hardest thing in life to learn and accept is patience. Now, I've accepted and learned it, so it's probably been the best thing to ever happen to me. I've never been so focused, so determined and so confident in the ocean as I am now as a father.
Why do you say that you've never been so focused and determined as you are now?
I think it's because when I get that time away to myself, I go to the gym and make sure that hour and a half is 150 percent. I'm not there just to have a good sweat and make sure I'm getting a good workout in; I'm there to work and I'm there for the right reasons. The same goes for traveling throughout the summer. I'm not going to roll the dice on Tahiti for an average Chopes swell; I'm going to make sure it's going to be as good as it gets, and I think that all paid off this summer. I made a handful of great decisions, and I got some of the best waves I've ever surfed. As a father, you mature really fast and you get yourself together really fast as well. If you don't have it together, I'll tell you one thing: the day you have a kid, you will pull it together. And if you don't, then you shouldn't be a dad.
Any last words before we see you in a contest jersey carving walls at Sunset and pulling into deep Pipeline barrels?
I'm thankful and stoked with my family and where we're at right now. It's helped drive me and helped me achieve the success I've had in the last couple years. It's crazy because I feel like the kids came with the success, and I'm grateful for what I have. T&C makes better boards than I could ever dream of riding. It's changed my surfing for the better, and I'm excited for this winter and hopefully the results will come.