By Kyveli Diener Photos Tony Heff
Brodi Sale redefines the term "old soul." Count on a kid raised on Big Island to value family time above all else, to be able to make important career decisions and travel the world alone before the age of 10 and to make you do a double take when he rides deep in the barrel or fluidly works his rails on his Slater Designs stick.
Under the tutelage of the prolific Shane Dorian, the 14-year-old is continuing his astronomic rise in surfing prowess. From being a six-year-old scared to surf Banyans at his first Keiki Classic to charging Jaws for the first time last winter at just 13, Brodi is checking all the boxes to being a future CT competitor. Next on the list: improving his backside airs, sticking to his rigorous training, and getting better at eating with chopsticks, because when we caught up with Sale, he was preparing to go to Japan to represent Team Hawaii at the 2017 ISA World Junior Championships.
How did you get sponsored by Billabong, Brodi?
I remember when I went to Nationals for the first time at 7-years-old…I'm pretty sure I lost every heat that I surfed in that event. After the event was over, I was hanging out with Loa Ng who was the only person I knew because he was from Kona. He was staying with Seth and Josh Moniz and Rainos Hayes because he was part of the Billabong team already. That afternoon, Rainos asked me if I wanted to be apart of the Billabong family. I came home feeling like the luckiest kid.
How old were you when you first met Shane Dorian?
My earliest memory of meeting Shane was at my first Shane Dorian Keiki Classic when I was 6-years-old. I remember showing up to the beach that morning and being so scared, because I had never surfed Banyans before. My dad was trying to convince me to ask Shane if I could get a late entry into his comp, and I kept telling him no. Shortly after, Shane came up and asked if I wanted to surf in the contest, and of course I couldn't say no.
How does it feel having the support and guidance of one of your heroes?
Shane has helped me a lot. He inspires me every day whether it's his surfing, helping me out, filming, watching him help others, even just sharing experiences of past surf trips and childhood memories of when he was a grom. He is an amazing dad, family man and community member, a role model for many people here in Kona.
Do you have any interest in big wave surfing?
I definitely have interest in surfing big waves. I surfed Jaws for the first time last winter with Shane. I'm going to make an effort to keep pushing myself to keep going while I have the opportunity for Shane to mentor me.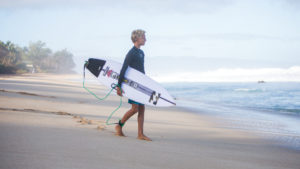 What are your goals in surfing, and how do you plan on achieving them?
My main goal in surfing is to make the WSL World Tour. My plan to get there is to train hard, stay healthy, stay injury free and continue to compete at the highest level I possibly can.
What advice guides you the most?
My mom has always told me to listen, be humble and always be true to myself.
How do you balance the adult responsibilities of world travel, competitive pressure and getting your education?
At the age of 9, I started traveling on my own. Through traveling alone, I have had the opportunity to form relationships around the world. Everywhere I go, I have families that have made me feel at home, which has made it possible for me to travel alone, and I am so thankful. Ever since 2nd grade, I wanted to homeschool, but it wasn't until about 18 months ago I began homeschooling. It has opened up so many windows for me as a surfer, such as traveling, training, surfing more at home and recovery time.
What non-surfing activity to you most enjoy?
I play a little bit of golf, but I like to spend time with my family whenever I am home from a trip. When I'm gone, I miss them a lot, so when I'm home I try to make the most of that time, whether it is playing board or card games, catching up on everyone else's activities or going to the beach and surfing as a family.
Who are the fellow groms that inspire you the most?
One of my peers who drives me the most is Ocean Macedo, because we often stay together when we are on trips. We push each other in free surfing, in contests or even in eating lasagna! One kid that I am super stoked on that's coming up on the rankings is Luke Swanson. He has an incredible air game! It's amazing how inverted and high he can get.
Do you have a favorite surfer?
I don't really have a favorite surfer because there are so many guys that are super good in their own ways. If I were to pick one surfer to be my favorite it would have to be John John Florence because he is so well-rounded, while most guys are only good at airs or carves. He's got it all!
What's the best part about being a grom?
Being able to surf all day everyday and being able to get barreled even when it is 3 feet!
Last words for the Freesurf audience?
Stay focused on your goals and never give up. Keeping picking up Freesurf Mags from local surf shops and support local businesses here in Hawaii. Check out my Instagram, too – @brodi_sale!