By Kyveli Diener
There's very little parking left at Sunset Beach, but all Rainos Hayes needed was one spot at October's HIC Pro to set up a gathering place to advise and support a half dozen of today's most promising young surfers. From his burly pickup truck with an easy-up over the bed, Hayes morphs from one man into four. Simultaneously, Rainos individually prepped the surfer about to paddle out for his heat, continuously quizzed the whole crew on how the waves ridden so far were being scored and what mistakes they could avoid, checked that all the young men were eating the snacks and drinking the water he made sure were available, prepared himself to paddle out and caddy, confirmed that each surfer had the right boards with them, and — just when it seemed to most that he couldn't possibly spare an ounce more attention for anyone else — he volunteered to help stop traffic on Kamehameha Highway for someone pulling out of the spot beside him with a simple, "Hey, let me help you out!"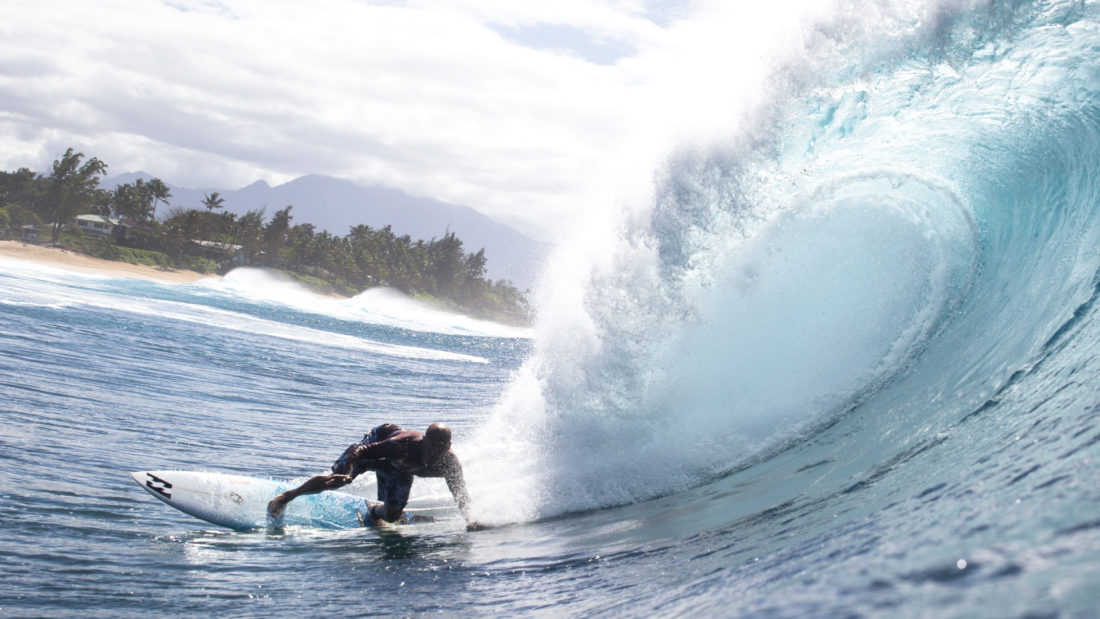 "Rainos is someone who cares for everyone in the surf community. He's given back to so many generations of surfing, and not just to people who are connected with Billabong," said Josh Moniz, a Billabong team rider and Hayes disciple since the age of 7. "He doesn't care who you are: if you need help, he's always there for a helping hand."
Moniz's description is pretty much what everyone has to say about Rainos: there's no one better to have in your corner, and he's more than ready and willing to get in absolutely everyone's corner. The only person who wouldn't describe Hayes that way is Rainos himself — the Sunset Beach native is deeply humble, showcasing the true meaning of living pono every day by selflessly giving of himself without a second thought. Even he is surprised by how many people he can help at once sometimes, and when pushed for the source of this generous lifestyle he mused that he perhaps picked it up from his great-grandfather, Maurice Thomas, who coached football, basketball, baseball, and track for a high school in Minnesota where he was also a teacher.
"He was a very genuine and caring man, and he cared for the welfare of not only his family, but also the athletes and the students. Putting in that extra time with all those kids, I think he really helped the best he could within the community that he lived in, and everybody was happy to receive his help in every aspect," Hayes said in his calm, soothing voice, always taking the time to choose his words carefully, to always consciously be sure that he means what he says.
"I never think of myself in those terms, and I don't think he did either. When the horn blows, that's my gift. I'm able to perform at that level and be there for everybody, and it's something I enjoy," he said. "It's only as of recently when I'm looking at how many generations of kids I've worked with in the past…Generation after generation as they've all grown up and become adults with their own lives and their own kids and jobs, it's really neat to see that they turned out to be good human beings. That's always been the goal for me: it was never about the result in events, it was about making sure that the kids had a good work ethic and, in the end, became good humans."
A former competitor on both the Qualifying Series and World Championship tours, Rainos has devoted most of his time over the past two decades to shaping the phenomenal waveriders bringing pride to the Hawaiian flag today, with some of his early success stories including Kekoa Cazimero, Joel Centeio, Hank Gaskell, and Ian Walsh. Through his years serving as one of the coaches of the junior Team Hawaii for the International Surfing Association, he's had a hand in elevating athletes like Benji Brand, Elijah Gates, Keanu Asing, Zeke Lau, Albee Layer, Tanner Hendrickson, and Dylan Goodale, as well as essentially all of the top female performers who have emerged from the region. He also wears the hat of head Hawaiian coach for Billabong, shaping the team's local riders — many of whom he's watched grow up — as well as supporting the brand's young players from South Africa (Adin Massencamp), Australia (Liam O'Brien), and Brazil (Victor Bernardo) as they learn to master Hawaiian surf.
Of course, in true Rainos fashion, he wishes he could do even more, saying, "I honestly wish I could [coach] all of our guys out here. I want them all to be the best athletes and humans they can become, and I want to see them all perform at that level…[regardless if they're with Billabong] I'm still a friend, and I'm still a fan."
Being a surfing superfan keeps Rainos' spirit grom-like regardless of his years — like his never-changing physical attributes, his vibe seems at least 20 years younger than he actually is. He froths over waves and cheers for everyone, even if they're his boys' competition. That constant positivity draws back former students who just want to hang at Rainos' truck before their heats and bask in the human sunshine he exudes. At the HIC Pro, Elijah Gates and Benji Brand — who both enjoyed benefitting from Hayes' coaching during their formative years before aging out of ISA juniors or switching sponsors — lingered at the Billabong truck throughout the event.
There are countless Rainos-isms one will hear from the coach if you hang around long enough, and they soak deep into the young minds he's molding. Gates said he can still hear Rainos' famous advice, "Ramp it up, brah!" whenever he's sitting in the lineup. Josh Moniz sounded like a mini Rainos when he offered guidance to Kaito Kino, for whom he caddied at the HIC Pro, saying, "Keep it simple, Kaito: just get started early, don't worry about the bumps [on the face]. Just turn, turn, and get out," Moniz calmly said, flicking his fingers with each "turn" to represent the hack off the lip Kino should aim for. Getting started early and laying at least two monster turns — "no half turns," as Rainos' boys dutifully repeat — on each wave are cornerstones of the Hayes model for heat success.
"He always gives us a nice hug before our heat, warms us up and gives us a lot of information," Seth Moniz said of his mentor. "He repeats himself a lot, but when you're out there in a heat it's easy to forget stuff he said. So the more he repeats to us, it gets us thinking and keeps us remembering what he's saying, it keeps you sharp."
Rainos' focus for his students is mistake-free surfing, and everything from their wave selection to board choice is the correct answer because Hayes has gotten them in the habit of being true to the present moment, trusting their instincts, and letting other surfers in the heat be the ones to make the errors. One unique coaching aspect for Hayes is the radio he always takes out into the lineup with him with he caddies, which he waterproofs by double wrapping it in condoms. Hayes leaves the other radio with one of the boys on land, who relay to him the scores for each wave and situation updates, which can be hard to hear from the far-out lineup at Sunset. In return, Rainos constantly speaks words of wisdom into the radio throughout the heat, never taking a break from coaching his attentive crew. Those pearls tend to be morsels of advice that would also benefit the athlete and anyone around them in making good life choices, such as his advice, "Wait for the real deal. It's very rare that there's two real deals, so pick a winner, baby."
Never one to pat himself on the back, Rainos always first acknowledges any former coaches and the families of the athletes when discussing the success of his pupils. But the truth is that Rainos is a tried, tested, and proven super coach — under his guidance in the past two years, three Hawaiian standouts to whom he devotes extra attention have walked away with monstrous accolades at a very young age. This includes Finn McGill, who not only won the 2016 Pipe Masters trials at the age of 16 for a chance to battle and very nearly defeat seasoned athletes like Jordy Smith and Joel Parkinson in the illustrious main event, but who also went on to win the title of 2018 World Junior Champion earlier this year.
"He has helped me through so much it's crazy!" McGill said of his coach. "He coached me from a young little brat to an adult, so there was so many life lessons on the way. He's an amazing person that just wants the best for everyone and he won't stop until they have reached their full potential, and even there he'll still try to make them a better surfer or person!"
The other two local boys who have blossomed with Hayes' help are a pair of brothers who represent one of the most esteemed families in Hawaiian surfing history: Josh Moniz, who Rainos coached to his first professional victory this year at the prestigious Volcom Pipe Pro, and younger Seth Moniz, who with the support of Hayes has displayed the natural talent everyone knew was within him, skyrocketing to the top of the QS rankings and entering the Triple Crown within spitting distance of a spot on the elite World Championship Tour at just 21 years old.
For the past year, Rainos has backed off his ISA coaching duties to focus on traveling with and supporting his top QS campaigners, which are McGill, the brothers Moniz, and one outstanding Australian named Reef Hazealwood, who opened his Triple Crown campaign with some truly jaw-dropping aerials during free surfs at Rocky Point that went viral throughout the surf world. Rainos describes the dynamic between the four as the Older Brother (Josh), the Little Brother (Seth), the Disciplined One (Reef), and the Baby of the Bunch (Finn), and the highest level of "misbehavior" on their global journeys has been when the boys get a bit too engrossed playing Fortnite on their phones.
"They're pretty good boys. They're not questioning their ability anymore, they know what the game is. What the group dynamic brings to that is: together we can do what alone we cannot. It's that age old thought process that it takes a village to raise a child, or at the least it takes a family," he said of the traveling troupe.
Rainos is responsible for turning multiple generations of frothing groms into disciplined, well-rounded athletes, and many are predicting that there are world titles in the cards for the young men he's coaching today. Rainos has his eyes on those hopes himself, too, but that's not why he does it. He doesn't care if athletes he's coached choose to go the free surfing route or end up just keeping surfing as a beloved pastime as they age. What he cares about for every person he meets, every young life he impacts, everyone that gets the chance to hear his Rainos-isms and feel his reassuring hand on their back as he whispers advice in their ear is much bigger than contests. The end goal for all of it is that those surfers will choose to live well, be good people, and give back to others, just like he does.
"Surfing is such a selfish sport — it's self-centered and self-seeking and you're chasing and you're seeing how big you can push yourself — it's a real inside job, and part of that inside job is, instead of just being a taker, [ask yourself] 'what have I got to give?'," Rainos said. "If you've been lucky enough to have surfing give you this beautiful life, we need to be grateful because it's a gift. And when we play as rough as we do, it's a gift that could be taken at any moment. To get the lifestyle out of it, to get the health and the connection and the mana from Mother Ocean is huge, and that should be enough. If you are blessed enough to get that, then give it back."
"That's always been the goal, the result was never first and foremost," he continued. "And in the end, if the kids did all the right work and they applied themselves and they were humble and learned how to actually give back in this magical sport, it's funny how it comes back around. Surfing chooses its own, and rewards those who are connected."
pau