by Cash Lambert
When we asked Guest Editors Mason and Burger who they would like to feature in the Grom Report, Mason answered without hesitation: "Isaiah Briley. Kid is nuts, people don't even know. I went to Indonesia and cruised with him last summer. The kid's gnarly. He charges."
"He's going to be the next Pipe guy," Burger chimed in.
"Yeah, he has just a super good style for how young he is and he's getting better quicker than anyone else I've seen," Mason continued. "He's got respect and he's got the blood."
Weeks later, we met up with the 14-year-old at his classroom, which isn't inside of a school. Instead, it's a computer in the family house.
"I'm working on this class called Digital Arts," Isaiah said. "It's about photography and photo editing. Once I finish with school work I can go surf and hang out with my friends. But if I don't do school first, I can't surf. It's that simple. Want to see my boards?"
With that, Isaiah pulled out two fresh black and stickered up surfboards, thanks to Bret Boards, and said that he planned on surfing in the afternoon. We quickly asked him his earliest surfing memories, when he realized his Dad's talents and well known history at Pipeline, and why he focuses on freesurfing, so that the grom could finish his school work and get in the water before the forecasted swell dropped.
What's your earliest surfing memory, Isaiah?
My Dad took me out to Chuns, I was 5 or 6 years old. I caught a couple waves, just cruising. I was a skater back then, I wasn't into surfing that much so I just wanted to skate. Eventually I got more into surfing.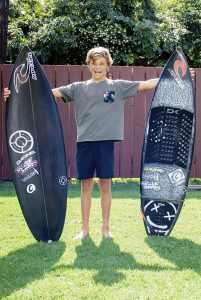 What was your first surfing competition like?
It was at the Menehune Classic, I was 7 years old. I did the Kokua division, and I just went straight on a wave. I was holding up my trophy, just stoked.
How did it grow from there?
As I got older, my Dad took me on trips to Bali and Tahiti and Fiji and every time I went, I wanted to surf. Every trip, that hunger got better and better and I wanted to surf more and more.
Tell us some of your favorite memories from the trips.
I was 9 when we went to Bali, and I got a couple scars from surfing there. My Dad pushed me into a solid 4-foot wave, and I was in the barrel, but I didn't take the high line and I drifted into the lip and it smashed me and took me straight into the reef. When I was in Fiji, I remember getting licked by a solid set at Cloudbreak, and getting some good waves too. In Tahiti, I landed my first air reverse, I was 11 then. The whole trip I was saying 'I landed my first one, I'm so gnarly' and my Dad said 'yeah grom you're not that gnarly, you still have a ways to go'…I went to California and did the whole contest scene, but I wasn't that into it. I went back to Tahiti surfed perfect waves and barrels, went to Bali again. I surfed Desert Point, and there were perfect barrels.
So you're focusing on freesurfing rather than competition?
I don't compete a lot, my Dad didn't like competing but he said if I want to do it I can. I like freesurfing more, making videos and going on surf trips. Because other kids are surfing Huntington when I'm surfing Lakey Peak or Teahupoo. I can either be at a contest or on a surf trip. My goals are to go on more surf trips and get good clips and make a sick edit for my sponsors: Rip Curl, Oakley, DaKine, Sticky Bumps Wax, Bret boards, Shade Sunscreen and Cobian Footwear.
Mason and Burger are the Guest Editors for this issue, and they wanted to feature you in this Grom Report. What's it like to have them as idols?
They're classic. I look up to them, Mason is my favorite surfer, Burger is the funniest person I know. They both surf really good. I hung out with Mason all summer in Desert Point, he's a good role model. He's super cool to all the kids. Same as Burger, he's so funny.
Is Mason your favorite surfer?
Yeah, because his surfing style is so different. He has a unique style and he has fun. He's cool to hang out with and a good role model to me.
What is it like surfing with your Dad?
Everytime I surf with my Dad he wants me to have fun. When he sees me do a turn and something is out of place, he says 'try this' and it's different but it's better and it helps. The other day at Rockies I was waiting for a wave for like 20 minutes and then a wave came and he dropped in on his 9'6", did a huge bottom turn, got barreled all the way across and did a huge carve and I was thinking 'are you kidding me?' Because I was going to go on that wave. But I was stoked for him, he was so happy.
When did you realize that he was a renowned surfer?
When I was younger I didn't have a clue. When I was 10, I walked into the house and Mick Fanning, Freddy Patacchia and Kelly Slater were watching football with my Dad and I freaked out and said what are you guys doing here and they told me and I said really? He's not a pro surfer. And then he told me that he was. I didn't even know.
Anything you're fine-tuning within your repertoire?
Better style. Being more powerful with my turns and rail game, being able to push my tail as hard as I can. That's my future and what I'm trying to work on.