By Kyveli Diener
Takayuki Wakita has been called the most respected Japanese surfer in all of Hawaii, a title he earned by charging every wave that came his way for nearly 30 years. His reward wasn't only respect and deep barrels – a takeoff spot between Backdoor and Off the Wall was affectionately dubbed Wakita's.
But even the worst of wipeouts couldn't have prepared him for what happened in 2011. A massive earthquake and tsunami struck Wakita's native land, where he was still living part time with his wife and two children. When the resulting damage left a Fukushima nuclear plant leaking radiation into the ocean, Wakita decided to bring his family to Oahu's North Shore full-time so his kid's burgeoning surf talents could be honed in radiation-free waters.
This turned out to be a great call, because in 2016 – a year that saw big wave charger Takayuki back in the Eddie Aikau Invitational – his son Taichi, 17, earned the Rookie of the Year title in the Japan Pro Surfing Association, and his 14-year-old daughter Sara, the youngest professional surfer in Japan, made 5 finals in regional WSL Junior and Qualifying Series contests. Sara surfs under the Japanese flag, but her fluid cutbacks, mellow personality, and humble respect for everyone around her are indicative of her Hawaiian upbringing with a close-knit family of hardworking legends (and, according to Mason Ho, "Sara surfs just like my sister!").
What do you remember about the 2011 earthquake that led your Dad to move the family here full-time, Sara?
I was still going to school in Japan when the earthquake happened. I was in class when it happened. It was just so scary and everyone was crying and stuff. I was only maybe in 2nd grade.
What was it like for you when you first moved here permanently?
I had been coming here since pre-school half-time, so it was pretty regular for me. I've been living in Hawaii most of my lifetime and I think of myself as representing Hawaii sometimes, but having a Japanese passport won't let me go to ISA or WJC from Hawaii. When people ask me which I represent I'm not sure either, but I'm representing Japan in order to get to the world.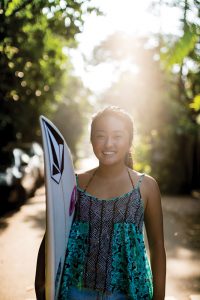 Do you remember your very first wave?
The first time I remember it was my Dad putting myself on the top of the Waimea gun around age 3 and going at Castles, Malaekahana Beach. I was so scared I wouldn't let go of the board. It was big for me.
You've been competing a lot in Hawaii for years with HSA, but did you also compete in Japan?
I didn't really do contests in Japan. I started here for the Menehune contest and then I ended up doing HSAs.
When was that?
I was splitting my time — my first contest was, I think, 7 years old. I got sixth place and I won a surfboard in the raffle. I didn't really like surfing up until that contest.
Why didn't you like surfing at that time?
My Dad is a big wave surfer, so he doesn't really know what's small and what's big for me. He would push me into waves that were super big for me, but like super small for him, and I would get really scared and didn't really like surfing, but then my friends started contest surfing.
What's it like growing up a Wakita here on the North Shore?
My Dad's really good friends with everyone who surfs at Pipe, so he introduces me. I've met a lot of good guys there, so that's probably the most good thing to being a Wakita. But he's also a big wave surfer, so everyone's like, "Oh, if you're a Wakita you can charge." I don't really like surfing big waves, but I try. I'll go to Sunset or Haleiwa.
What are some of the lessons you got from your Dad or anyone else that you use a lot, for surfing or for life?
When I was really small, I entered the Makaha contest, the Menehune. I got really scared in the first heat, and then Carissa Moore was signing the posters and she wrote "Never give up, live your dreams." That was right after my first heat, and then I won that contest. I was maybe 8.
Who are your sponsors?
Volcom, Blue EcoSystem, Tokoro, Handy, Dove wetsuits, FCS, Nixon, North Shore Surf Shop, and Go Pro. My Dad was sponsored by Dove, so that wasn't really my first one but it came down to me. FCS was my first one when I was maybe 12.
Final words for the Freesurf audience?
Everything starts with a dream, because if you don't dream where you want to be then you can't see yourself being there.