By Cash Lambert
"When I was a little kid, like 3 or 4 years old, my Dad would get me after work and we'd go surf. He'd say 'it's 3 feet today' and I would say 'I'm 3 years old, I can surf it.' I thought however old you are, you could surf that big of a wave, it's no big deal."
This is what Barron Mamiya, 15-years-old at the time, said to a camera that was filming for his Hurley Youth edit, which consisted of 6 minutes of massive Teahupoo and Pipeline barrels themed to adrenaline-pulsing jams.
Today, Barron is 17-years-old and the edit has over 80,000 views and counting. He may not have his sights set on 17-foot waves, but the North Shore native is aiming for success in the competitive arena: He started off this year on an absolute tear, winning not one, not two, but 3 WSL Hawaii Junior Pros.
While his short term tunnel vision is set on making it out of deep Pipe and Backdoor barrels, his long term vision is focused on the WSL's Championship Tour, something he's preparing for by grinding it out on the QS.
How has 2017 been different for you, Barron?
It's been a good year so far, winning three contests. This year, I want to try and get better and improve and do really well on the QS, and qualify for Primes next year, just working on my surfing. I don't want to jump onto the QS and look like a little kid, you know. I want to show people that I can surf small waves, too.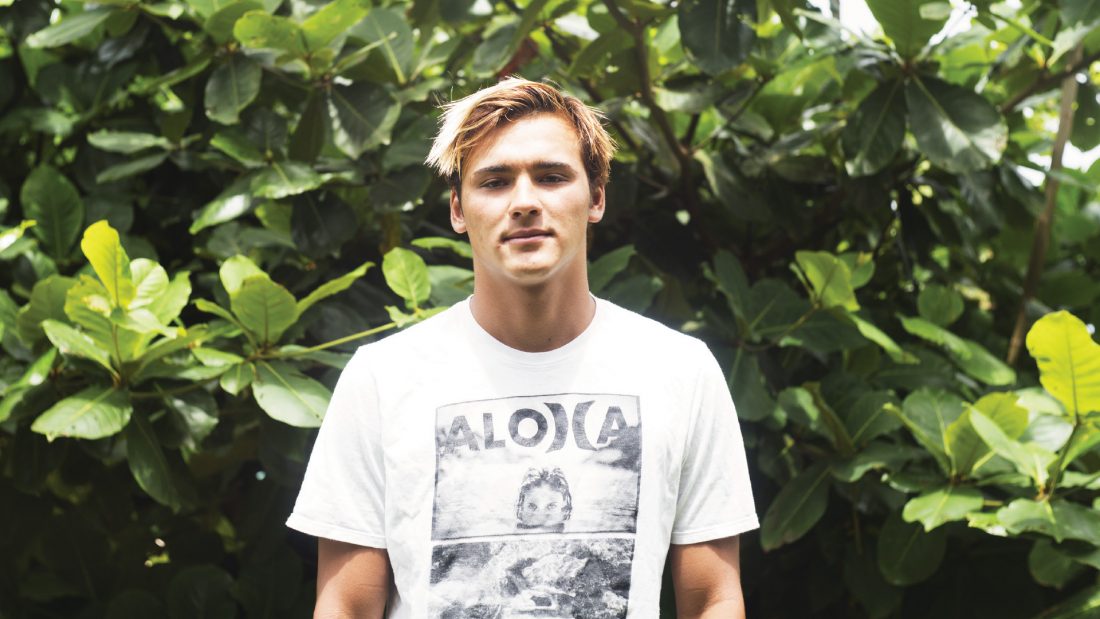 How much did boards play into your win at the Pro Junior at Sunset?
I rode a 6'4" and felt weird about it, because I didn't know if it was going to work. There were some solid 8-10 footers coming through, and that's a small board for Sunset especially. I took it out anyway and in my first heat I only got a 5 and a 4. I was super nervous, just surfing not to lose. The next heat I clicked in and the board felt great. It was the best board I've ridden out there, and I was getting the waves I wanted.
And then you won the next event in Tahiti.
Yeah, it was small there and I had a really good board too. I went with my friends, didn't have a coach, so it was mellow, just surf and catch waves and do the basics. I stuck to that and won.
And after that, the Pipe Pro Junior.
That was the best win for sure. Last year I knew I could surf Pipe, but I didn't know if I could surf small waves. After my edit a lot of people were telling me, 'oh he can only surf big waves, he can only get barreled,' so I think just working super hard and trying different boards, getting used to other waves has been a big help.
You frequently note that you're hard on yourself, speaking in terms of your mindset. Is that because you have great expectations for your surfing career?
I expect a lot. There's a lot of great kids up and coming in the next generation, and I want to stand out and show that I'm not here to cruise and not do anything. I'm here to surf and put on a performance for everyone. And I am pretty hard on myself, but I want to show everyone that I'm not just some guy who can get barreled. Sometimes, if I make a heat I can still feel like I lost.
What have you learned about yourself throughout this hot streak?
It's taught me a lot. Last year, I was injured and didn't do a lot of comps, so I didn't get the results I wanted. I told myself that I was going to go home and just get ready for 2017 and work super hard. I got some really good boards, and I put in a lot of time stretching and doing technique work in the offseason. Now, I'm just going out there and surfing. If I don't win, it's all good because sometimes the waves don't come, and if the waves do come and I lose, I have to take what I did bad and don't do it again.
What about pre-heat jams? Anything you've been listening to lately that you dig?
Travis Scott's new album.
What does the rest of the year look like for you?
Doing contests. One in California, soon, I may go to another in Barbados. I'll do a surf trip too this summer. This is the first full year I'll have done the QS, and my goal is to make it into the Triple Crown. If I can make heats at Haleiwa and Sunset and do well in some QS 10,000s, hopefully I can eventually qualify for the CT.
Have any words of advice to the groms who want to be in your position one day, chasing the QS?
Just don't get mixed up in the wrong crowd, work hard, and you'll get there for sure. There's so many kids nowadays, so find a way to separate yourself until you make it.