By Cash Lambert
Paddling out at Ala Moana Bowls at the beginning of summer, there's multiple senses that can attract your attention. Like the modern skyscrapers contrasting with Diamond Head, your feet still burning from the parking lot asphalt and someone absolutely terrorizing the wave, pulling into green water barrels with a relaxed style and flinging spray into the air.
After reaching the lineup and giving it a quick survey, you'll see the same surfer, who has a strong build and snow white smile, talking to those around him. You also notice that he could pull off looking exactly like Sunny Garcia on Halloween, if he added a few tattoos.
He'll introduce himself as Derek Lyons-Wolfe, a 37-year-old Kauai native who calls Town home. Evident are stickers on his board, though surfing comes second to other priorities today. The first thing he's likely to talk about in between sets is the swell, and what the winds are forecasted to do. Secondly, how Bowls has become much more than a place to surf. It's where his community is, where he can talk story and escape from the pressures of the daily grind, all the while wielding his patented power and barrel arsenal.
Growing up, how did you feel about contests Derek? Did you like them?
I didn't like contests, but I did them anyway because people told me that was what I had to do in order to get known. I'd fly to Oahu for States, and I remember feeling that the people were so intimidating, because back on Kauai, you just surf with no sponsors.
Where did you call your home break?
Kealia Beach, which is on the East side.
The Kauai surf scene is so different than Oahu's, with far less – if any – coverage. What was that like, surfing out of desire and not coverage?
That's all I knew; I didn't know anything else. Then I moved to Oahu at age 21 and realized how special it was to have that. Now that I look back on it, I'm really proud to be a part of the Kauai scene. I love it, and everyone is underground over there. They charge, and surfing is about passion. That's it.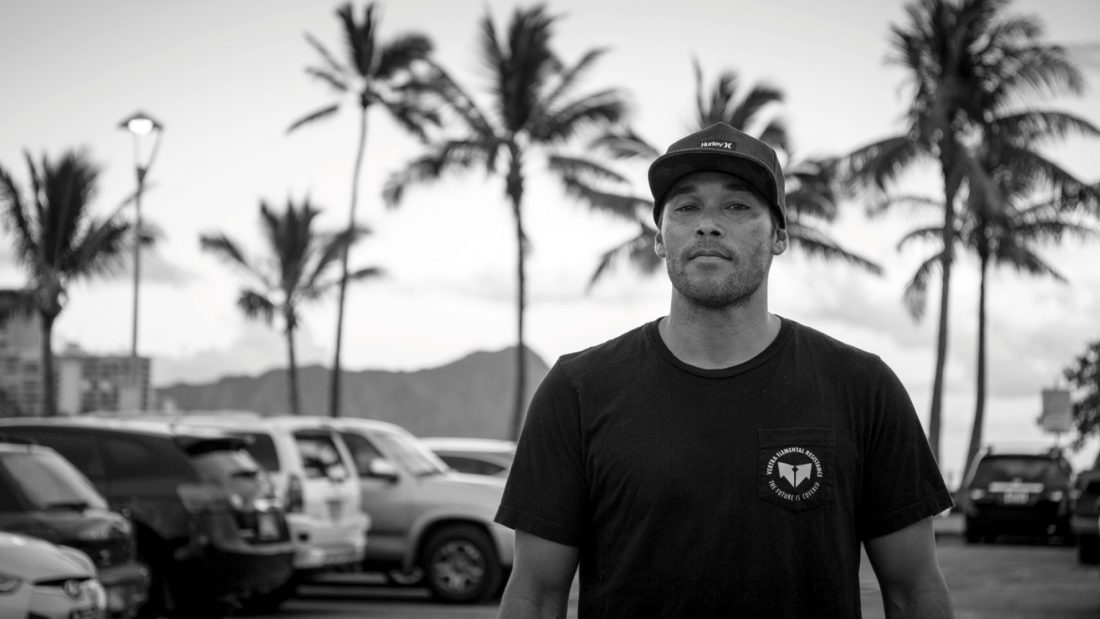 Why did you make the move to Oahu at 21?
I moved to take the next step in surfing. I had to work the whole time, because I didn't get much support. I actually have now support more than ever, and that's from Vertra, Kicks Hawaii, Hurley, Kona Red, T&C Surf and Spy, and boards from Glenn Pang. For me, the care was there, but it never happened. I had my daughter when I was 28, and once that happened, I knew I had to figure something out. I didn't want to be that guy, you know, still trying to get that surfing life.
How do you balance surfing with your work, being an electrician?
Surfing comes after everything now. If I have the time to surf after work, I will. And on the weekends, if I don't have my daughter, I'll surf all day. Sometimes I'm able to get off work early and try and get out there.
What's your definition of Underground?
Underground, to me, is someone who isn't in the spotlight but stays true to surfing. Someone who is good enough to be in the spotlight, but sometimes there's other priorities, like work and family. But underground means still psyching on surfing and showing up and ripping when it's good.
Why is Bowls your hanai homebreak?
I'm in that area. When I first moved here, I surfed Kaiser's, then I moved over to Bowls. I met a lot of good people and I made really good friendships. That's what made me like the wave more. I talk story with everyone; it's a meeting area, where we surf perfect waves and watch our friends surf perfect waves.
Have memories of any all time sessions that stick out in your mind?
When you surf Bowls often, you really start to learn about what makes it work and when it's going to be good. I can remember we had 6-8 foot swell, but with really onshore winds. So a few friends and I noticed that it would storm for an hour in the afternoon and right after that storm the winds would completely switch. So we showed up during the storm and paddled out and just as we expected, the winds changed and we surfed 6-8 foot clean Bowls all by ourselves.
Bowls is notoriously crowded: have any tips on getting waves?
There's no secret, just show face and do it right. Respect the boys who have been out there for years, surf your best and don't waste a wave. Everyone out there is pretty cool.
What are you looking forward to this summer?
A lot of southwest Town swells, hopefully we can get some west for the west bowl. That, along with seeing all the boys. When it gets big, the North Shore boys come down there too. Overall, I'm looking forward to just hanging out and getting sunburned. Because whether it's 2 or 10 feet, it's fun.
What are your thoughts on the level of surfing coming out of Hawaii?
It's fun to see that my favorite surfers are younger than me, like Zeke [Lau]. I'm so happy he's on Tour. I'm a fan of his power surfing, and he can do everything in the air. Watching these kids do what they do, like Barron Mamiya, it's a whole different level. I'm a fan, and those guys make me froth to go out and surf.