Story and Photos: John Weaver
Laura Mellow opens the door to her home enthusiastically and says hello with a big smile. Typical. Her positive excitement is infectious to those that know her. Meanwhile, her art twists and turns through the nuances of nature, human and otherwise.
We stroll through the hallways and I glance at the years of work on her walls. All personal, some more than others.
"Did you see the Volcom Pipe Pro?" Laura asks.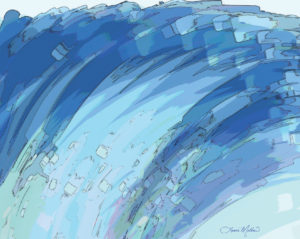 "Absolutely." I reply. Laura flips through a sketch book. She had illustrated Pipeline in black ink and grey marker. Studies for future pieces. "Simple compositions to work from. Says a lot to me. This is the force coming down. That can go into the abstract. "She notes and then points to another wave image on the wall "Then it goes into something like this one from the Eddie."
The sketches are quite literal compared to the finished work. Laura has the talent to translate nature and emotion into figurative elements that carry the same spirit
"I started as a figurative artist but create in 3 dimensions mentally," Laura notes. Somehow her 2d abstract work carries a percieved emotional 3rd.
Laura moved to Hawaii at the age of 8. The daughter of a vascular surgeon at Straub. His profession would soon alter the course of her life.
Laura's father saved the life of Mo'okini Luakini Ali'i, Dewey Oliver Kuamo'o Mo'okini and he never forgot it. She was hanai'd into his family by his daughter. Leimomi Mo'okini Lum. She guided Laura through the old Kohala Hawaiian Culture and all of it's paths and gave her the name "Makali'i" from a dream.
Growing up in Wailupe set the hook for her love of the ocean and all of it's moods. She studied Art at Punahou School (Honolulu), Washington University in 1981, the American Institute for Foreign Study (AIFS) in Venice and Florence (Italy) in 1981, Pilchuck Glass School (Stanwood, Washington) in 1999 and University of Hawai'i – Pacific New Media in Manoa in 2016.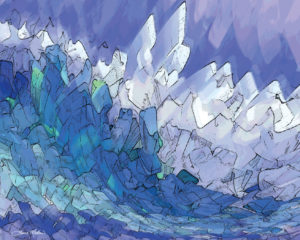 She uses both the computer and traditional art methods which results in her unique art. Known for her use of color, shape and form in mixed media. She has won several awards and is in private collections in Hawai'i, Los Angeles and cities across the mainland.
Epilepsy is a steady cause in her work and her life. Through the miracle of modern medical science, she has overcome the worst of it to pursue her art. Frequently exhibiting with organization like 1 in 26 with the Epilepsy Foundation. And Epi-Bears.
Hidden Truths Project's annual art exhibit and fundraiser for epilepsy research is now in its 6th year and taking a fresh approach. In 2017, Hidden Truths, the Mind Unraveled has become, 1:26 The Art of Epilepsy. 1 in 26 individuals will develop epilepsy in their lifetime. Despite the many advances in the field of epilepsy, this oft-hidden disability is wrought with misconceptions leading to stigmatization of those living with this condition. The focus of the event remains to raise awareness of epilepsy, to educate the general populace on the truths of this condition, to abolish the barriers and stigma associated with this diagnosis, and to accelerate development of therapy options for people living with the challenges of epilepsy.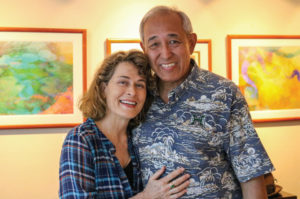 After seeing the impact of the Epibear character on her niece, Laura realized that children who live with epilepsy may benefit from a medic alert. The medic alert comes in various designs with a caduseus on the medallion. Each is accompanied by a teddy bear charm and any important medical information can be engraved on the medallion. This attractive and charming piece of jewelry provides the wearer with a comforting, yet important, tool to address the illness.
Her latest achievment is publishing and exhibiting in the revered Imago Mundi. Pet project of legendary art collector Luciano Benetton. The work can be seen in the new book 'Aloha Spirit Contemporary Artists from Hawaii.' Her work and others in the book will be featured at a Biennial exhibit in Venice, Italy later this year.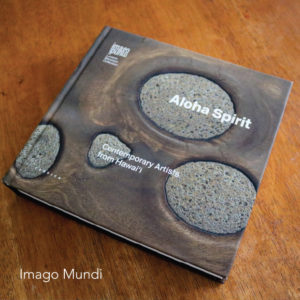 Some might recognize her from several appearances on the television show "Hawai'i Five-0" as Nalani Lukela, wife of Sgt. Duke Lukela, played by her real life significant other, actor Dennis Chun. Another medium to exercise her creative sensibilities.
You can find Laura's art online at lauramellowart.com or her page on Facebook.