By Cash Lambert
Can you feel this energy?
This is the start of something great
We might be a little late…hey
But at least we're on our way
These lyrics flow in Keala Tomoda-Bannert's ears, turning the Ala Moana Bowls lineup into a silent, watery dance as the Kauai native battles at the HSA State Championship.
"It's weird, because before heats, most people would rather listen to, you know, rock out type music, but that makes me fall asleep," the 16-year-old says with a smile. "So I actually listen to slow music before a heat, that's what gets me pumped up."
The "slow music" she's been listening to lately is the rhythmic beats of Khalid's Let's Go. This song of choice seemed to work well, because Keala went on to win the 14-15 year old division at States, adding further momentum to her year, already coming off a semifinal finish at the Wahine Pipe Pro.
"I'd like to advance into more and more rounds and just improve everyday," she says, speaking on her outlook for the rest of the year. Something tell us that Keala's impressive run is just as her favorite song voices: this is the start of something great.
What's your earliest surfing memory, Keala?
My mom pushed me on a really big board, something like a 6'9", at Pinetrees. I remember standing and riding all the way to the beach. After that, I started surfing everyday. I loved the feel of it.
How did your surfing evolve from one ride to wanting to compete?
I started competing in the Irons Brothers contest. At my first one, I made it to the Final and got 2nd. I love competing, and recently I've been doing HSAs and now I'm trying to do Pro Junior events.
What is that like to have the Irons Brothers contest in your backyard every year?
It's a fun day where everyone can surf together, and the community comes together and it brings joy to the island. Plus, when you lose, you still get prizes!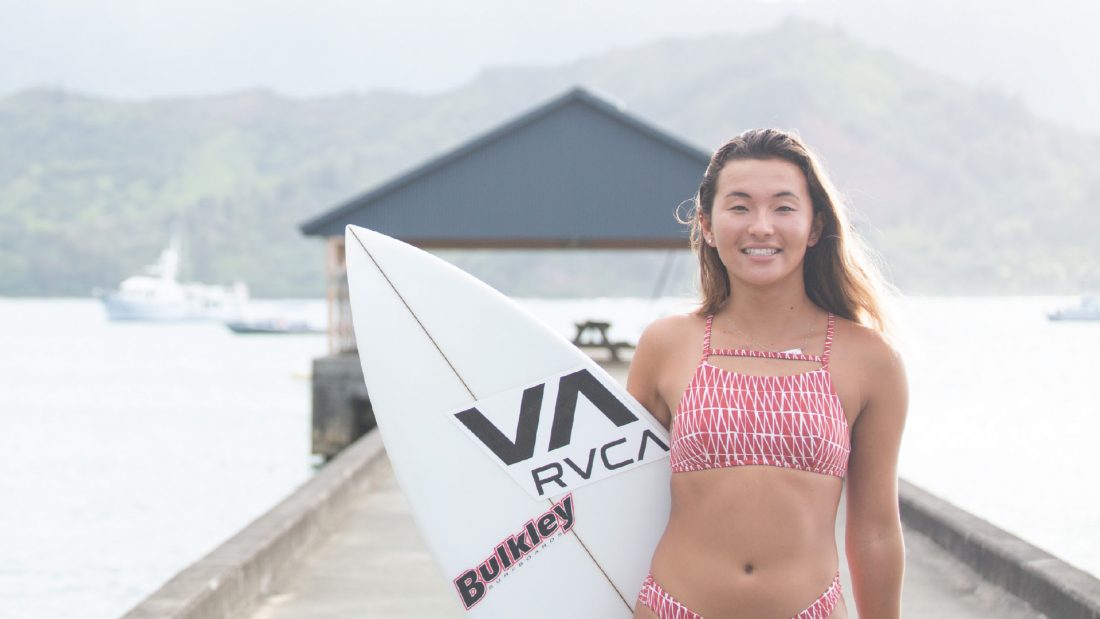 And you made it to the semis at the Wahine Pipe Pro in March. What was the biggest takeaway from the event?
Committing to the waves. Thinking about Pipeline is scary, but once you're out there, it's not bad. I gained so much confidence from that contest, and I learned that you just have to commit to the waves and you won't get hurt.
Overall, what are your surfing goals?
I'd love to win a pro junior, that's one of my top goals. I'd like to advance into more and more rounds and just improve everyday.
Who are some of your surfing influences? Who inspires you?
I'm inspired by Tatiana Weston-Webb right now. She's showed me that even though I come from a small island, I can achieve my dreams. She's very committed to what she does in her surfing. I'm also inspired by Bethany Hamilton.
What's the best piece of advice you ever received?
It's from Bethany. She said that everytime you go into the water, it doesn't have to be a competition. You don't always have to be aggressive in the water; it's about having fun.
Very few people have the opportunity to grow up in an area as beautiful as Kauai. What's that like?
Not many people have the chance to live in paradise, so I'm very blessed. It's so quiet and nice. I started out surfing small waves at Pinetrees, and once I started to progress, it's hard to find waves because there's not a ton of spots on the island. But I was able to surf with Bethany, Alana and Tati. Every day consists of waking up early and surfing, maybe a hike with friends or something adventurous, and then surfing again and watching the sunset.
And there's hardly ever coverage of swells from the Garden Isle, compared to Oahu.
Yeah, you feel more of a freesurfing vibe on Kauai. You can do whatever you want, because you're trying to progress to get better, not to get the clip or the photo. It's a passion to freesurf and you don't feel like you have to perfect because there's not a lot of people watching.
Did you feel pressure when you first came to Oahu, with so many cameras and the crowded lineups?
I wasn't used to that many people in the water or on the beach. It put pressure on me, and it made me fall on a bunch of waves. I'm used to it now since I've come here so often.
Your thoughts on the Women's tour? Anyone's surfing that you really like?
Everyone is progressing more and more. I think that girls that come out of Hawaii definitely look stronger and more powerful. Tati is my favorite backside on tour, and I love Carissa Moore's frontside. Her carves are so powerful.
What does it mean to be a wahine?
It's about being generous, kind, and remembering Hawaiian traditions, culture and style.
What can we expect from you in the future?
Practicing, progressing and traveling more to different places!