by Cash Lambert
Mother, wife, movie star, activist and a pro surfer who has the talent to enter a WSL Championship Tour contest as a wildcard and finish 3rd overall – as she did at the Fiji Pro in 2016 – along with charging waves of consequence at Jaws: Bethany Hamilton is unstoppable.
At 27-years-old, Bethany has accomplished so much in and out of the water, all the while seeking to inspire others along the way. And when asked about her future, it seems she's only going to put the pedal to the floor.
We chatted with the Kauai native to hear her thoughts on being the wildcard entry for the Outerknown Fiji Pro, how she deals with her stardom and what we can expect from her aptly named film Unstoppable when it drops next year.
Can we expect to see you in a jersey this year at any World Tour stops?
I got the wildcard for Fiji. Fiji is just the dream wave to compete at, so I'm really excited to compete there again. Especially after last year – finishing 3rd – it just felt really amazing. I'm just trying to mentally cheer myself on from here until the event and just think about surfing well, competing smart and enjoying my time down there. Of course I have dreams to win it, but I'll take it one heat at a time.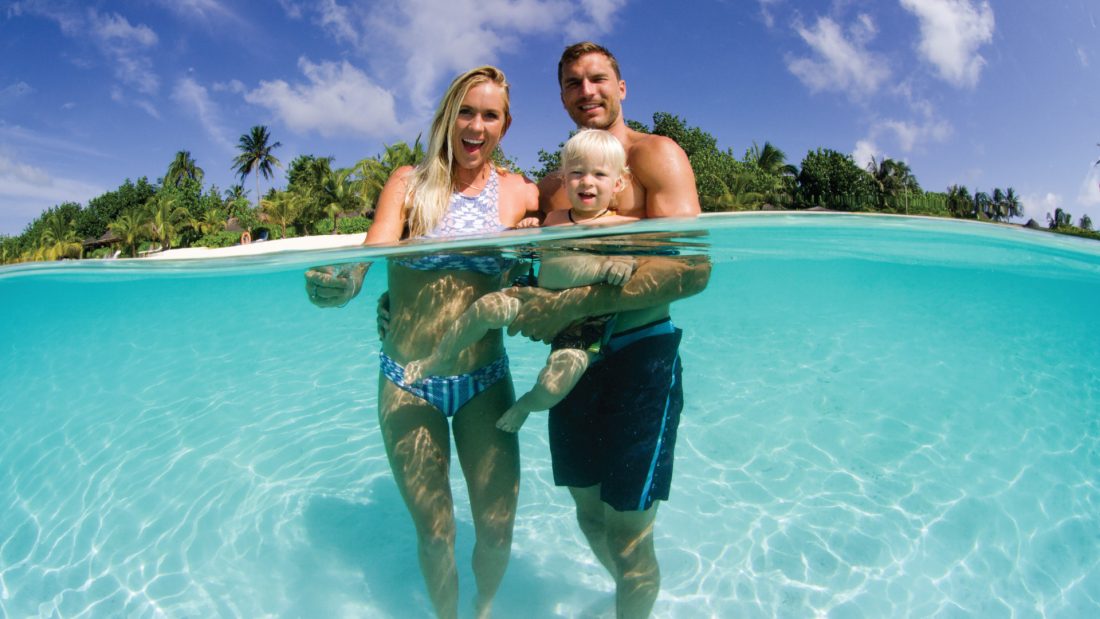 Is there one girl on the Women's World Tour who you like to watch the most?
I loved watching Tyler (Wright) win her World Title and I love her as a human. She is so unique and incredibly talented and I love the power and the rawwr she puts into her surfing, it's just so fun to watch. But of course I love Steph and Carissa, too.
What's been your favorite part of motherhood?
Oh my gosh, becoming a mom has been probably the highlight of my life and especially to share that with my husband, who is so amazing too. I already have baby fever. I want to have another one! Yeah, I've got some plans, but being a mom is for sure one of the most rewarding things I've ever experienced in life and nothing can compare.
How do you deal with your stardom?
Definitely being famous was probably harder than losing my arm and being able to cope with that. I don't thrive on attention necessarily, and it gets pretty tiring sometimes. Sometimes when you're just trying to buy an apple at the grocery store or eating dinner with your friends, people are always coming up. But at the same time, I really cherish the opportunity to show young girls that there's ways to choose a wonderful way to live your life and be respectful of yourself and others and just overcome the hardest challenges that may come your way. So I try to find the balance. I hide out sometimes and other times I say hi.
What's the funniest thing you've experienced interacting with a fan?
I always just crack up around Halloween, seeing little girls dressed up as me and their little brother will be a shark or something like that, it's pretty hilarious. So I always get giggles during Halloween time. I'm a Halloween character, it's so weird.
What we can expect from your forthcoming movie Unstoppable?
It's been a crazy project working on it. It started off as making a short edit of high-performance surfing and then with all the time and effort, we realized that my story hadn't been told in so many different ways and a lot of people just recognize me as the shark attack victim and a soul surfer girl. I'm looking forward to sharing my story in depth along with the hard work I've put into my surfing career, and just my life journey as a mom and wife and surfer and all the good that God has done in my life. Hopefully it will encourage all the younger generations of girls to pursue their dreams no matter what comes their way.
What's your favorite wave to surf?
I'd say that my favorite waves are probably a toss up between Teahupo'o and Macaronis. Teahupo'o is just the best barrel you can imagine and Macaronis is just incredibly rippable.
Your thoughts on the generation of women leading surfing today?
I think it's been so amazing to be a part of this generation of female surfers pushing it and especially on Tour right now. Every heat is a really challenging heat and everyone's surfing really hard and pushing each other. It's really cool to see and be a part of.
What have you been riding this year? Any different boards?
I'm riding a Rook 15 from Channel Islands, that's my favorite board right now. I guess just depending on the conditions I have different boards, but it's a 6'0, 2 1/4" and some width. I have a handle; it's just for duck diving and I use it probably like 50 percent of the time. My Dad makes it.
What are your big plans for this summer?
I have a few surf trips, so I'm going to be going to every dream destination you can think of in the next four months. I'm super excited to be surfing, and my husband is an amazing supporter and we get to travel together as a family, so it's pretty unique and cool. We're finishing up my film Unstoppable, which is going to be coming out in the next year and that's been a really fun project and challenge to work towards. I'm going to continue to work on my surfing and push myself.