By John Ellis
We all have to start somewhere, right? Well, let us introduce Summer Ivy to the world. She's an energetic, wave-shredding grom that made her debut to surfing at the ripe age of 11. Summer tapped into her competitive roots only four years ago by winning her age division at the T&C Grom Contest, showcasing a hunger that runs deep.
Her lessons may have started with her mother, but the deep-seeded drive and power she's known for could be the product of John "Johnny Boy" Gomes. He was notorious for a heavy back foot, dumping buckets out the back, and for a personality that dominated the lineups. The goofyfooter is fused with power from her father and finesse from her mother, but it seems her infectious bubbliness is her own.
Now, at 14 years of age, Summer has already competed in over 75 contests. Recently, she has touched down in Cocoa Beach, Florida and San Clemente, California to try her hand at different beach breaks. As most professional surfers find out, preparation for adaptivity has been found in good training regimens – Summer is fond of Crossfit workouts, which could bring an edge on the competition. More so, her dedication and natural ability to surfing has been the highlight of her young career.
Favoring a strong south-southwest swell, her stomping grounds have extended from Queens to Kewalos, and everywhere in between. Speaking with her, Summer exhibited a rare characteristic: courage to take on waves of consequence. It's an attribute that has proved to be rewarding against opposition in surfing. Summer has the ability to make smart decisions in the lineup, defeating each opponent with charisma as she rips waves apart with "power and grace".
Who's your biggest influence, Summer?
My mother – she's supportive and has always pushed me toward my dreams.
Where did your surfing career begin?
At Queens in Waikiki – my mother took me surfing and I caught a couple of waves right away. I was hooked instantly.
When did you start surfing competitively?
I was 11-years-old and heard about competitions around the islands. I found some information on them and entered. I won my first competition! It was the T&C Grom Contest at Queens.
Do you find it challenging to juggle competitive surfing and school?
Oh, yeah! My teachers would say, "you need to put school before surfing." I would have tons of homework, but only wanted to surf. My mom was good about keeping me focused on school during the year.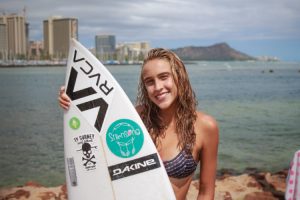 Do you see a future in competitive surfing?
Yeah! I want to be on the World Tour and hopefully use that money to pay for nursing school.
What's the atmosphere like in the grom ranks of competitive surfing from your perspective?
There's a lot of positive influence. I have a lot of friends that I compete against and we push each other. I look up to them.
How has your father influenced your surfing?
We have a good relationship. We hang out, have lunch, and go surfing a few times throughout the month. He's had some good tips for my surfing and he has a lot of connections to help me.
What's your favorite book?
The Nancy Drew series.
How about a favorite pro surfer? Someone you look up to the most?
Carissa Moore.
Board that you like riding the most?
5'7" Jason Kashiwai.   
What's your favorite meal?
Tako (Octopus).
Any hobbies outside of surfing?
Volleyball.     
What advice would you like to give to other young wahine surfers?
Just go for it! Follow your dreams no matter what. If you really want something, don't hold back.
pau