Finding Style
By Lauren Rolland
Not everyone has an eye for nature's subtle details. Like the curve of a plumeria petal, the underwater lines of a pitching wave or the assorted blues of a calm ocean day. Colleen Wilcox has honed in on Hawai'i's aesthetics and paints vibrant depictions of the scenery that surrounds her. The swirls, bright colors and organic lines of Colleen's work are infiltrating the surf art scene and her style is becoming more recognizable through its authenticity.  
You might have seen Colleen's work as the album cover art of Hawai'i singer/songwriter Anuhea's new CD. Or as the poster art for this year's Pipeline Women's Pro. You may have even seen it on one of Ben Aipa's classic shapes at the Surfboards on Parade event in Huntington Beach. Adorning the walls of Wyland Galleries and other small shops, Colleen Wilcox Art is a pure representation of Hawai'i's easy and natural appeal.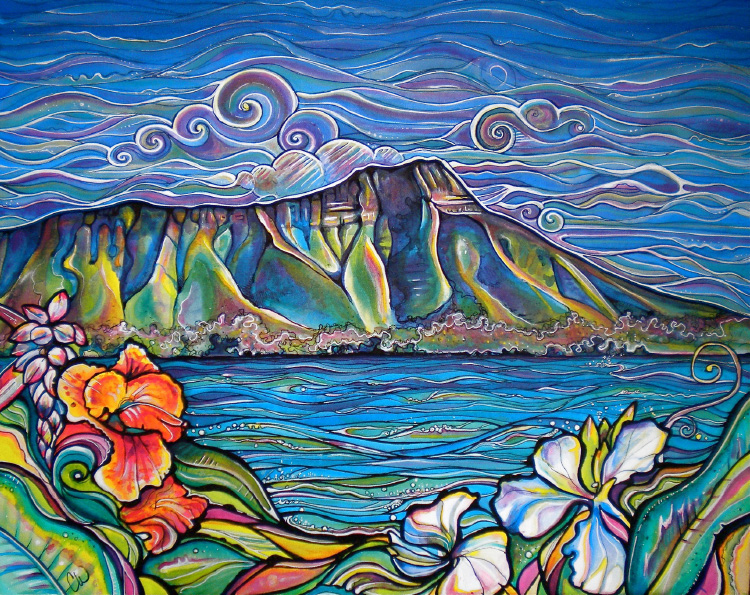 Since the ocean is this artist's main source of inspiration, it's no wonder why Colleen's work has become popular amongst surfers and other ocean enthusiasts. But the Honolulu-based painter doesn't necessarily think of, or call herself, a 'surf artist'. "Surfing is something I enjoy and is a big part of my life, so I express it in my art and can definitely fit the category," explains the surfer. "But I'm not only a surf artist."
Colleen actually began sharpening her skills as a realistic artist. With a pencil in hand from a very young age, Colleen grew up illustrating portraits of friends, families and pets for fun, but never thought there was a lucrative career behind this talent. It wasn't until the San Francisco-born girl made Oahu her fulltime home that some serious soul searching took place and inspiration awakened.
"I worked an office job, was waitressing, bartending, and all the while just trying to find something meaningful to me. That's when I decided to focus and make it happen."
Colleen moved to Hawai'i in 2008, but had been traveling to the islands throughout life. Her grandparents lived near Diamond Head for fifty years and raised Colleen's mom along the south shores of Oahu, and extended family still lives throughout the island. The surfer girl attended both pre-school and junior high school on the island and family ties run deep in the Aloha state.
"Hawai'i has always been a place of soothing and comfort," Colleen mentions. "The beautiful scenery, the flowers and smells… It's always been like a haven for me." But Colleen still had yet to develop her own authentic style. The artist was more used to replicating photos and drawing portraits, rather than turning inward and developing something unique and personal.
"I was really wanting to find a way to authentically express myself," Colleen describes. "I began experimenting with acrylic; watering it down, doing different washes and layers and just playing with it." The waves she often surfed were a big factor in the development of curvature, flow and interconnectedness, a common theme in Colleen's work.
"I started looking at the shape of waves and simplifying it, instead of just painting it as it really was." A transformation took place. Colleen began painting flowing images of mountains meeting ocean, vibrant flower petals and wahine with ehu hair that curled and matched the lip of a wave. The art blossomed into a very distinguishable style, solidifying the name 'Colleen Wilcox' in the art community. Over the last five years, Colleen's art has evolved (and continues to evolve) to become all her own. "I became more stylized, more abstract with my art and started adding more detail into it, combining my ability to paint realistic things with my newfound stylistic design."
The path to becoming an artist has taken a lot of time, commitment and dedication, and Colleen says that it wasn't easy. But the hard work is paying off and the reward has begun to take place. "It's been really cool just building something. It gives me a lot of satisfaction to start from nothing."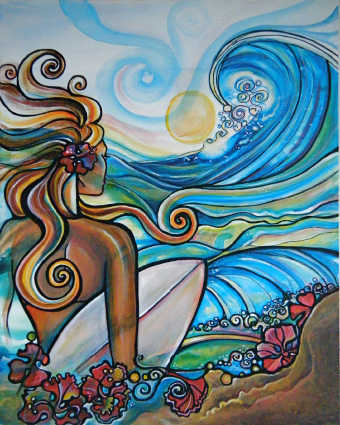 Colleen built her business from the ground up, with the help and support of people like her boyfriend, Wyland Galleries and fans. "I'm just so happy that people are resonating with what I do." Colleen's work has been known to capture the vibe and spirit of Hawai'i, transporting the viewer to a bottled up time, place and mood on Oahu. "It's a positive, uplifting, lucky we live in paradise kind of feeling," Colleen illustrates.
The surf artist's acrylic canvases radiate the stoke of living in Hawai'i. While her purpose as an artist is to inspire others and reflect a feeling of happiness and well-being, Colleen believes the general purpose of surf art as a whole is to "reflect a lifestyle, an attitude and a way of life and appreciate the ocean and nature."
Humble, softer spoken and with eyes that mirror the ocean hues, Colleen is a well-rounded individual that has dedicated time to sharing her artistic talents with the art community. As a surfer, the artist is constantly compelled to capture the essence of the ocean. Diamond Head is a common symbol in Colleen's work, as her favorite surf spots include Pop's, Old Man's and Tongs, all along Waikiki Beach.
Lately Colleen has been riding a 7'6 Stewart 'fun board', but is also dedicated to mastering her 6'0 demarco fish. She'll spend hours watching the ocean change colors, soaking up the details and subtle nuances of nature. "I'm inspired by anything from the colors and patterns of the ocean to the coral and sea creatures below, to the light reflecting off bubbles and sea foam," Colleen describes. "I try to observe all of these design elements in nature and then translate them into my artwork."
When asked what the most fulfilling part about being an artist is, Colleen responded, "to be able to express myself authentically and to inspire and uplift others with what I do." The surf artist also came to a personal realization; "I don't think you'll ever be fulfilled until you're authentically expressing yourself." This can be interpreted in so many ways, and stands as a token of wisdom that Colleen has gained throughout her experiences thus far.
For the near future, this entrepreneur plans to expand into other product lines, and her work will be featured as the Haleiwa Arts Festival t-shirt design this July. Colleen is also working on reaching the Japanese market, as well as getting her art into more galleries around California, Florida and Hawai'i. A bright future emerges, and this is all just the beginning for Colleen Wilcox.
You can find Colleen's work online at colleenwilcoxart.com or by following her on Facebook and Instagram @colleenwilcoxart.
pau