By Andrew Oliver
Photos gOnzo
There's a wealth of talent in Hawai'i across various industries. In the past, one's level of success often mirrored trips to the mainland. At least that's what Waimanalo's Kekoa Cazimero, 30, did to chase his dream of becoming a professional surfer. Yet over the course of a passionate career, he's grown interests in other industries such as fashion and business. Cazimero brings the same level of dedication to these creative pursuits that he brings to his surfing.
It's refreshing to see someone with the extensive connections that he does trying to create something new in Hawai'i, made here on island instead of in the surf industry mecca of Southern California. His business—Ambassadors With Aloha, or simply AWA—is still small scale – for now. Cazimero has big goals in mind and with solid partnerships, including collaborations with Michelob Ultra, amongst others, the future of AWA is promising. By working with people who inspire him and with whom his ideals coincide, Cazimero aims to reach out to the Hawai`i community, getting creative with fan engagement, and generating unique opportunities for the local keiki.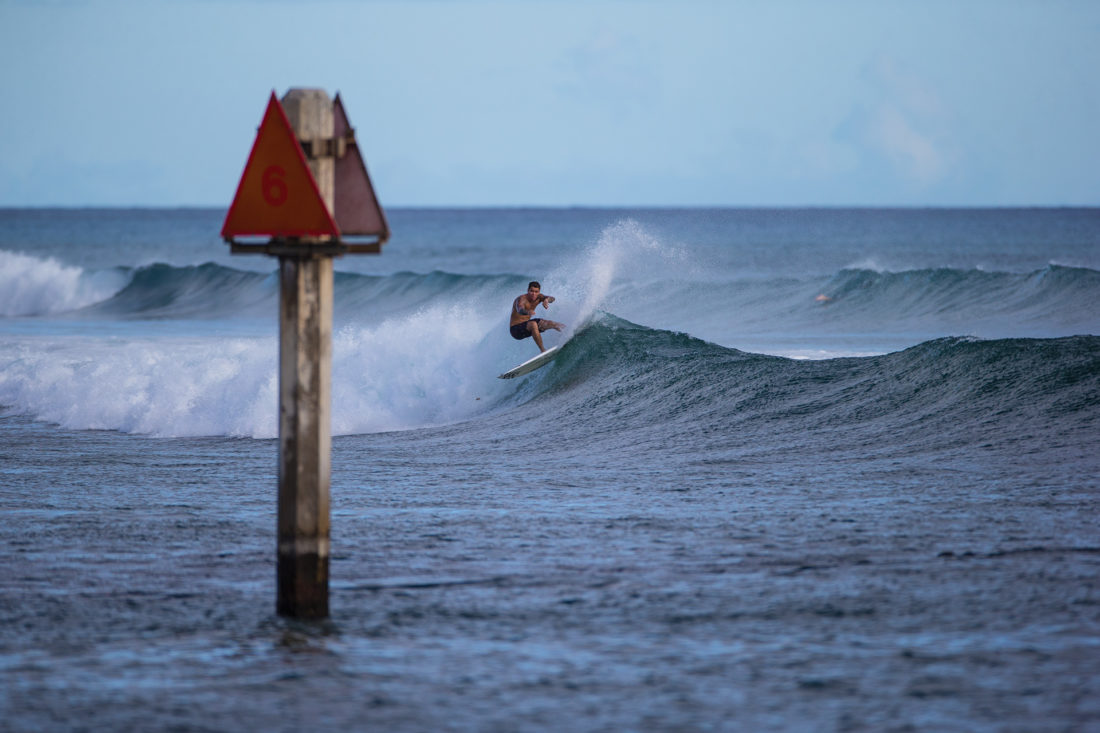 Through his own business-building experience, Cazimero reminds us that professional surfers should plan for their future post-competitive career. The key distinction with Cazimero's approach is his willingness to walk the walk, pursuing his entrepreneurial dreams with fearlessness. It's scary to create a project without completely giving up when faced with unforeseen challenges. We all have desires and dreams, but those who are willing to take the necessary steps towards that dream, believing in themselves along the way, are much more likely to see them achieved. Above all, Cazimero demonstrates confidence in his ability to make anything happen. His wheels are turning, and he's living his dream. Sure, the daily grind is still a hustle and not every day is a victory—especially in the beginning stages of business development—but he's preserving. And that's inspiring.
It was his 30th birthday, but the ever-dedicated Cazimero still found the time to sit down with us at his homebase in Hawai'i Kai. He discussed the ups and downs of his journey from ameatur competitive surfer to the professional freesurfer and fashion industry businessman he is today.
Tell us about growing up on the East side of O`ahu.
I grew up in Waimanalo and am currently residing in Hawai'i Kai. The Moniz family and Zeke Lau are also living here in Hawai'i Kai, so we have a little crew and we run sessions together. We've got a lot of raw talent here and have two guys on the World Tour, so that's super cool. I was just texting with Seth. He's on his way home from Australia and so is Zeke. I messaged him, "Bet you can't wait to get home to have a poke bowl and surf Sandy's." Then Zeke wrote back, "Brah, sounds like the best thing ever!" This is home. This is where the heart is.
I grew up surfing Sandy's. That's where I learned to surf. I live two minutes away now which is amazing. And I've been surfing Ala Moana Bowls since I was eight years old. It's the Pipeline of the South Shore. You'll see all the boys out there; the boys from the country come out here in the summer. There's an energy about Bowls that you can't find anywhere else on the South Shore. There's a strict hierarchy in the lineup. I had to work my way up.
When I was eight, I had to sit on the inside watching guys like Bryan Amona, Larry Rios, and Mike Akima just standing straight up in barrels. I thought to myself, 'I want to do that!' When I was finally sitting in the same spot as them in the lineup they said, 'Okay, now it's your turn. We're going to pass the torch to you and the new guys to make sure everything out here is all good.' That felt amazing because I've looked up to those guys my whole life. My fiancé knows that when Bowls is good, I'm out of the house. She goes, 'Alright babe, I'll see you in about 10 hours.'
You've been dedicated to the sport of surfing for a long time. What's the journey been like?
There were so many stages to becoming a pro surfer. When you're a grom, you're introduced to all the contests. You've got the HSA events every week, NSSAs every weekend, and you're just trying to establish yourself to gain a presence in the surf community. I remember winning the Governor's Cup in NSSA, the most prestigious title for an ameatur, then I won States five times, but my real passion while I was doing all of that was freesurfing. I would rather surf maxing Sunset than 1-2 foot Virginia Beach. So I went to Hurley, who was backing me at the time, and told them that I wanted to travel to freesurf and get barreled. They were hesitant at first since I was doing well in competition, but supportive overall. When you transfer over from an ameatur and hit the Qualifying Series there are all these expectations, so if you don't immediately get the results, it's a trip… You go through various stages [of emotions] that are really hard to comprehend or explain. I feel like everything I am doing right now is exactly what I am meant to be doing.
Honestly, there's a small window for athletes to compete unless you're Kelly Slater and a freak of nature. It's good to ask what an athlete plans to do afterward. Do you have a college degree? Do you have a business you plan on running? I don't understand why us athletes can't step up and do both. I've had friends and fellow competitors who plan on starting their own businesses hitting me up for advice. For me, to be able to inspire people and let them know that they can do this, too, is cool. You can start your own brand for people who believe in you, people who want to wear your gear and watch your vlog. I'm super blessed that I'm able to do it and have people supporting me. There are always going to be tough days, but it's all about perseverance; believe that you're going to do something great. Keep pushing forward. I have 'relentless' tattooed on my arm for a reason.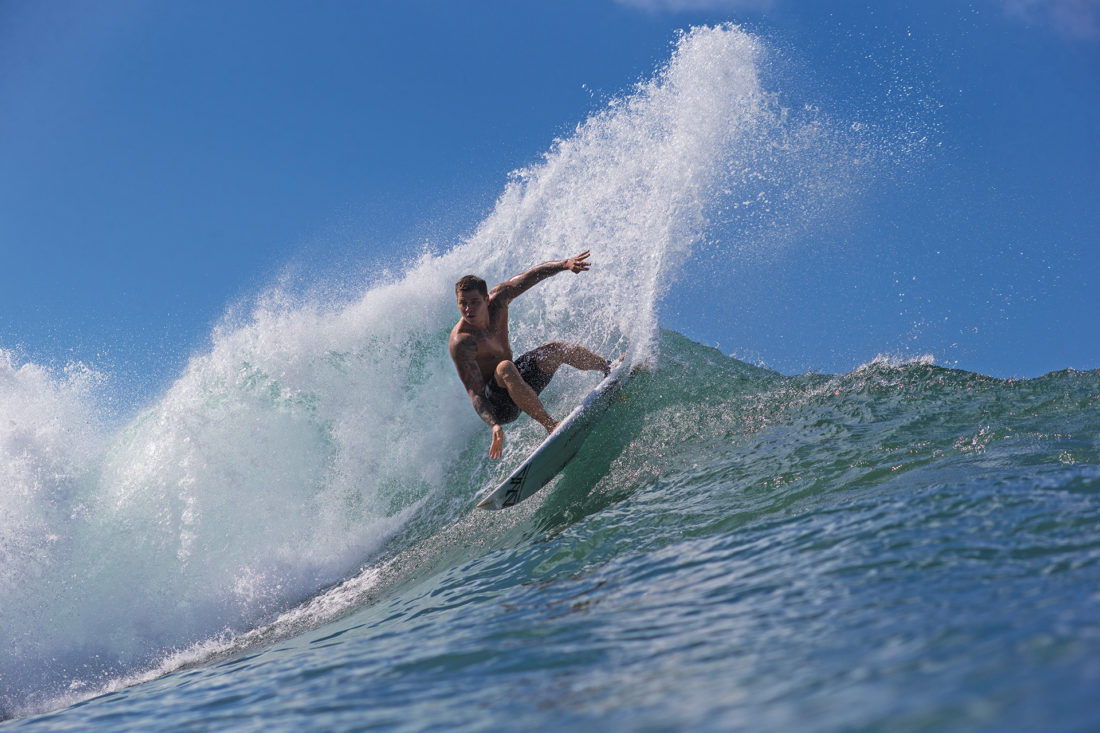 You seemed to have gained a lot of perspective through your personal journey.
Yeah, I feel like you have to go through it all—competing on the QS, and amateur titles in order to find where you fit in. When we were traveling, we were always questioning what we needed to do to get that next paycheck. I feel like now I have finally found where I belong. I'm on the other side now cutting checks to athletes. I was always performing best when I had support, so now I can communicate with our athletes and support them, asking what it is they need and how I can help. When I build a team, I want to be that guy who's really involved. It's humbling for me, because as an athlete I was always the guy reaching out, talking to a manager about my schedule… Now I have a new perspective from the other side of the business. It's been a crazy journey looking back on it, but I used the experience as motivation to get to where I am now.
How did you choose the company name?
Ambassadors With Aloha (AWA) embodies what we're trying to do… to zero-in on specific individuals [who represent the brand's mission]: athletes, musicians, influencers [such as] Ilima-Lei Macfarlane —the current Bellator MMA Flyweight Women's World Champion. I really want to approach the brand-building differently and stay true to our mission of supporting 'Ambassadors With Aloha'. There's been so much work and effort involved; so much blood, sweat, and tears that have gone into this. From competing full-time, to not competing and just freesurfing, I really started to think about where I fit in with everything. Eventually, I found my groove and what I wanted to do. My heart has always been in fashion. I love clothing and now, being on the other side of the [business], working with [MMA fighters] Ilima-Lei Macfarlane and Yancy Medeiros, has been unreal.
With AWA, we have initiatives we want to make happen in the community. I partnered with Michelob Ultra and they're backing me 200 percent. The stuff we're going to do for our community is going to be insane! Through AWA we're going to reach out to our keiki and do cool projects. That's always been a passion of mine. Now that I'm in a position to do the decision making on my own, [choosing to give back to my community] is huge for me!
I've been in the surfing world for so long and still feel like I have so much more to offer. Surfing has given me the platform to do everything I'm doing—I'm forever grateful for that—and now I am in a position where I have my own brand and companies backing me financially. We're thinking of starting projects like beach clean-ups, keiki contests… there's so much we want to do! So the more Ambassadors With Aloha can do, the more the kids will benefit.
Who are your role models and inspirations?
I find inspiration from so many different places: from fashion, surfing, training, and business. [Entrepreneur] Corey Correa has been my guide through all of this, helping to jump-start my brand and helping me make the right moves to get me to where I need to go. When it comes to surfing, I've looked up to Sunny Garcia my entire life, especially the raw power he possesses in and out of the water… He's always kept it real. We're both very passionate people.
It's also time for me to give back. As you grow up, you gain an appreciation for things and humble yourself. I was really fortunate to be traveling and surfing good waves, and now it's my turn to give back and connect with people. If I can inspire people, I'm super stoked.
I want to learn the best of both worlds and use my passion in a positive way to help influence and guide kids. I just went to talk to the kids at Holy Nativity School and they have it dialed, knowing what they wanted to do with their lives. It was crazy for me to sit there listening to them. I encouraged them to respect their teachers, respect their parents, stay focused in school and [told them] 'You guys are going to be solid'.
It's been unreal with AWA. I did the leg work in Los Angeles and walked around the fashion district for hours, days of research. It's been something I've wanted to do my entire life and right now is the time to do it. I've already done collaborations with my previous sponsors: hats with Fitted and shorts with Hurley, and we sold out in less than two hours! That was one of the high points of my career. I loved being able to have input in the design, cut, and patterns of what I wanted to see. And that's what I want to continue to do.
People love the products, and the feedback has been incredible. There's been a huge learning curve for me. I've made mistakes, but I'd rather be transparent and honest because everyone messes up. It's not like I've had instant success. There are days when I'm not sure what it is I'm doing, but there are other days where I'll be partnering with a company like Bloomingdale's for an event. When Ilima had her fight, we sold out of her gear in two hours. Those are the days that make me realize why I am doing what I'm doing. It fuels me and keeps me going.
When I'm unsure of the next step, guys like Pat Tenore at RVCA will give me a nudge to keep going: 'I like what you're doing. You're on the right track.' Little things like that motivate me to keep going. Kerry Konrady from Olukai has also been guiding me along the way, explaining where he started and sharing what he did. I look up to those guys so much because they own really cool brands that doing good things. Olukai's marketing and involvement in the community, and the rad people they're working with – that's what we want to do. Sometimes it can feel like its Hawai'i brands versus the world. Why is it like that? Ambassadors With Aloha wants to share with the world, and show everyone what aloha means.
There are so many highs and lows when you start your own business and when you are your own brand, but I feel like it's helped me grow so much as a person. You're not going to find growth anywhere else but outside of your comfort zone. I've learned that. You've got to be uncomfortable. I surround myself with great people so that I'm not the smartest guy in the room; I'm not the wealthiest guy in the room; I'm not the most talented guy in the room. That has forced me to step up and try to become the businessman I want to be, the athlete I want to be, the future husband I need to be, the future father… I want to be that man. Now is the time for me to make the right moves in order to give my family the life they deserve.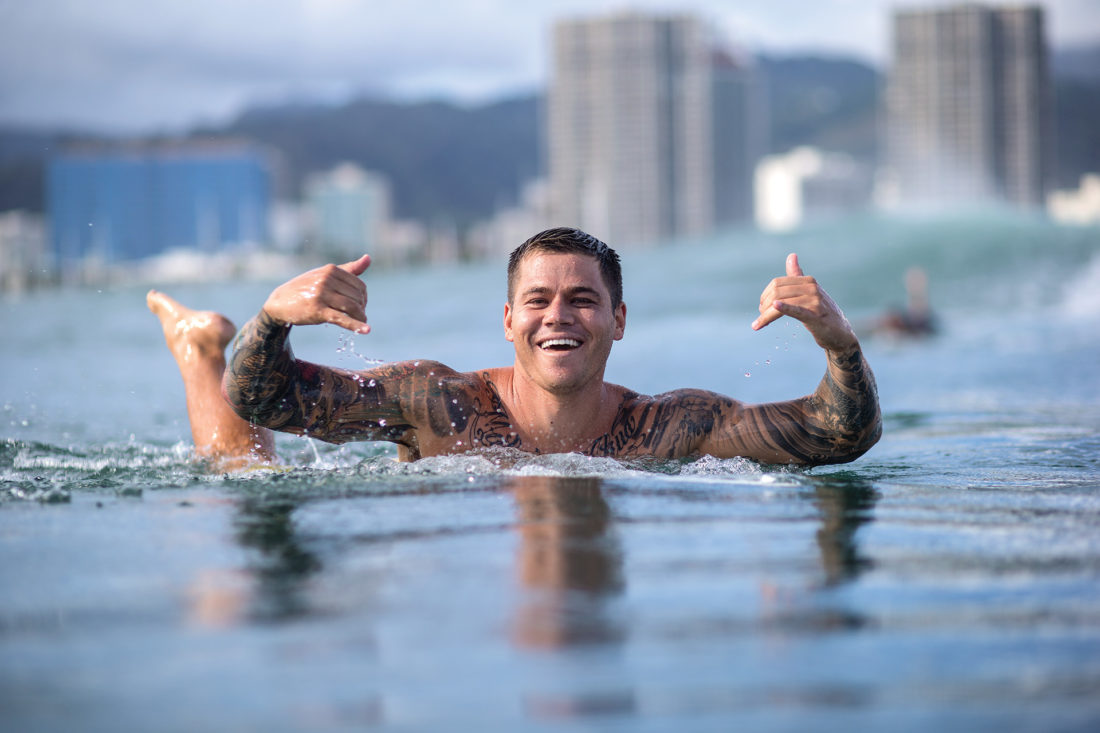 Why aren't more surf brands headquartered here in the birthplace of surfing? Can you foresee a future "mini Costa Mesa" here in Hawai`i?
That's honestly a great question. I think about that all the time – how cool it would be the have a headquarters here. We always had to fly out to Costa Mesa, [CA], to go check in with everyone, hit the warehouse up for gear and what not. Coming from a logistical standpoint, it makes sense. The costs are probably less there than they would be here, but it would be cool for companies to go that extra mile because there is so much talent here. It's an exciting time for the islands. We've got Ilima who's a master world champion, and many surfers on the World Tour. Hawai'i is stepping up. This is home. I'm not going to move to LA. I love California and have a bunch of family there, but if we could keep our presence here at home, that would be amazing.
If we do things right, I'll be that guy making the headquarters of the company here on island. Our athletes can come to us to grab gear. I want to make a creative space for the marketing guys and influencers to have a space to chill. There's so much that we could do! It's exciting times and I'm super pumped for the future. Hopefully I can change things up a bit.
How do you maintain a positive attitude and persevere?
Surfing. I go surf when I feel like I'm about to lose my mind. There are days when I get overwhelmed with the long list of tasks at hand, but at the end of the day, the ocean is where my heart is. It's what gave me everything I have. It gave me the platform to do everything I'm doing. I go back to the ocean and I sit there and look up to thank God. I sit with gratitude in that moment.
There are times when all the deadlines, mock-ups, and manufacturer needs are so endless that there just doesn't seem to be enough hours in the day. Surfing helps me get centered again. When I come back in from a session, whether I'm on conference calls all morning with the manufacturers or sending new mock-ups, I feel refreshed. If I'm lucky enough to score three hours at perfect Bowls, I come in completely reset. My fiancé makes fun of me saying, 'Oh, is that even the same person? Three hours ago you were losing it!' [laughs] It's a perfect balance. Whenever I'm having one of those days, she'll tell me to grab my board and go surf. That's why I asked her to marry me!
That's the beautiful thing about living in Hawai'i and being a professional surfer while building a brand. I can paddle out and get centered in the place where it all began. Some people don't have that outlet and it's hard to keep chasing without a break. I always go back to the ocean for clarity and feel so much better. That's the truth.
What fires you up?
Early on, my passion was freesurfing. I got discouraged on the QS with the judging, so I pulled back and had to recenter and ask myself, 'What makes me happy?' I guess it took me longer to figure that out, but I just wanted to surf perfect waves. I've always received great response from fans telling me they like my surfing. If I get a DM from a kid saying I fired him up to go surf, that feels really good. I just got a few boards shaped by Ben Aipa with some different tails that I'm psyched on. He's making me a board just for Bowls. I want to document that, too, with Reef Shaw Productions to drop a vlog about the essence of surfing and why we really love it. Sure, there's the title race and all the politics, but why are we really stoked to surf? Is it for the ranking points, or because Ben Aipa just shaped you a board for Bowls? That fires me up!
Tell us about your video blog.
I'm starting a vlog with Michelob Ultra called "Kekoa Beyond the Waves". I just signed with them and they've been so supportive of me as an athlete and of AWA. I want people to see what I'm doing outside of the water. Reef Shaw Productions is shooting the entire vlog using high-end equipment like the RED Camera and DJI Inspire 2 drone. There will be a YouTube channel to watch each episode and it will be all over Instagram. It's an opportunity for me to connect with my audience on a real level. I want them to see what it is we're doing behind the scenes to get to the end goal. When I get messages on Insta about how we're going about doing things, I want to answer them to help [out others]. People trip out when I actually respond… It's that interaction we have with our fans that other brands might not have. [The vlog] will be my way to speak to them on a personal level. Not every day is epic nor easy. This vlog is a great opportunity for me to open up and share my life with others, be more relatable, and show that you can always bounce back from the hardest of days. Believing in yourself is so powerful. If it was easy, everyone would do it… I'm still getting there, still working. I'm not even close to where I want to be. The vlog is a chance to be there with me on that journey. To be able to share that journey with others goes hand-in-hand with my overall mission of helping guide kids. That's my passion project – to share my life.
There have been some devastating situations with my family that feel so tough, as if there's no bouncing back. But listen, if you put your head down and do the right thing, if you believe in your work ethic and in yourself, then anything is possible. There are going to be days when you ask yourself, 'Is this what I'm really meant to do?' I want to be transparent with my fans to let them know that there is a whole different side than what most people see. My love for surfing is why I'm here doing all of this. There's nothing like being in the ocean! That's why some days I'm in the water more than I am on land.
Words of advice?
There were times growing up when I wasn't the friendliest guy in the lineup. I was competing full-time, trying to be the guy getting the shot. That's part of the learning curve of life. Today is my birthday and I turn thirty. I feel like I'm at a point where I am looking back at my younger self and thinking I was such an idiot. What was I doing? The twenties are for learning about who we are. I am very comfortable with who I am as a person right now and where I'm headed.
My team and I have a cool perspective that we want to bring to the table, and we want to involve everyone. We get sales from Brazil, Italy, Japan, everywhere! We sell more product to the mainland US than we do in Hawai'i. It's awesome for me to be able to share my vision and the aloha spirit with other people. Bringing the vlog to the table is yet another way for me to connect and understand the brand and how it all started. We're in this together. It's humbling. I'm always trying to figure out the next step and I'm lucky to have guys that run successful businesses guiding me. That's the cool thing in the Hawai'i community: everyone has each other's backs. That's the aloha spirit! We want to take this to a global level and share that with everyone.