Hard work and dedication go a long way—just ask the four-time Jaws Challenge champion, Billy Kemper. If it weren't for Ian Walsh's 2017 Pe'ahi victory, Kemper would still be the undisputed champ at the "Super Bowl of surfing". Born in the tropical jungle of Haiku, Maui, and now raising his own family of four boys on the North Shore of O'ahu, Billy Kemper finds plenty of motivation to stay fit while facing the world's most powerful waves. Over the summer, the dedicated athlete earned his certification in XPT coaching (Laird Hamilton and Gabby Reece's brainchild) and recently opened his own high-performance training facility on the North Shore with his wife, Tahiti, called ROAR Fitness. Their first Instagram post [@uproarfitness_ns] pictured a lion growling furiously alongside the slogan, 'Sometimes it's not about who has more talent; it's about who's hungrier.' Touché.
Kemper is raising the bar for professional surfers in regards to their out-of-the-water training, from scientifically weighing out his food intake by the gram with top sports nutritionists, to living the "no days off" workout motto. But how, one may ask, has he been so undisputed? What's the winning formula? We met up with the unstoppable machine for some insight into his training routine, his scrupulous nutritional intake, and how he's balancing fatherhood with rhino chasing.
What makes Jaws the "Super Bowl of surfing"?
If you were to draw a picture of an ideal big wave, Jaws is it.
How do you train for such serious surf?
I've been really into my nutrition and fitness for the last ten years. I've been working with nutritionists by the name of Matt and Cherie Chad. They are at the top of the totem pole when it comes to sports [nutrition]. They work with the top-tier athletes. I don't think anybody in surfing has tapped into nutritionists this hands-on. Obviously, people diet; but I'm checking in with them seven days per week, getting prescribed daily macronutrient intake. Every meal is weighed out to the gram for the entire day.
Then, I built a gym up by my house with my wife. We partnered with a few different brands to create UPROAR Fitness on the North Shore. It's a high-performance training facility along with a spin studio. I have cold plunges and saunas up there. Over the summer, I was studying the XPT Fitness that Laird Hamilton created and I got my XPT coaching certification. I'm really into my fitness, and have been training with Kahea Hart for the last eight years consistently. He's my main coach for strengthening, conditioning, and physical training. I also box with Nito Boxing, so I'm on a pretty tight schedule.
Describe your morning routine.
I wake up every day at 5 am. I train seven days a week; three of those days are twice per day. I start my workout at 6:30 am with a two-hour training session with Kahea Hart. It begins with Foundation Training, movement, mobility, and then into core work: strength, power, speed, and agility. Then I usually get in a few surf sessions. I end my days on Monday, Wednesday, and Fridays with an hour of boxing with Nito Boxing.
What's your nutrition look like on a contest day, before a long day of surfing?
Everyone is different, but there's no surfer in the world right now who is counting the macros with a nutritionist the way I'm doing it. If the Jaws event were to get called on, 72 hours before we would do a pre-load, which is basically jacking my carbohydrate intake up to 352 grams broken down into five meals, all equally weighed out. All my carbs come from sweet potatoes, taro, fruits, and very rarely a grain like rice or quinoa. Protein levels always stays the same: I consume 170 grams of protein per day. The fats are also the same: I take in 76 grams of fat. Everything is broken down and divided equally into five meals per day. There's no snacking, and every meal is within two hours apart.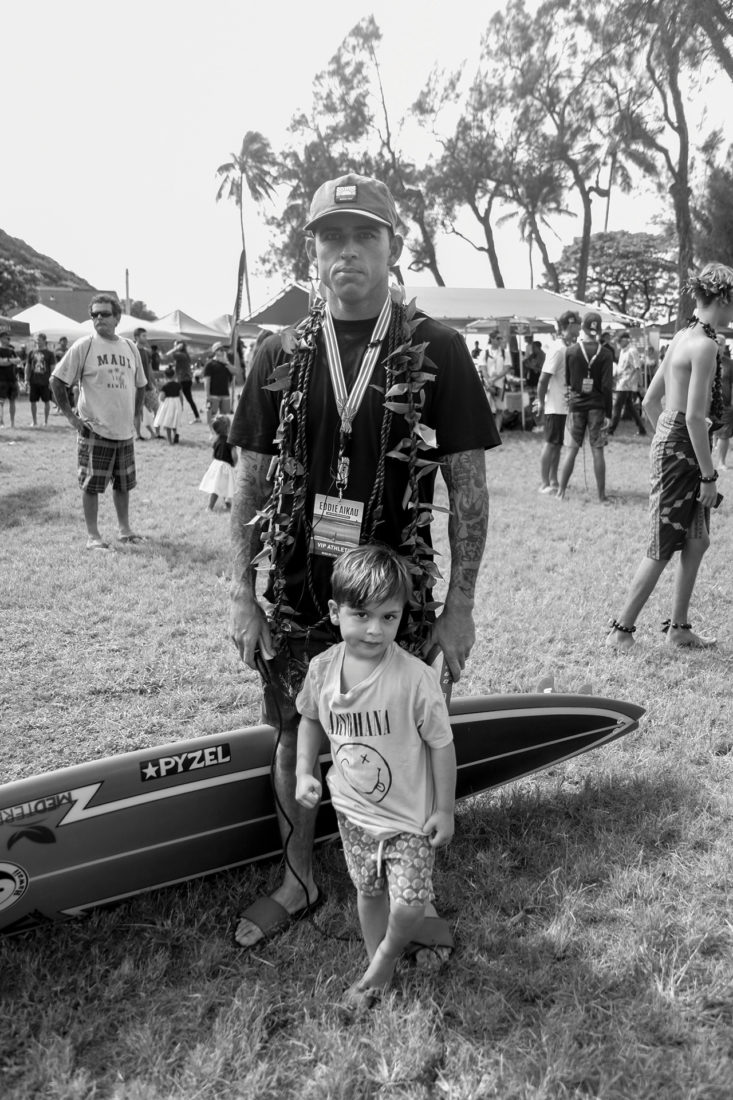 Walk us through one of your worst hold-downs at Pe'ahi.
Last year in the event during the final minutes of the heat, I only rode one wave – which was probably the best wave of my life. But I was trying to find a back-up score, so I took off on a wave. I hit a step and air-dropped; then I landed. As I was shaking my head to get the water out of my eyes, another step sucked out below me but I didn't stick that one. I landed on my ribs, and it knocked the wind out of me really badly. I got held under for a really long time. When I came to the surface, I couldn't take a breath of air. There was a 50 foot double-up that landed on my head. I actually blacked-out during that hold down right there. I had never experienced that phase of not having control over my body. I felt my body letting go; it was really peaceful, but very scary. I had no control over what was happening. Without the safety of inflatable suits, flotation, and the skis… [pauses] all that saved my life.
There have been so many innovations in big wave surfing in recent years (at least there haven't been any reports of drowning we're aware of in big surf since the invention of the inflation vest). How has that changed the sport?
There are pros and cons, I think: there are people who are relying on the vests to save their life in order to paddle out there, which I think is a terrible aspect of it. Look at what Laird [Hamilton] and those pioneers did before jet skis, before tow-in surfing. If you look back at Eddie Aikau, those guys were surfing massive waves with just straight ocean knowledge and training. They were very confident and comfortable in those situations. I looked up to people like that as a kid, getting help from Laird and Dave [Kalama] to get myself mentally and physically ready to take on the worst possible scenarios.
For me—someone with children, a wife, a family to come home to—I think the vest has definitely pushed my limit. I've rode waves and surfed on days I probably wouldn't have without it, which is a scary thing to [admit], but that's the truth. I'm really stoked on it, and on the support that some corporate companies have put into making it a point to really help push the level of safety. Now, every year, they are coming up with new ideas, asking for our feedback, and producing what they can to be the safest suits possible for us. I'm very stoked that there are a handful of different companies who are all in it to help us surfers. That part of it is really cool. As far as the addition of jet skis for our safety, the amount of training that's been going on around the world has been helpful. It's really cool to see how many people are committed to saving people's lives. Training for a bad situation makes you more comfortable for when it really happens. I'm really grateful for every one of those guys, and I pay my dues to them as much as I can.
Do you think being a world champion has helped pushed you to reach maximum performance?
I was never given anything in my life. I wasn't born into a corporate contract. What I do have is work ethic. My wife and I are a team in ourselves, and that has motivated me to work really hard. I lost my mom, my dad isn't there, we lost my wife's mom early in our relationship, and her dad is also not in the picture. We raised four children here on the North Shore all on our own without any help, so I think that's where the majority of my motivation comes from. I have a lot on my plate to be motivated for every morning, to dig deep, and never give up.
At the end of the day, as a world champion or not, there's only one goal. Second place in an event is just as bad at last place, in my eyes. I'm addicted to winning; that's been my game plan and motivation my entire life. When you work for something and see the results, it's a lot different than someone who is gifted opportunities without working for it. It's a different lifestyle and a different understanding about working and grinding it out to get to the reward at the end of the tunnel.